It's GAMEDAY Tigers!! As we close the semester out academically, our Tigers will continue to roll on athletically!! Our basketball teams will meet up with the Gary Bobcats this afternoon at 2pm starting with our JV Boys. Our Varsity Girls and Boys will also play this afternoon following that game. Come out this afternoon and support our Tigers at the SEC!! Please remember, all spectators are expected to be respectful of all guidelines and children should be under adult supervision at all times. Thanks for your cooperation!!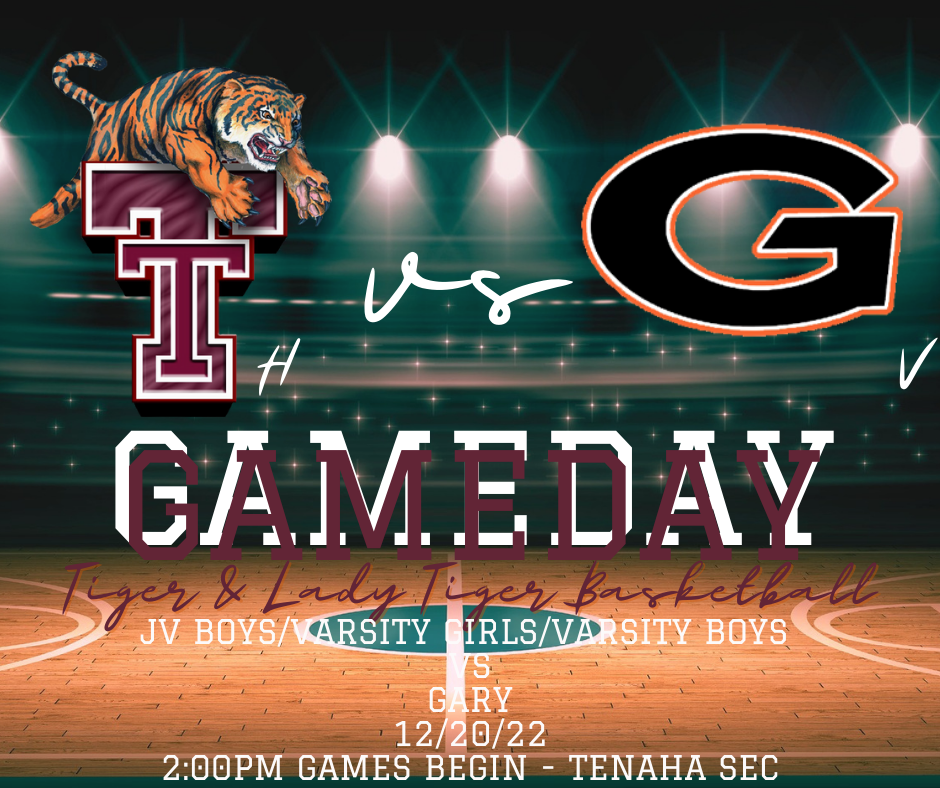 EARLY RELEASE REMINDER!! Tenaha ISD will early release tomorrow for the Christmas Holidays at 11:30am. We wish you all a very blessed and safe holiday season. Stay safe and warm and enjoy the true meaning of this holiday season. Don't forget to join us for Holiday Hoops beginning December 27th here at the SEC, Tiger Gym and across our East Texas locations at Panola College, Timpson ISD and Joaquin ISD. Merry Christmas TIGERS!!

All parent drop off for elementary needs to go to the high school at this time. Thank you for your cooperation.

Attention Parents/Guardians:Please see the attached info regarding the attendance reward trip. This trip is for students with 97% or above attendance for the 1st semester.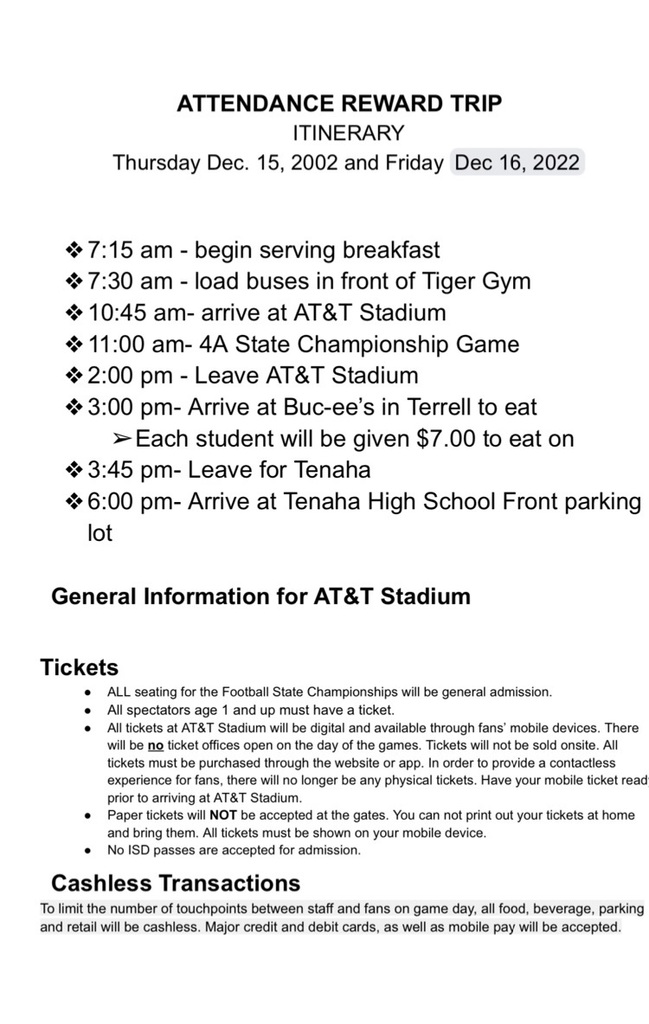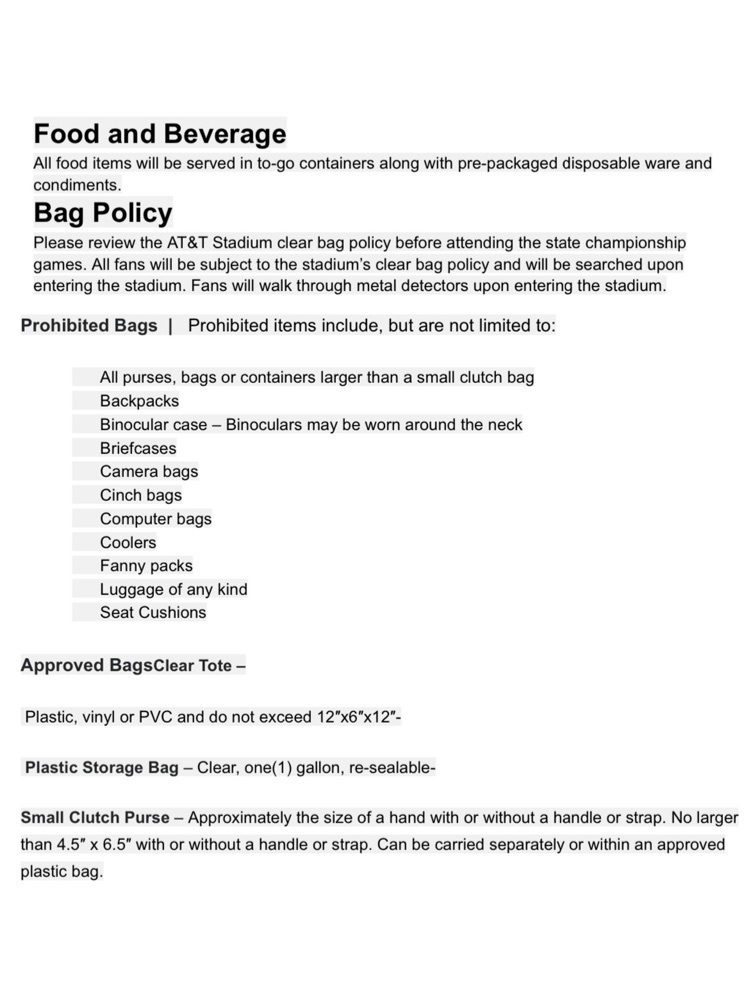 TIGERNATION!! It's GAMEDAY!! Join us this evening as our Lady Tigers open District play here at home against the Beckville Bearcats. Games begin with our ladies JV team at 5pm in the Tenaha Special Events Center. There will be two games this evening. Please come out and support our Lady Tigers!!! We would like to remind all spectators that you are expected to adhere to the safety and security guidelines set forth by Tenaha ISD at all times, and fans should remain in your seats during the game unless you are purchasing concessions or using the restrooms. All children should be supervised by an adult while in attendance. Thank you for your cooperation and we look forward to hosting you!!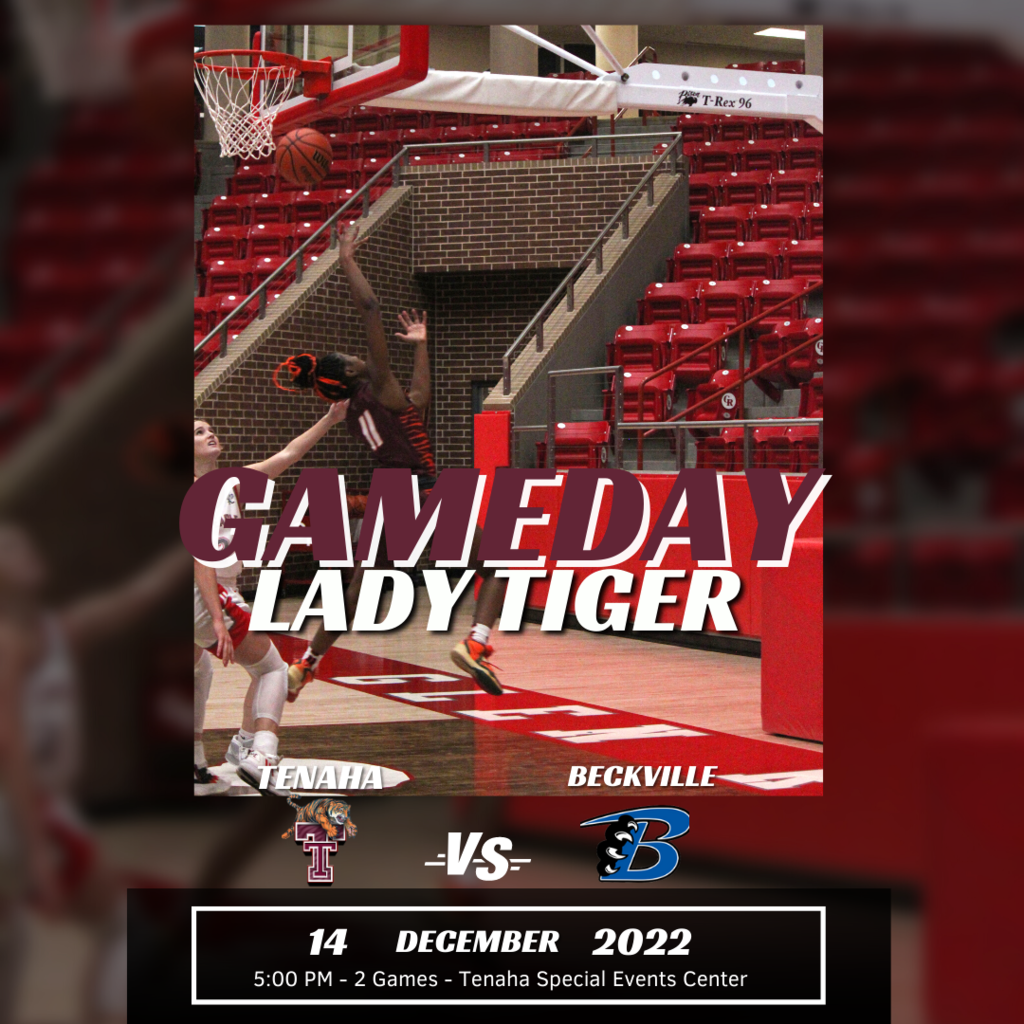 TIGERNATION!! BRACKETS ARE UP!! Check it out at
www.tenahaisd.com
! All of our #HH22 info in one place!! 40 AWESOME teams getting ready to put it all on the line for the 2022 Championship!! Who will take home the trophies?? You won't want to miss it; it will be the BEST YET!! Make plans to be with us all 3 DAYS...December 27th, 28th, 29th...5 LOCATIONS...the BEST FOOD, the BEST BASKETBALL, and the BEST ACTION AROUND!! The LONGVIEW ORTHOPAEDIC STAR FOUNDATION TENAHA HOLIDAY HOOPS CLASSIC COMING AT YOU!! Just log on to
www.tenahaisd.com
and click the Holiday Hoops tab on the home page for all the information!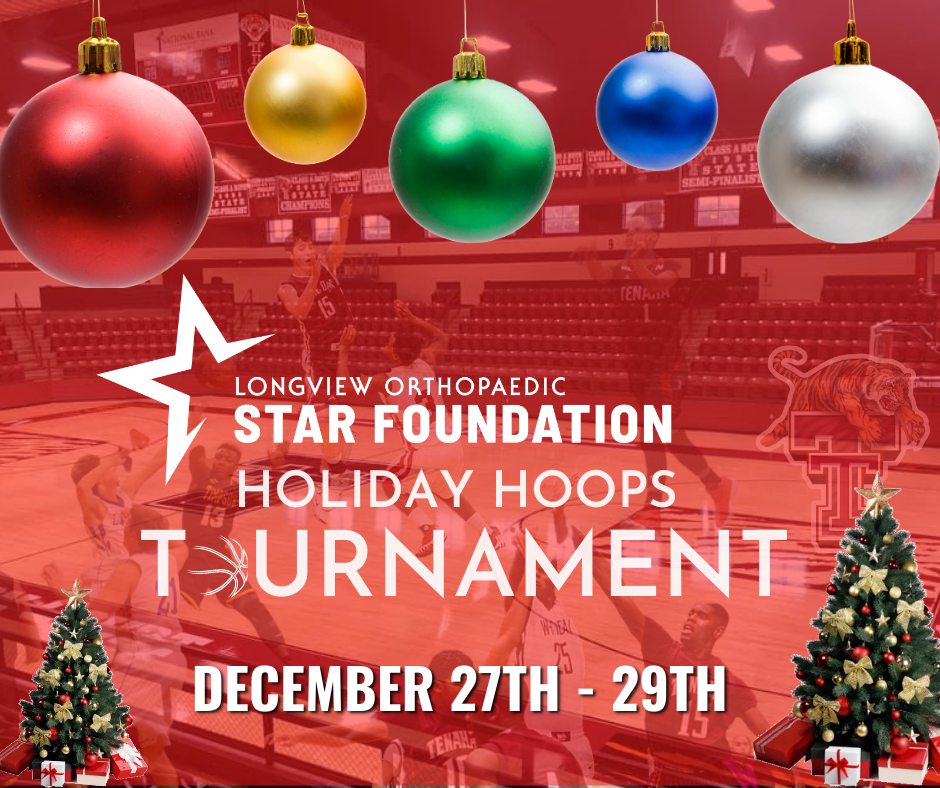 All Basketball Games for today have been postponed until tomorrow; they will begin at 5pm tomorrow.

Tenaha ISD will early release at the end of 7th period today, 12/13 at 2:31 due to the threat of severe weather in the area. Buses will be rolling by 2:35pm.

IT'S GAMEDAY TIGERNATION!! This evening, our JH Tigers will travel to Shelbyville to take on the Dragons; games will take place in two gyms starting at 5:30 and the second games will begin at approximately 6:30. Best of Luck Tigers!!!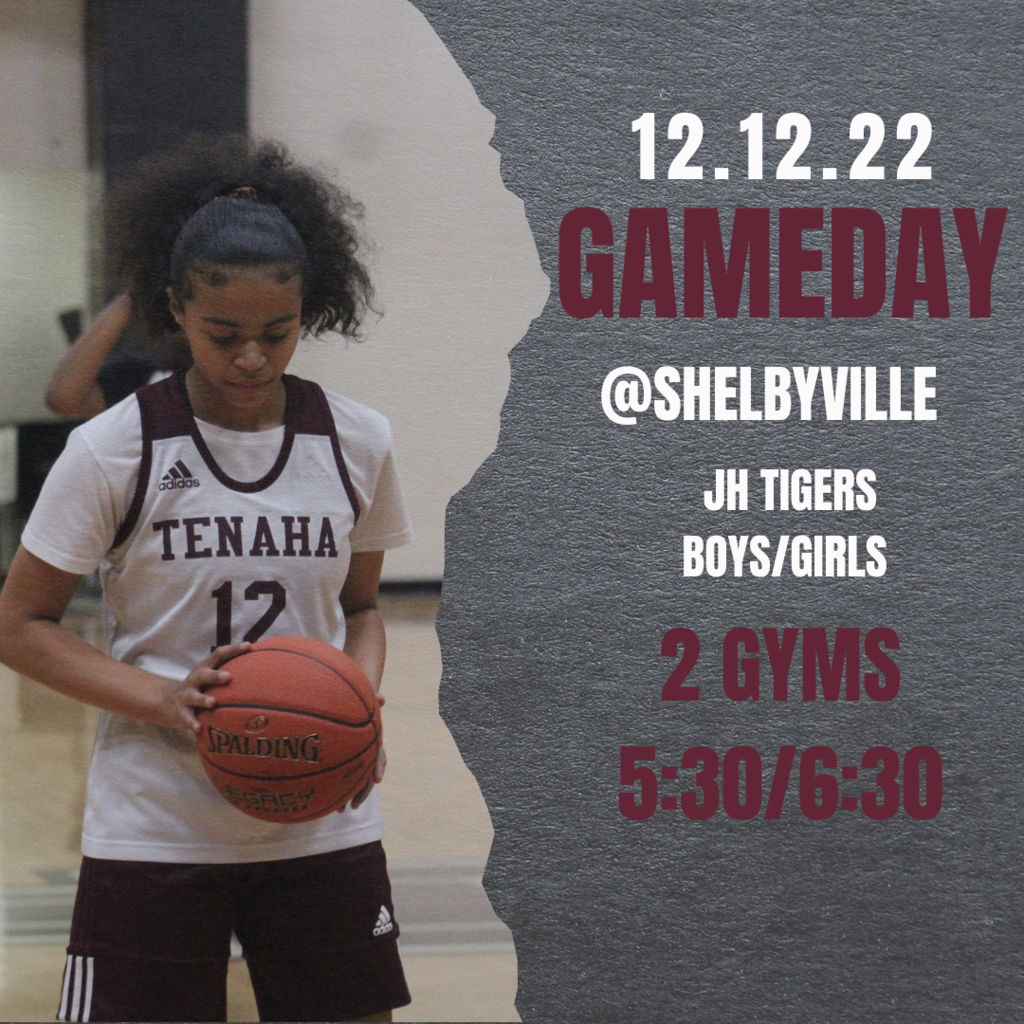 Congratulations to our Tenaha Tiger Football Team as All District Honors and All State Academic Honors have been announced!! These athletes work extremely hard both on the field and in the classroom and deserve a tremendous amount of recognition for their efforts!! We are very proud of each and every one of these young men for their accomplishments and look forward to seeing what the future holds for each of them!! Great job, Tigers!!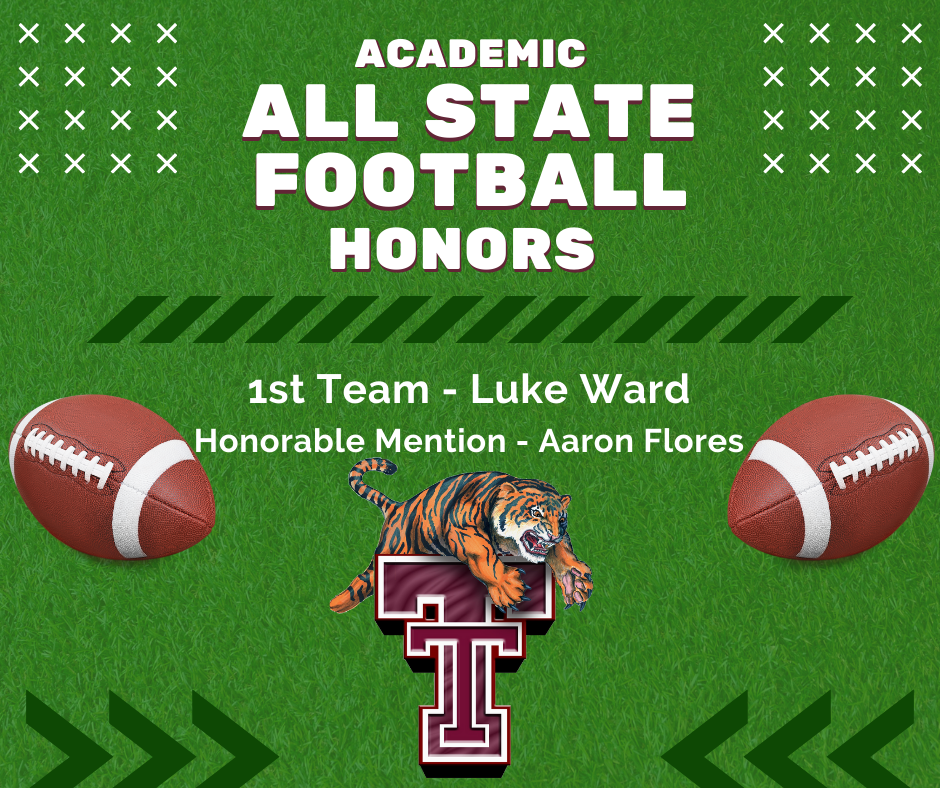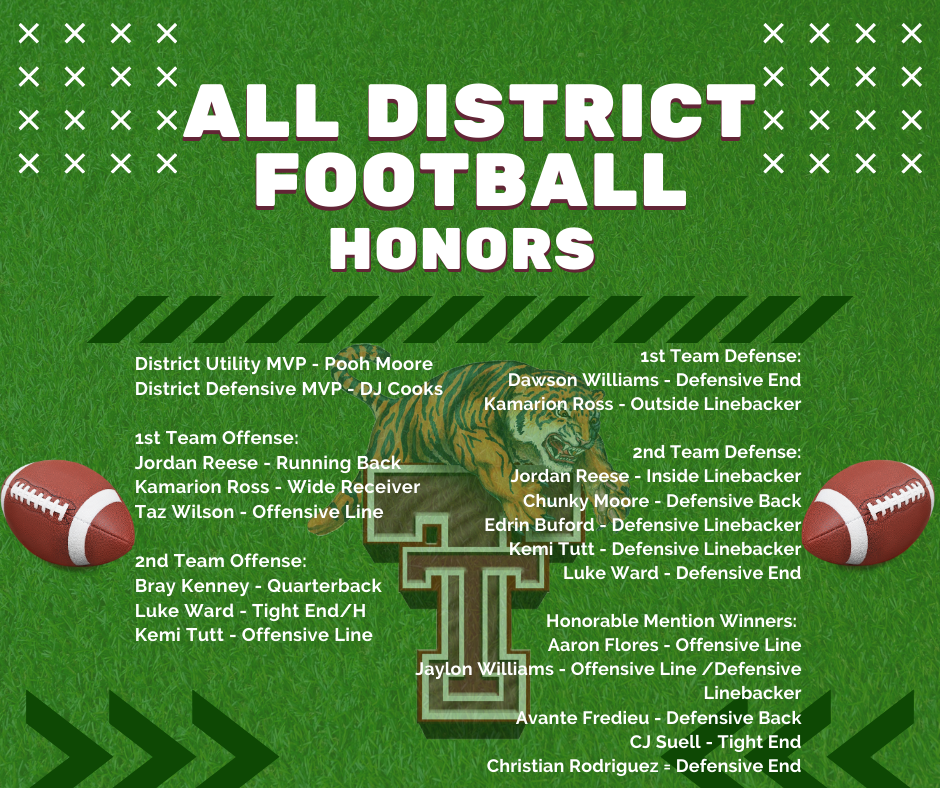 As our District Basketball Seasons approach, as well as our annual Holiday Hoops Classic Basketball Tournament, we would like to remind all spectators and community members of the spectator and student expectations during all games: As a spectator of Tenaha ISD Basketball Games, you are expected to be a supportive Tiger Fan. This means you attend the sporting events and conduct yourself in a manner representative of our community standards and support all students both from Tenaha and the opposing team. We also expect that all spectators follow all guidelines set forth by the school district in regards to safety and security. When you are attending games, please understand that you are to be in your seat unless you are purchasing concessions or using the restroom. Each guest has purchased a ticket and has a right to enjoy the game without the distraction of spectators roaming around the facility. This is for the safety of each guest as well as our athletes. All children attending the game must be supervised by an adult, and must stay in their seats unless they are with an an adult. If you cannot follow the guidelines set forth by the district, you will be asked to leave the game. Thank you for your cooperation!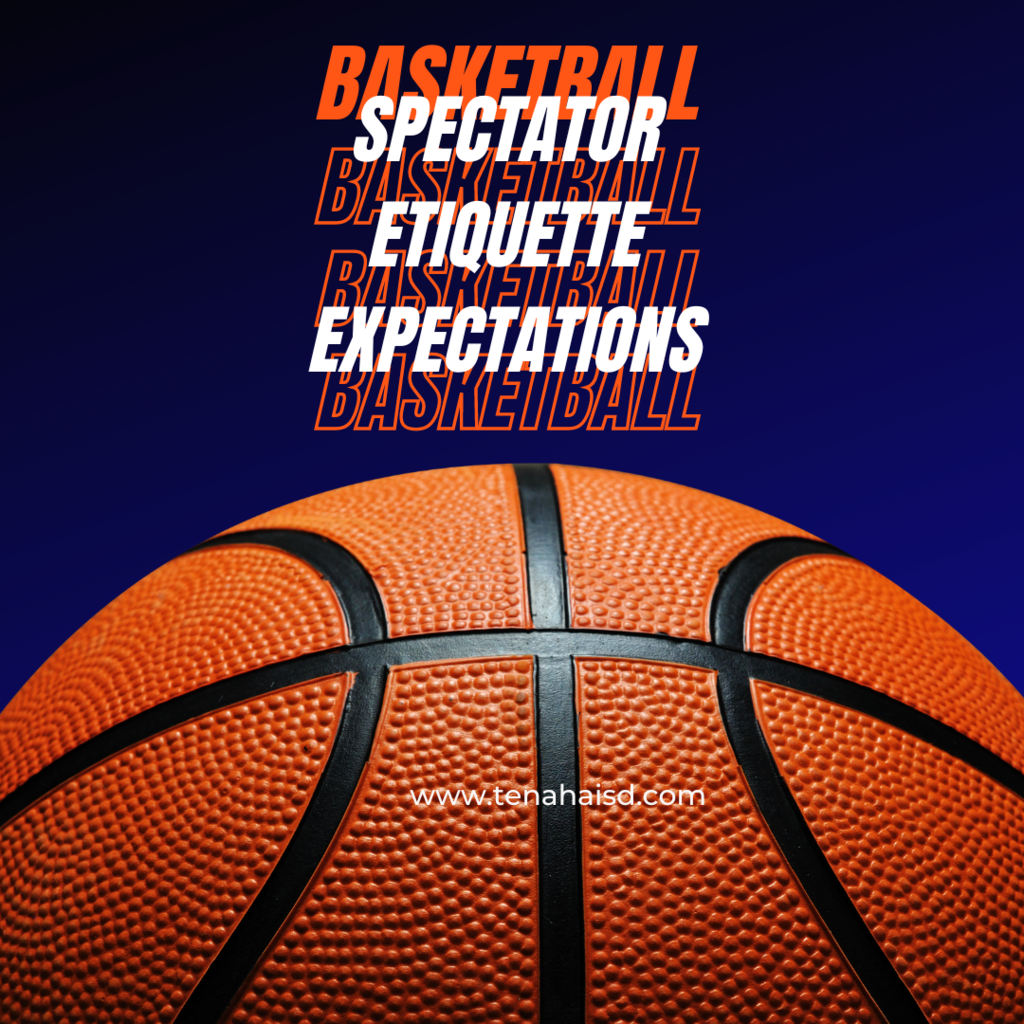 As we celebrate with our Holly Jolly Dress Up Days this week, the Senior Class will be selling Christmas themed tattoos and bracelets, 2 for $1 while supplies last ALL WEEK LONG as a Senior Class Fundraiser!! Today, our students and staff are wearing their Favorite Christmas Themed Accessory! Remember, tomorrow, it is Clash of the Carolers: Elementary will wear Green, Middle School will wear White and High School will wear Red!!

Due to a shortage of substitute bus drivers for Friday, December 9, after-school bus route drop off times will change. Bus A and Bus C will be one combined route. And Bus B and Bus D will be another combined route. If your student lives within the city limits they will be released from school at 3:10 and dropped off 10 minutes earlier than normal days. If your student lives outside the city limits, they could be dropped off up to 30 minutes later than normal days. We are sorry for the inconvenience this may cause some of your schedules, but we wanted to share this information as soon as possible so that arrangements can be made.

From Tenaha ISD, we wish you and your family a very Happy and Blessed Thanksgiving!!! We are truly thankful for each one of you that enrich our school district in some way everyday. Enjoy the rest of your break🧡💛🤎🧡💛🤎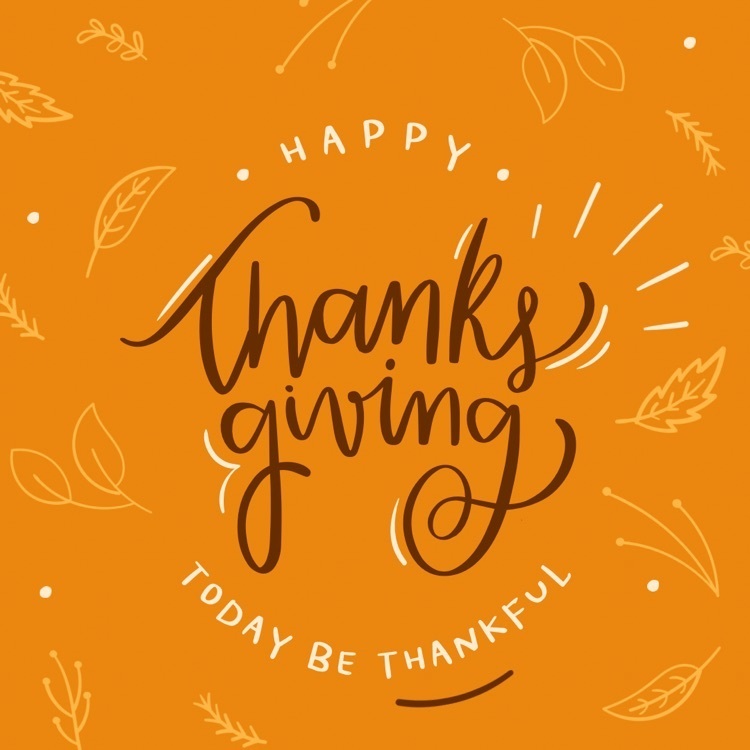 Tuesday is for TIGER BASKETBALL!!! It's a busy day for both our Boys and Girls teams...both of which are on the road today! The ladies are headed to Glen Rose to play Holliday this evening; tip off for that game is 7:15pm. This will be a great game; we will provide a streaming link as soon as one is made available. The boys are headed just down the road to take on the San Augustine Wolves this afternoon. The JV game is set for 2pm with the Varsity game to follow at 3:30. Make sure you head over to support these young men if you are able and then catch the ladies in action tonight!! Both teams will take a well deserved break for a few days after the games today to celebrate the Thanksgiving holidays with family. They will all be back in action next week however, when school resumes! Next up on the schedule: TOURNAMENT ACTION - Lipan Style!!!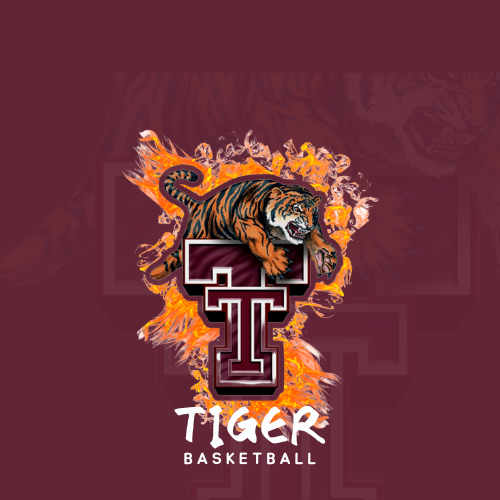 It's GAMEDAY TIGERS!! Come out and watch the Lady Tigers in action this morning at they take on the Carthage Lady Dawgs! Tip off for the JV game is set for 10am followed by the Varsity game at 11:15. Let's Go Lady Tigers!!! All games are streamed on the NFHS Network, search Tenaha High School to find game schedule!

TIGERNATION!! Don't forget that our Lady Tiger JV and Varsity teams will face off with the Lady Dawgs from Carthage tomorrow morning in the SEC beginning at 10am!! JV will kick things off with tip off at 10:00am. The Varsity game is schedule to start at 11:15am. Come on out and watch these ladies in action!!! You won't regret it!!!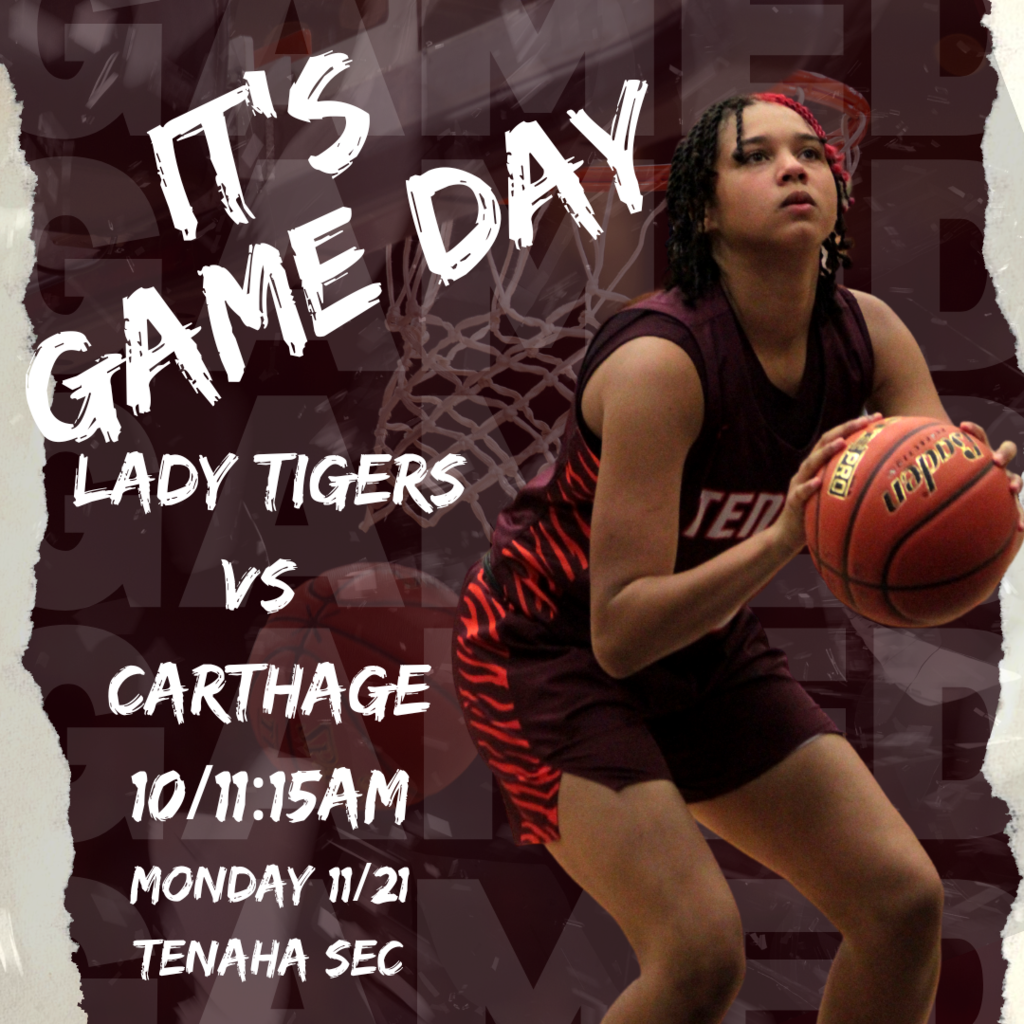 It's GAMEDAY!! That's RIGHT TIGERNATION!! The Varsity Lady Tigers will square up with Wills Point today at home in the SEC at 12:30!! Be there and cheer these ladies on to another TIGER VICTORY!! Varsity Lady Tigers vs Wills Point Tip Off 12:30pm Tenaha SEC

IT's GAME DAY for our Varsity TIGERS!! Come out and watch our Varsity Tigers as they open the season this afternoon at home against West Sabine. Adults $4, Students $2 Games begin with the JV at 5pm and the Varsity game at approximately 6:30. Also, a BIG Congratulations to our JV Lady Tigers as they go 3-0 in the Queen City Tournament this week winning today's game 30-18!!! Great job, ladies!!! We look forward to seeing everyone out this evening to support our Tigers!!

And the JV Lady Tigers DO IT AGAIN in Game 2 of the Queen City Tournament!! Tenaha JV 26 Fouke 25 Great job Lady Tigers!! The Lady Tigers will be back in action tomorrow at 2pm!!