We are just 10 DAYS AWAY from seeing the Class of 2023 walk across the stage into the next chapter of their lives!! In honor of these amazing students, please join us in congratulating them on this outstanding accomplishment for the next few days!! Class of 2023 Salutatorian Miss Kim Cave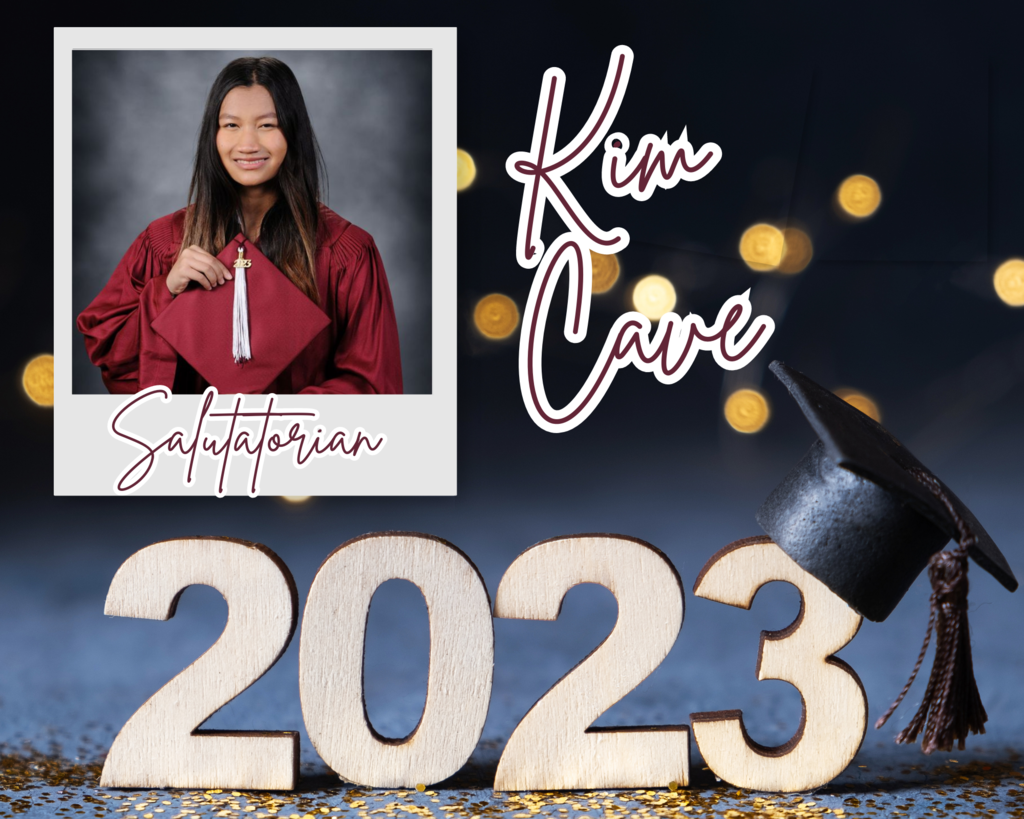 The next few days are PACKED with memorable and fun activities for our TIGERS! We will try to keep you as up to date as possible with everything that is taking place.

We have a new TIGER in the family!!! Please join me in congratulating and welcoming Sweet Baby Avery Cloudy!! He was a healthy 5 lbs 8 oz and 19 1/4 in. Congratulations to Mrs. Mia Cloudy and many blessings to you and your growing family.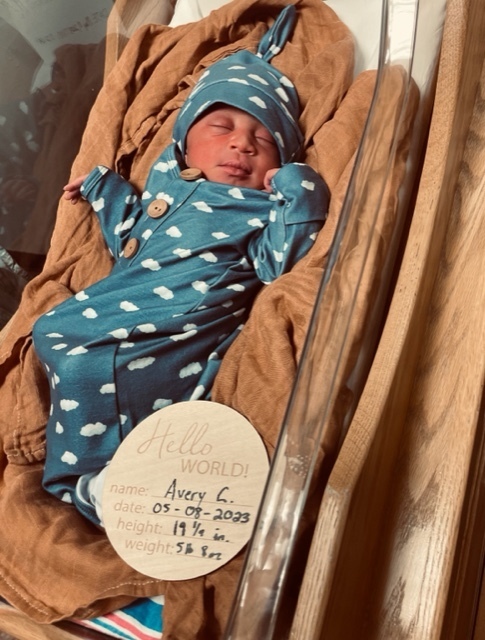 Hey TIGERS!! Check this OUT! Registration deadline is May 19th. For more questions, please contact Coach Dee Lewis.

We are just 10 DAYS AWAY from seeing the Class of 2023 walk across the stage into the next chapter of their lives!! In honor of these amazing students, please join us in congratulating them on this outstanding accomplishment for the next few days!! Class of 2023 Valedictorian Miss Leticia Balladares-Lopez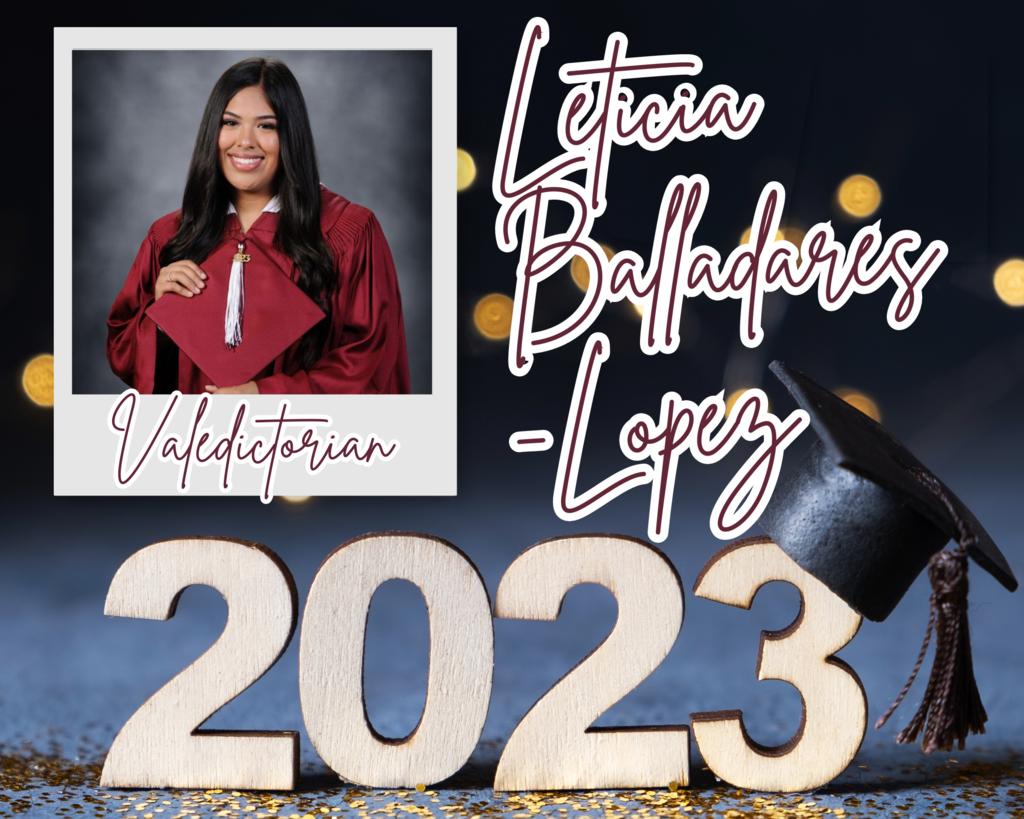 UPDATE ON HIGH SCHOOL A/AB HONOR ROLL REWARD TRIP SCHEDULE FOR TOMORROW, 5/8: The thunderstorm chances have been reduced to around 43% and it looks like it will only be cloudy most of the day but we are going to cancel and try to get them into the Surge in Bossier City or Grand Slam in Tyler on Friday instead.

May 5, 2023 - Tenaha, TX - Tenaha ISD is excited to Welcome Home, Coach Laura Walker-Holmes as the next Head Girls Basketball Coach. Coach Holmes is no stranger to Tenaha as she served as the Head Girls Coach previously from 2009-2013. Coach Holmes returns as a decorated and successful Athletic Administrator and Head Coach with 18+ years of experience in the Head Coaching position, 14 straight Playoff appearances and over 300 Career Wins. One of Coach Holmes favorite parts of the job is developing future collegiate athletes. She has been involved with recruiting and developing over 20 student athletes who have gone on to play at the collegiate level successfully. She enjoys creating highlight videos, sharing on social media and sending emails to college coaches giving these student athletes the exposure needed to take it to the next level. Welcome Home, Coach Holmes! We are so excited to have you back in the Maroon and White, and know you will make a tremendous impact on our program and students!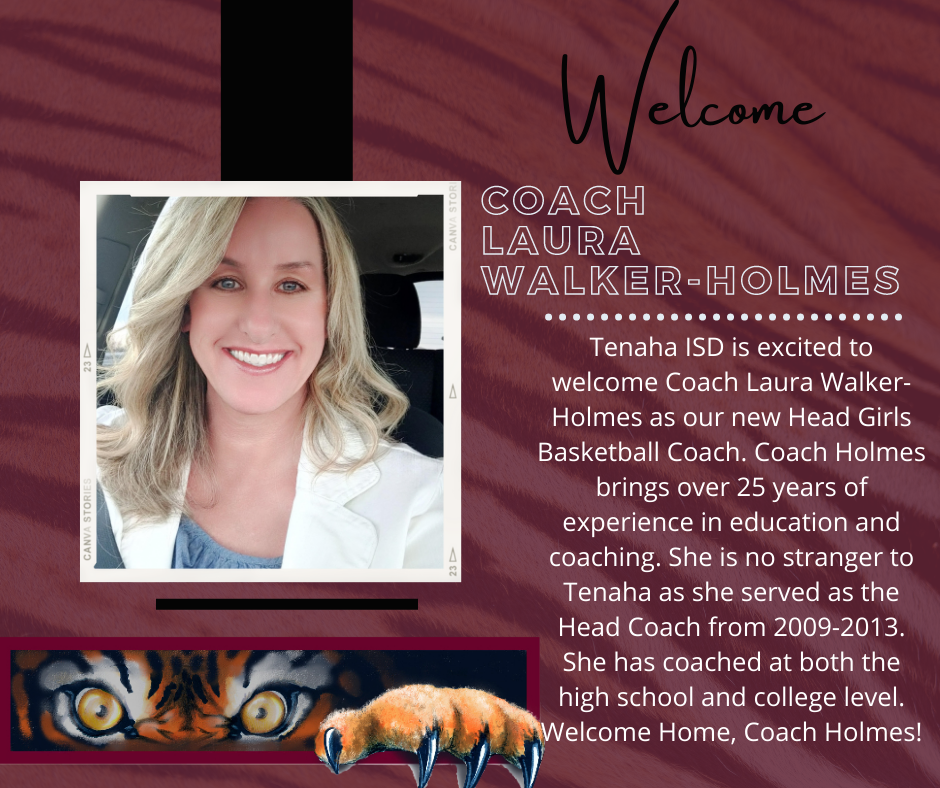 Today also concludes Teacher Appreciation Week. Administrators and Tenaha ISD have shown their appreciation to this amazing group of individuals all week with sweet treats, Bundtlets, Sonic drinks, and a luncheon prepared by Ms. Phyllis. Please remember to thank a teacher if you see them around. Teaching is a different world today and these individuals go to endless lengths to make sure our students are well care for and ready for the next step in life. Thank you TEACHERS for all that you do that is seen and "unseen"!!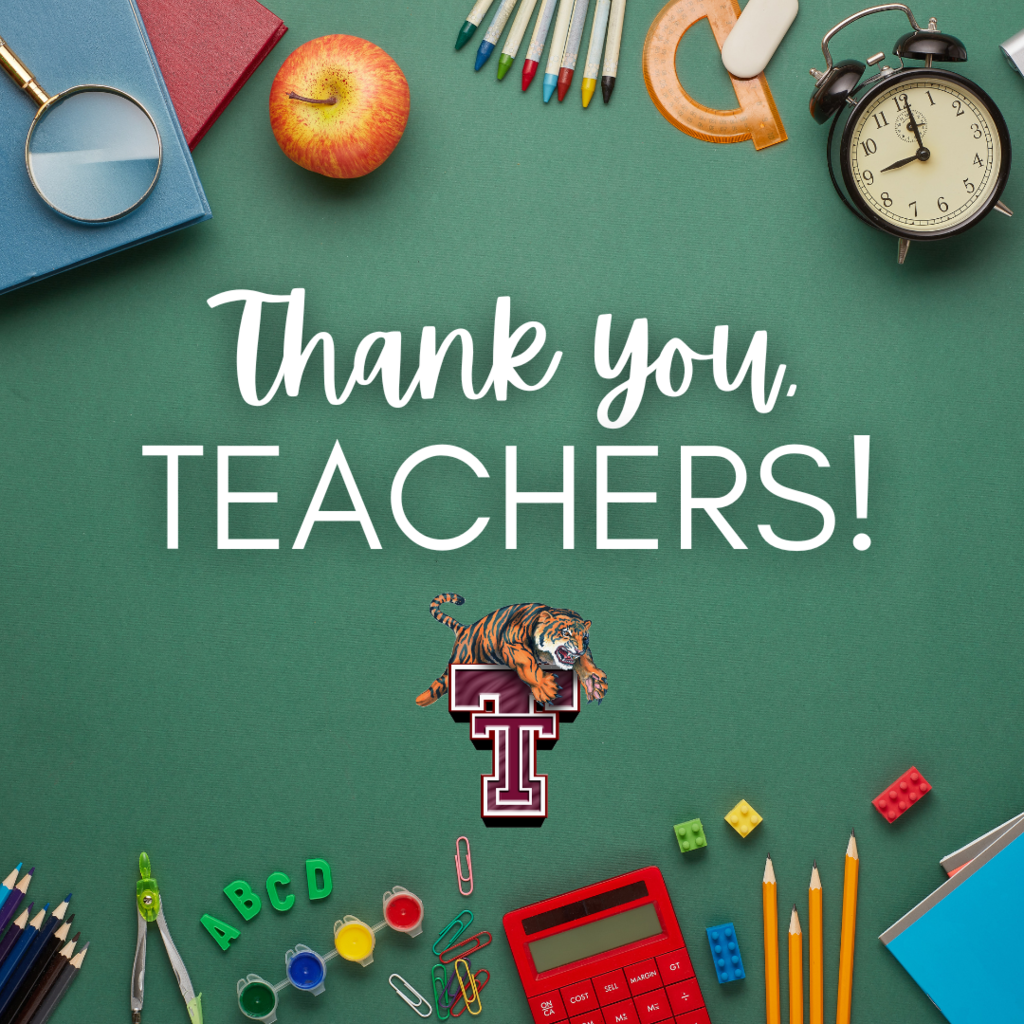 SENIORS!! Today is the FINAL DAY to submit photos for the senior slideshow. They must be emailed to Mrs. Huckabee by 3:30 this afternoon in order to be included in the slideshow Thursday. Also, please remember to be working on your sign for the Senior Walk and look over the information that was given to you regarding what to wear, where to be and at what time Thursday morning. We are looking forward to celebrating our seniors at 9:15am with our senior walk and slideshow!

Best of luck to our Regional Track qualifiers as they compete today and tomorrow at their chance for a State Meet qualification!! Go Get Em' Tigers!!!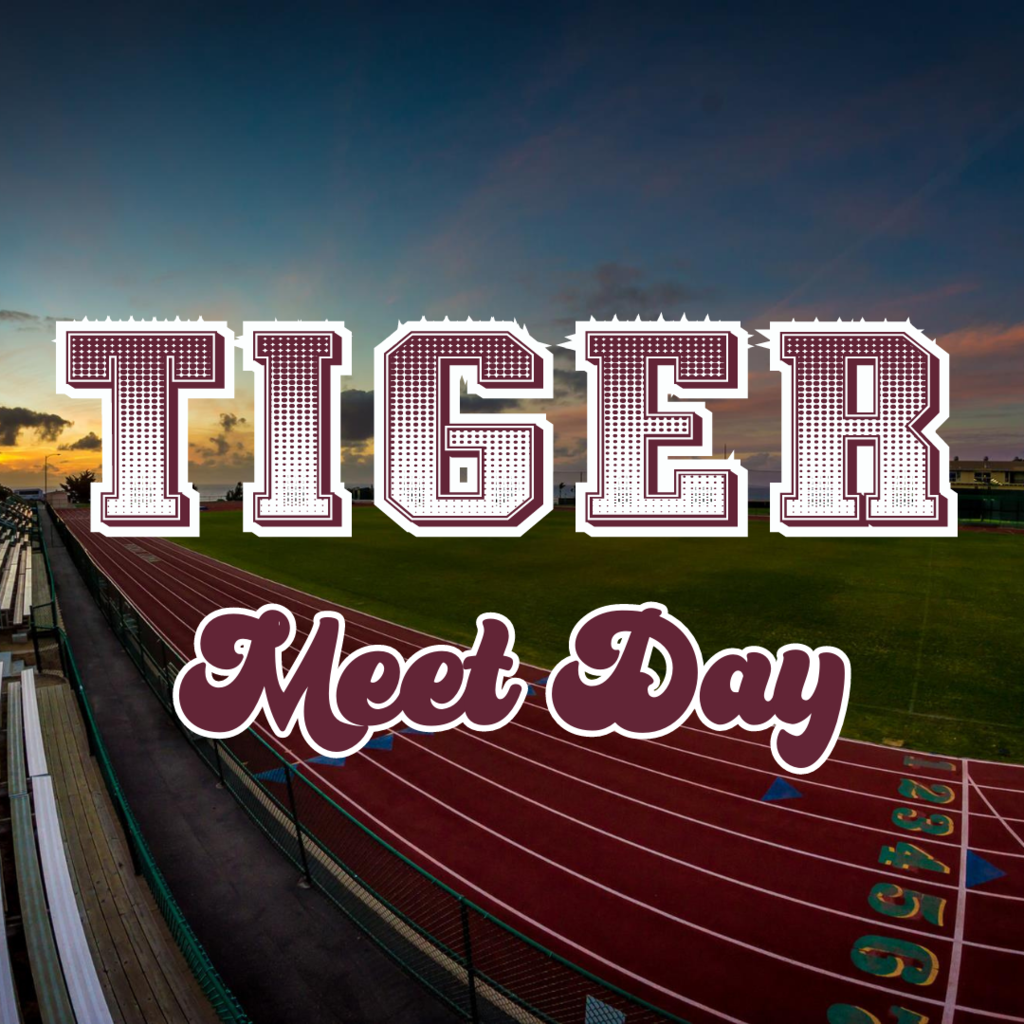 ATTENTION TIGERS!! TODAY is the final day to purchase your 2022-2023 yearbook!!! Books are $45 and may be purchase in Mrs. Huckabee's room until the end of the school day or online at
www.balfour.com
. Currently there are ONLY 15 COPIES of the book remaining!!!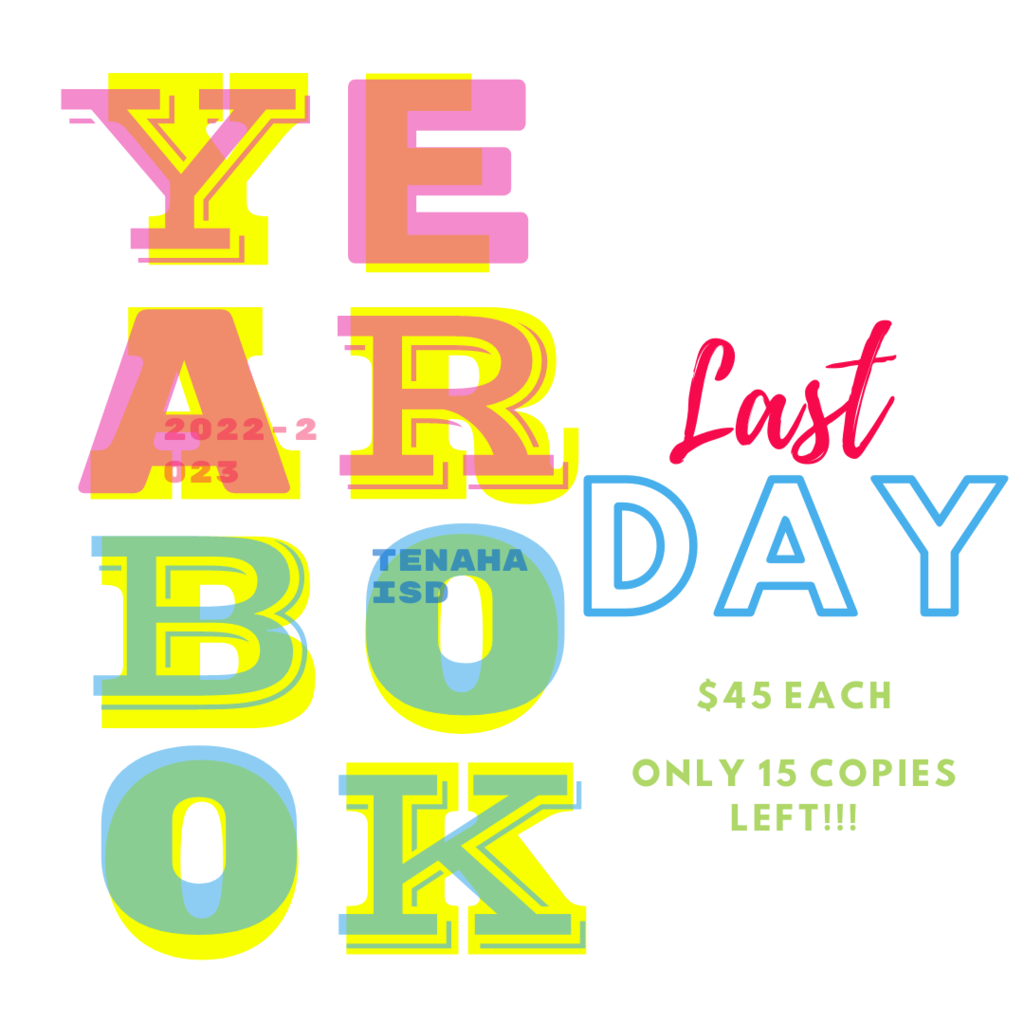 May 4th will be an EXCITING day at Tenaha ISD!! We will start the day by honoring our Senior Class of 2023 with the Senior Walk and Slideshow at 9:15am. Then later that afternoon, our Senior Parents invite you to join us for the Seniors vs Staff Basketball Game at 2:30 in the SEC! Tickets are $1 each and all proceeds go to benefit Project Graduation. Come out and have a great time rooting for your favorite SENIOR or STAFF MEMBER!!!

Congratulations are in order for Josh Albert as he became a licensed drone pilot today after passing his certification exam at SFASU!! And we also finally grabbed a photo of Jaxson with his license as well!! The entire inaugural Part 107 Cert. Class is officially on record as licensed pilots!! Amazing job pilots!!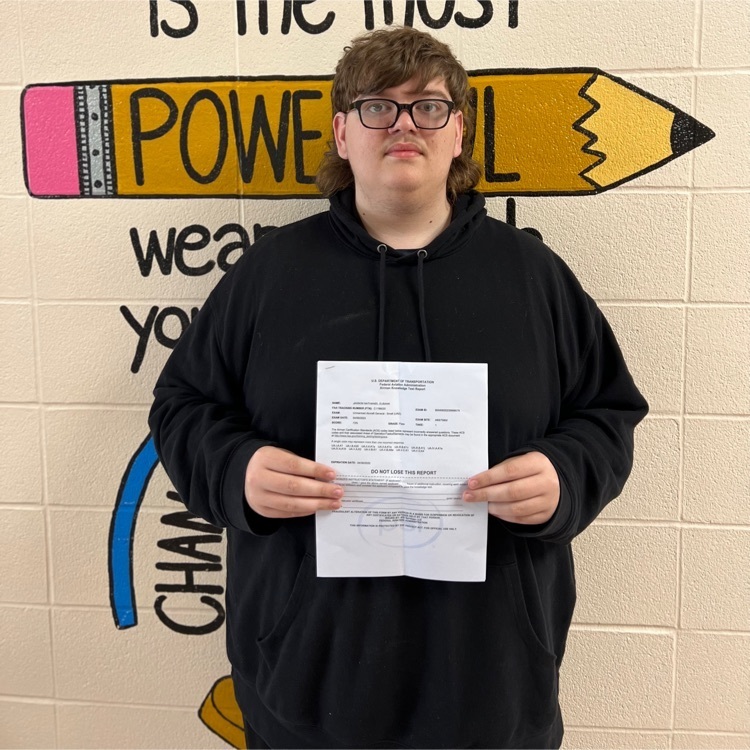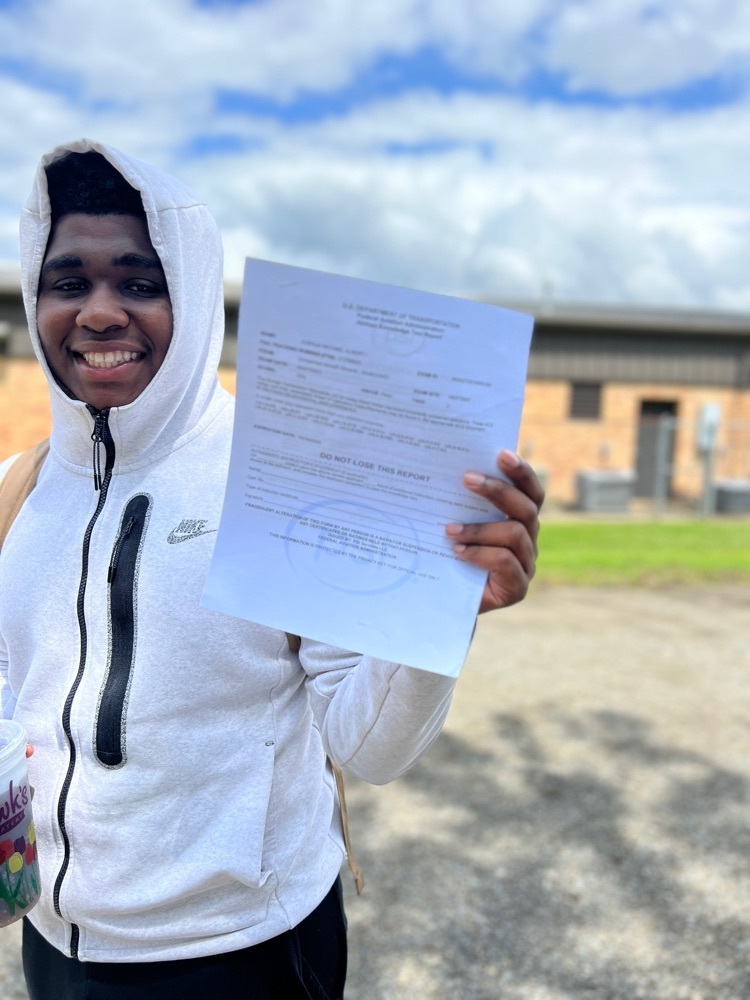 Parents and Families of Future and Current Tigers!! Friday is the FINAL day to turn in your PK & Kindergarten Roundup packets. Please make sure you do this right away as space is very limited and is offered on a first come, first serve basis. We look forward to adding new Tigers to our Family!!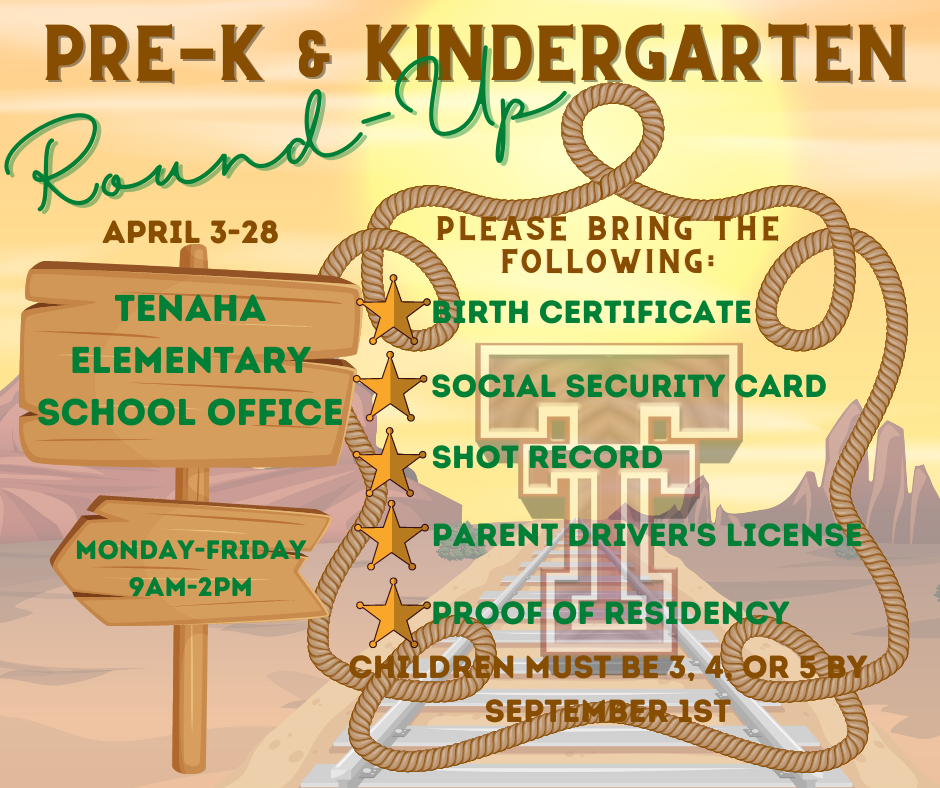 Tigers!! As we prepare for STAAR testing this week and in the upcoming weeks, we would like to give you and your families a few reminders: 1) Please get plenty of rest! 2) Please BE ON TIME TO SCHOOL! 3) Eat a healthy breakfast. 4) Use the strategies you have learned in class this year! 5) Take your time and do your BEST!! We are proud of you!! Parents: Please remember that students should arrive on time and should not be checked out for any reason other than emergency situations. Our students have worked hard to prepare for these tests and we want to give them every opportunity to be successful! Thank you for your help and cooperation in this matter! April 25 - 3-5 STAAR Reading April 26 - 6-8 STAAR Reading May 2 - Biology EOC/STAAR 5 & 8 Science May 3 - US History EOC/STAAR 8 Social Studies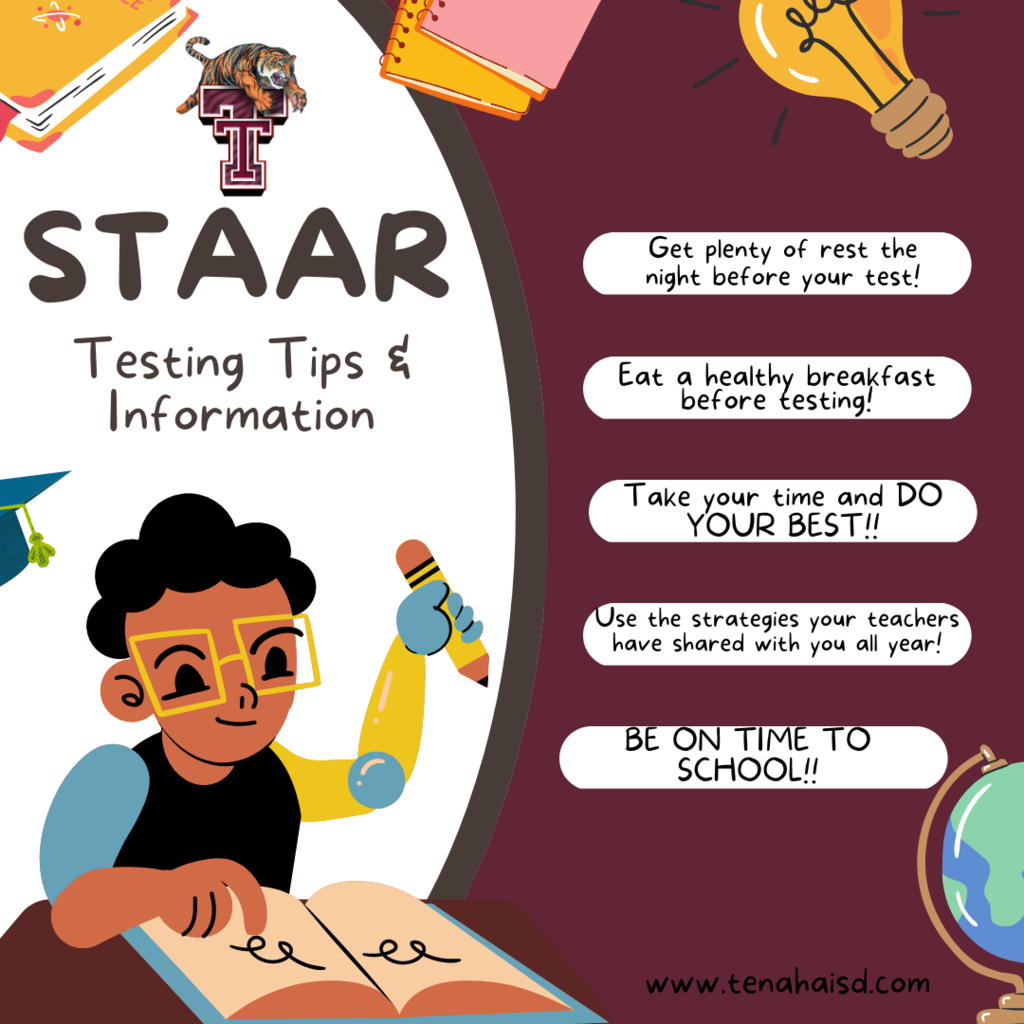 ATTENTION Class of 2023!! Information was sent home with Seniors today and posted to the Senior Google Classroom regarding the upcoming Senior Walk/Slideshow on May 4th. This will be a special event for our senior class and their families. Each senior will create a sign (should represent the student and their personality and interests and be in GOOD TASTE following the sign guidelines posted on the handout and in the GC) that they will carry while wearing their cap & gown as they walk the Elementary, Middle School and High School hallways concluding in the cafeteria where they will watch their slideshow together as a group on stage. Please email any group photos you may have of the seniors with their classmates or 3-5 individual photos of the senior no later than May 1st at 3:30pm to Mrs. Huckabee at
huckabeejoanna@tenahaisd.com
. Any photos received after this time will not be used in the slideshow. All seniors will need to wear jeans and a white shirt (blouses for ladies and collared polo or button down for gentlemen) under their cap & gown for this event. Once the slideshow is over, families will be asked to exit the school in order for our staff to prepare for lunch. Seniors will join Mrs. Huckabee at the stadium to take a few group/class photos for the yearbook. These photos will be shared on the senior google classroom once they have been edited. If you have any questions, please contact Mrs. Huckabee.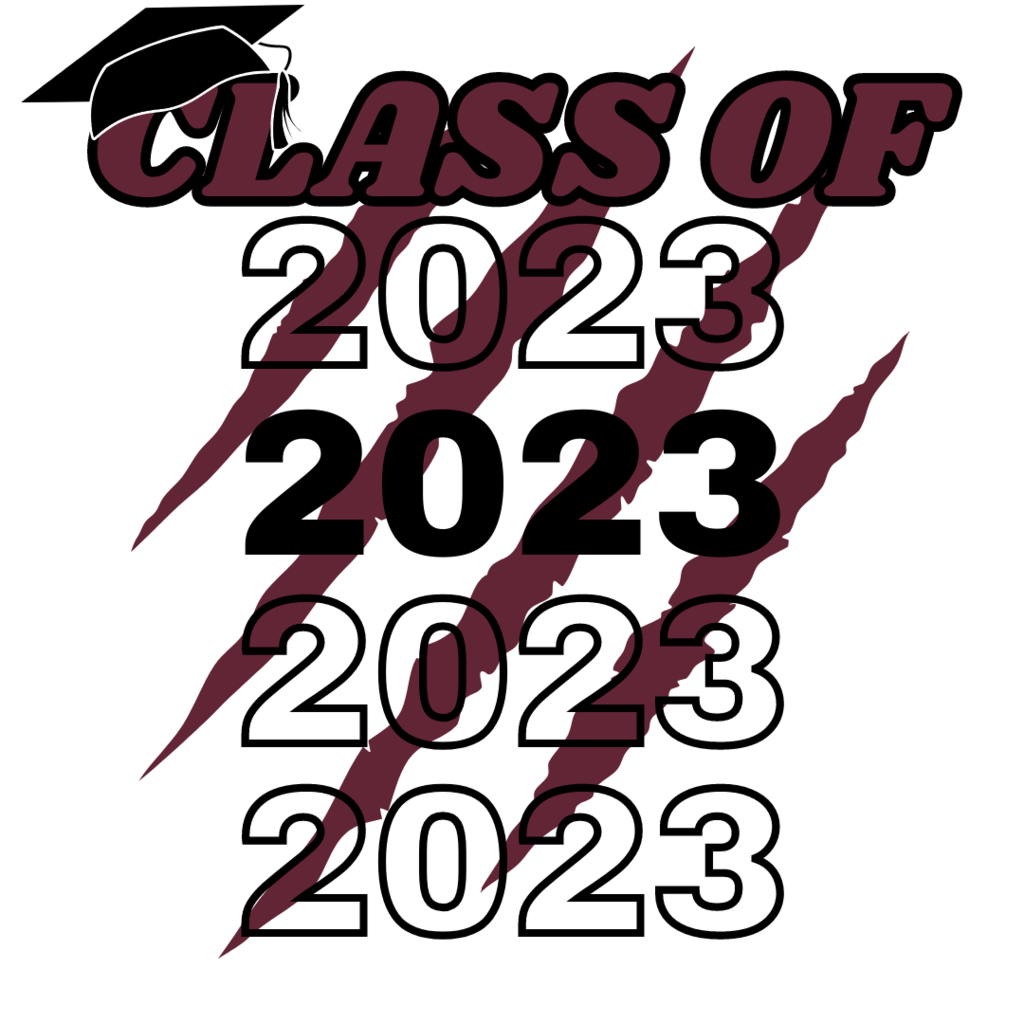 Tenaha ISD is proud to recognize our 2022-2023 Teachers of the Year! These two educators will be recognized at the annual Shelby County Teacher Appreciation Reception hosted by the Shelby County Chamber of Commerce on May 3rd. Tenaha ISD wants to congratulate Mrs. Alyssa King for being nominated for the Shelby County Teacher of the Year. Mrs. King was nominated by her elementary principal, Elizabeth Ward. Mrs. King has been teaching for 13 years, the last 8 at Tenaha. This year, Mrs. King is teaching a PK/K blended class. Mrs. King is patient, kind, and passionate about teaching. She goes above and beyond in and out of the classroom to help make each day a special learning experience for her kids. "Alyssa has been an enormous help to me as a first-year principal and has helped out our new teachers as well. Her organization and dedication to kids was apparent to me in the first few weeks of meeting her," Mrs. Ward said. Mrs. King is certified EC-6 and has her Masters in Reading Education. Tenaha ISD is honored to also congratulate Mrs. Joanna Huckabee as being our nominee for the Shelby County Teacher of the Year for Secondary Schools. She was nominated by her peers and administration team. Mrs. Huckabee is currently teaching CTE Courses in the AV endorsement which include both video production and graphic design and digital media, taught our first class of Drone Certification students, is the yearbook advisor, and serves as our district Director of Communications and Marketing. She was recently named our Director of Technology for the upcoming school year. Mrs. Huckabee loves helping students find their "place" in school, because she feels they all have something they can be great at. She received her Bachelor's degree in broadcast and Masters in educational leadership with a principal's certification both from Stephen F. Austin. Mrs. Huckabee and her husband, Blake are the proud parents of Hadlee (12) and Reese (8). Once again, congratulations to our Teachers of the Year!! Thank you for all you do to make Tenaha ISD great!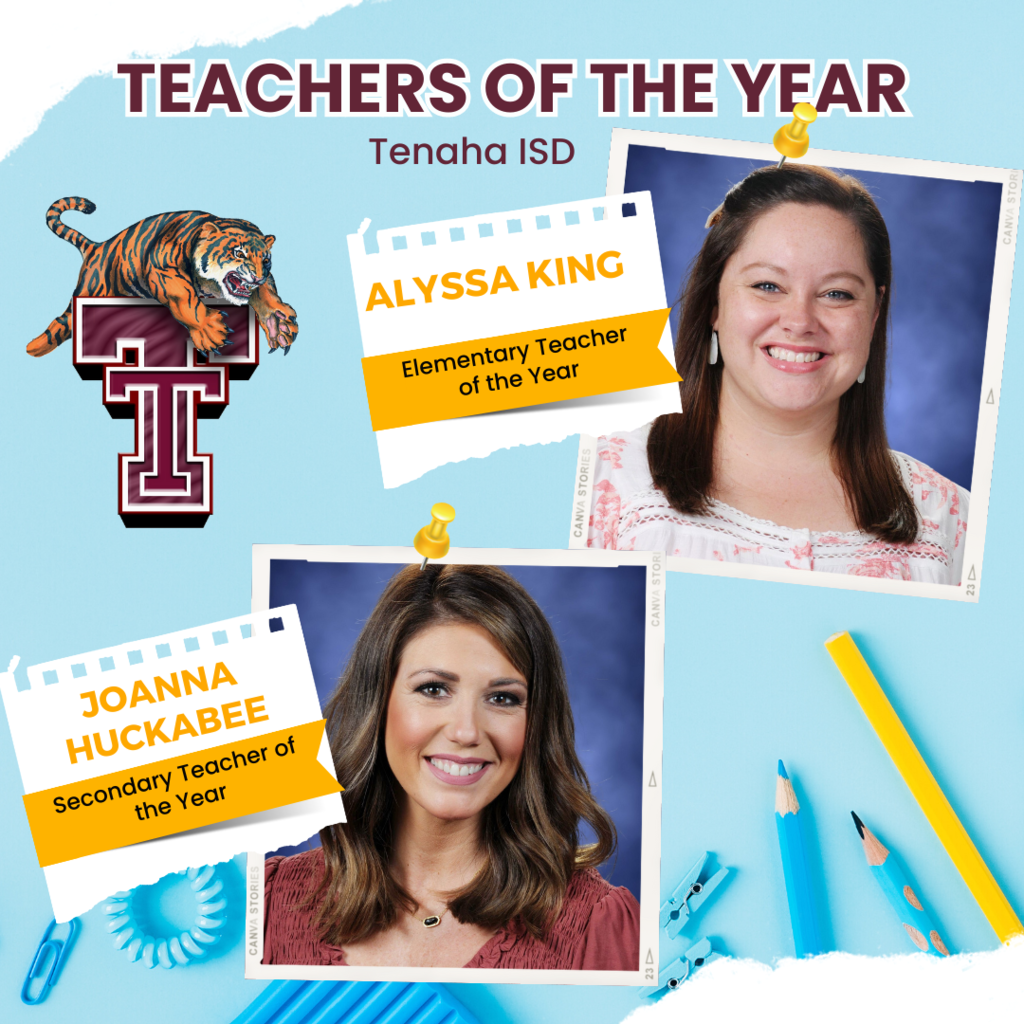 Concerned Parents, Families and Community Members: Regarding the information shared earlier, TISD has received word that the suspect in question has been taken into custody pending further investigation by Constable Pct. 4, Taylor Fanguy. Together, TISD Superintendents Don Fallin and Terry Bowlin, TISD Police Department, along with local and regional law enforcement agencies will continue to monitor this situation very closely as it progresses. As always, all TISD Officers and Guardians will remain on high alert. The safety and security of our students and staff is our TOP PRIORITY. Thank you for your cooperation and communication.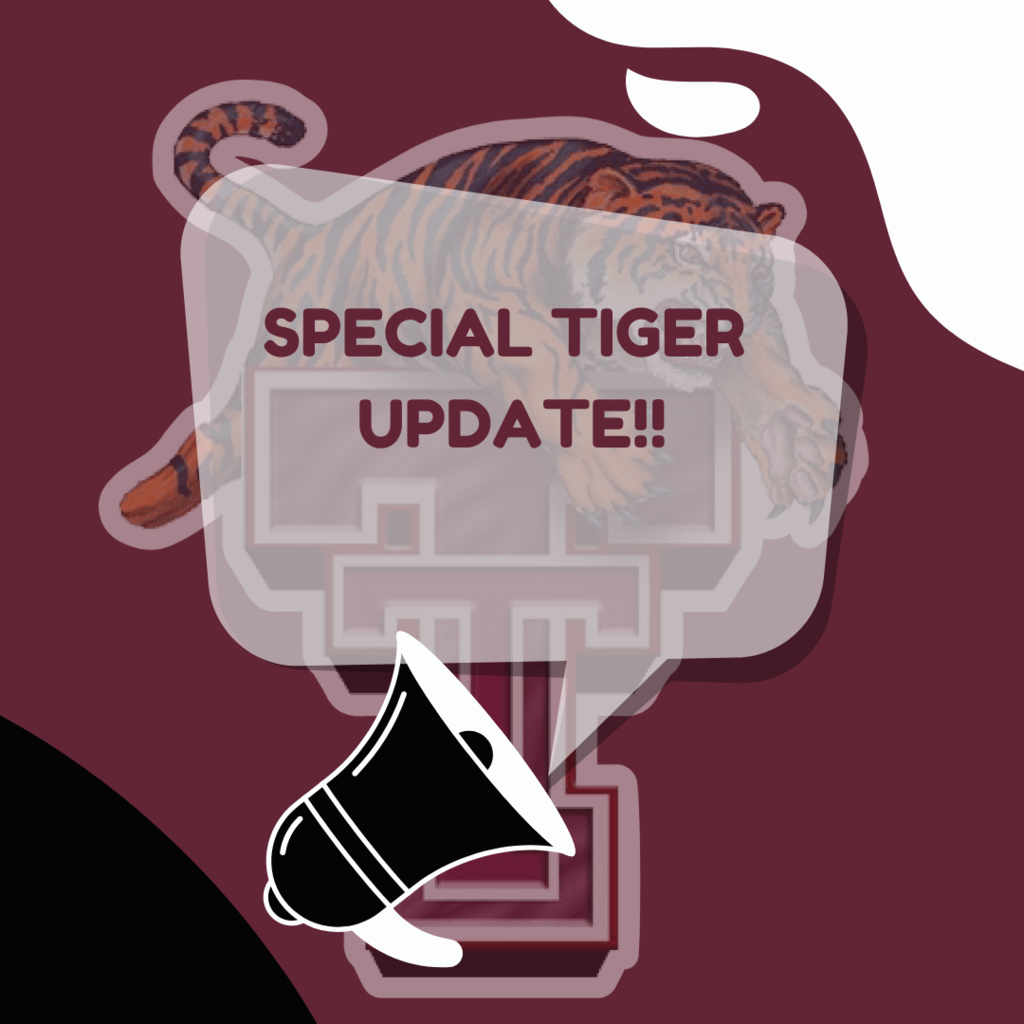 Please see the attached letter from Elementary Principal, Mrs. Ward regarding the results from the Book Fair!!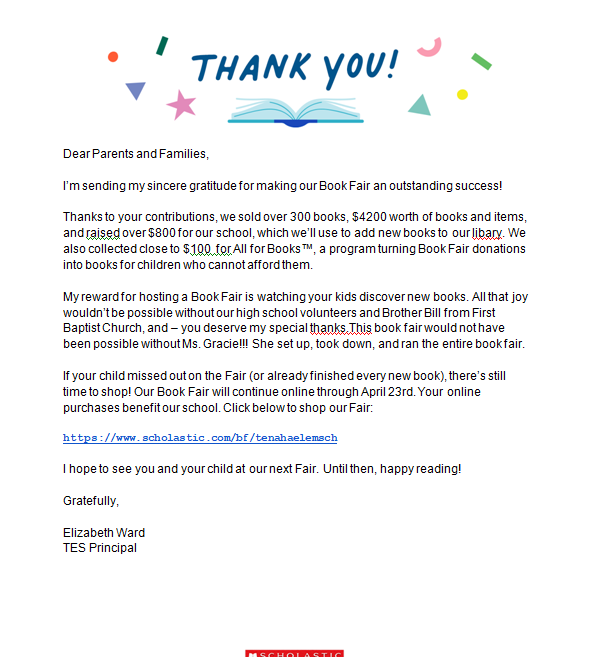 WOW!!! TigerNation!! The Elementary Scholastic Book Fair this past week was AWESOME!! A HUGE SHOUTOUT to Miss Gracie for doing such an outstanding job setting up and managing the book fair, along with our student helpers as well. Thank you all for participating and making this such a huge success for our district!