Tomorrow night, the Tiger Basketball teams will host Shelbyville here at home. This will also be Teacher Appreciation recognition night. This ceremony will begin at 5:15pm in the SEC; both boys and girls recognition will take place at this time. Tiger Café will be open Friday as well; serving our regular season menu of catfish, chicken strips or boiled shrimp, french fries or baked potato, cole slaw, and tea for $10. The Lady Tigers will play at 6pm and the Varsity Boys game will begin at approximately 7:30. We look forward to seeing you tomorrow evening!!

Our Junior High TIGERS are on the road today headed to Bearcat Country!! They will play the Beckville Bearcats this afternoon beginning at 4:30pm. The girls will play two games in one gym starting with the first at 4:30, second game to follow. The boys will only be playing one game this afternoon and it will begin in the second gym at 5:30 following Beckville's 7th grade inner-squad scrimmage. BEST OF LUCK TIGERS!!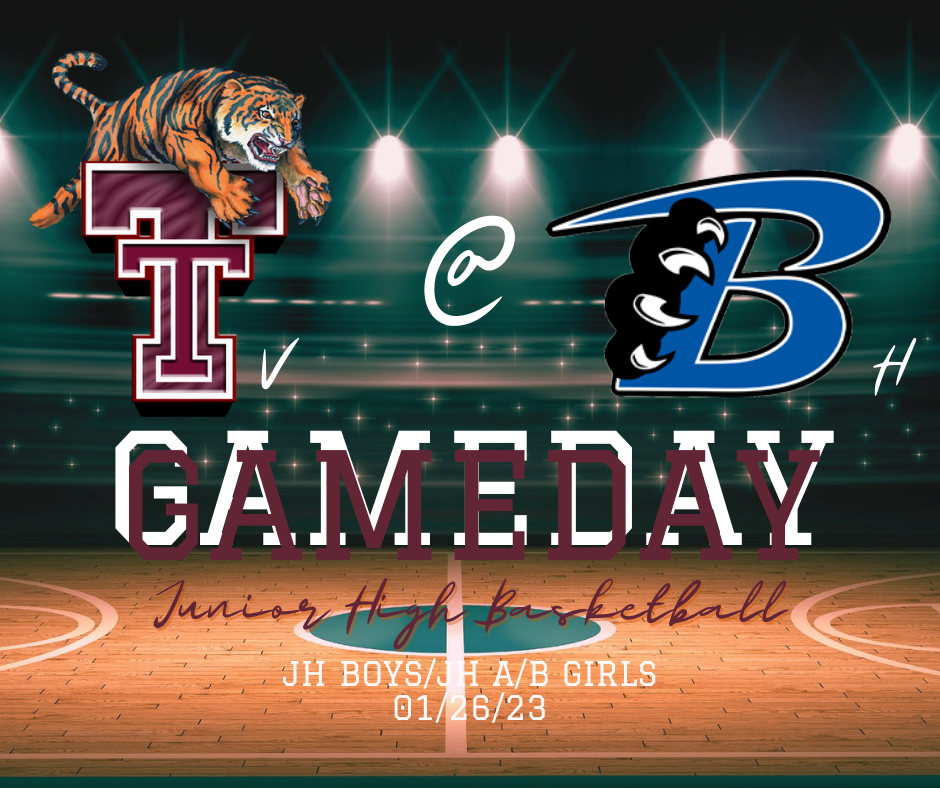 TigerNation!! It's GAMEDAY for our TIGERS!! Our Lady Tiger Soccer Team is getting warmed up for Game 1 this morning at the New Summerfield Tournament. They will play at 10:30am. They will play game 2 today at 1:30pm. This evening, our Boys Soccer Team and Coach Pineda will travel to Waskom for their game at 6pm. Dress warm and make plans to go support these outstanding TIGERS!!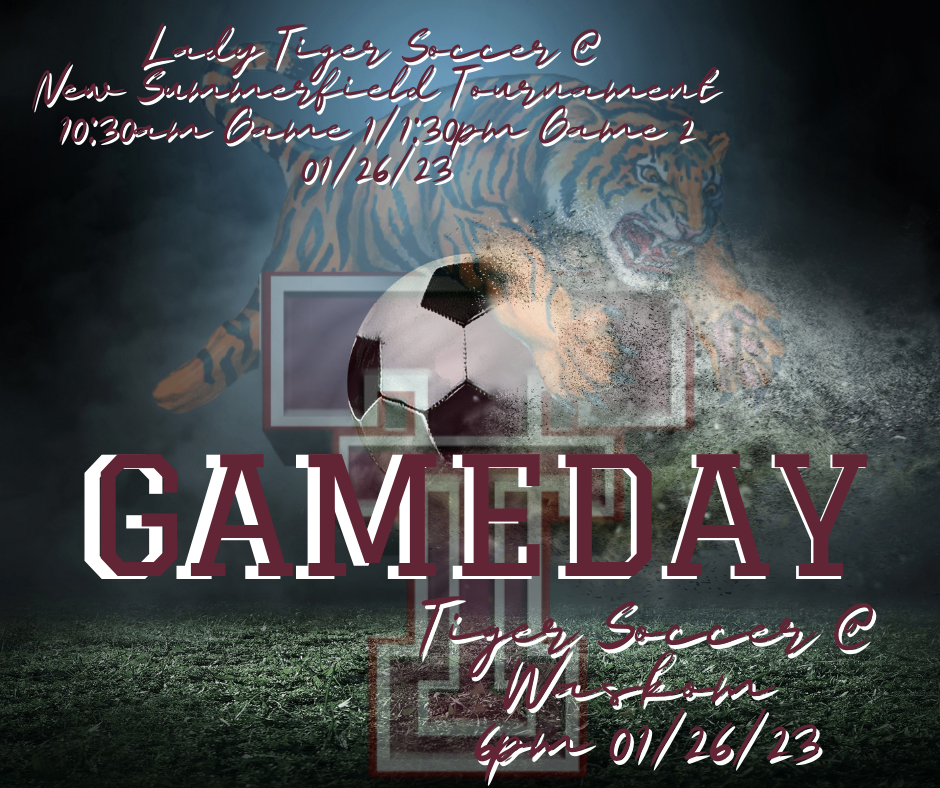 Attention SENIORS & SENIOR PARENTS/GUARDIANS!! See the information below and use the link for the website listed to order! If you have questions, you may contact the Balfour Office (number is listed). Website:
http://tinyurl.com/hy75mcl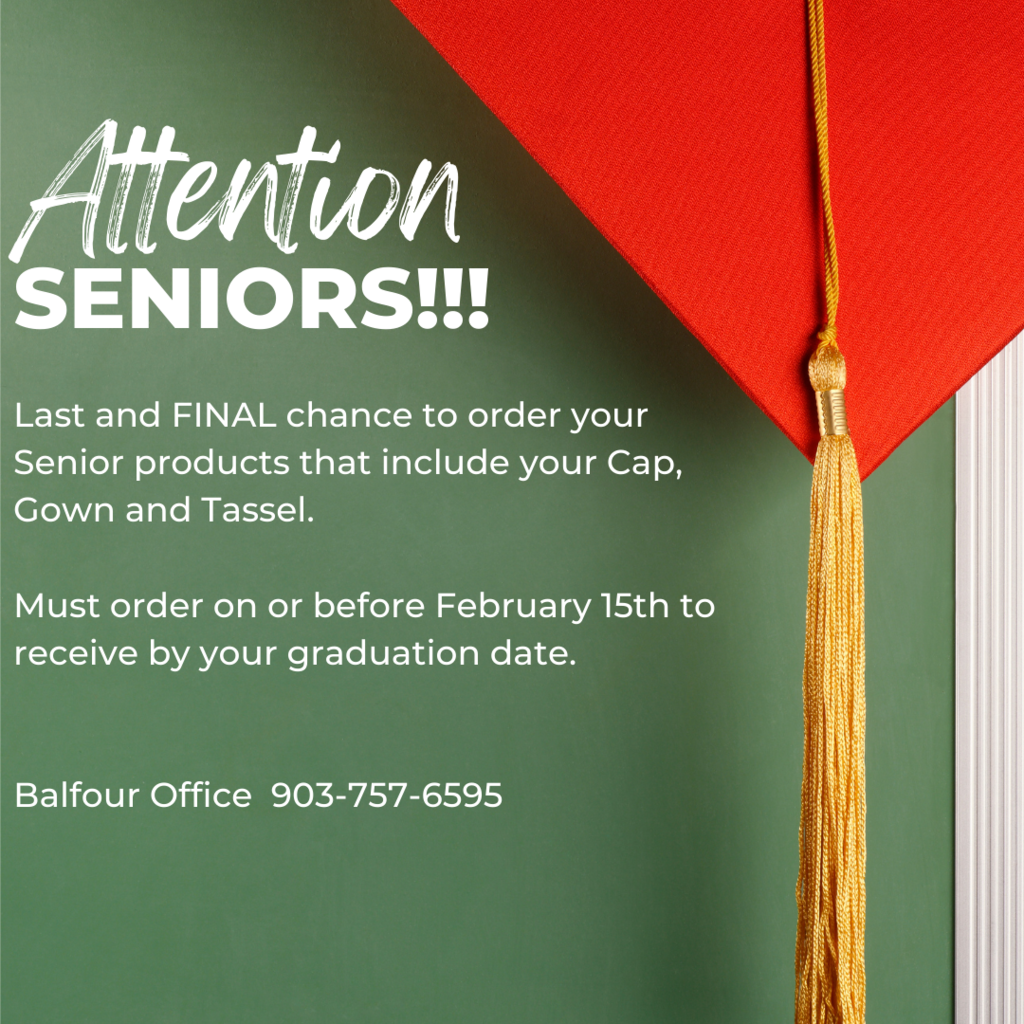 TigerNation...It's GAMEDAY!!! There's only one way to beat the cold and rainy weather today, and that's to join our varsity boys and girls basketball teams in Gary this afternoon as they TURN UP THE HEAT on the BOBCATS!! The Lady Tigers game will tip off at 6pm or at the conclusion of the JV game between Carthage and Gary. Our Varsity Tigers will play following the girls game. Both teams are coming off of a GREAT week and need your support!! Travel safe this afternoon, and GO TIGERS!!!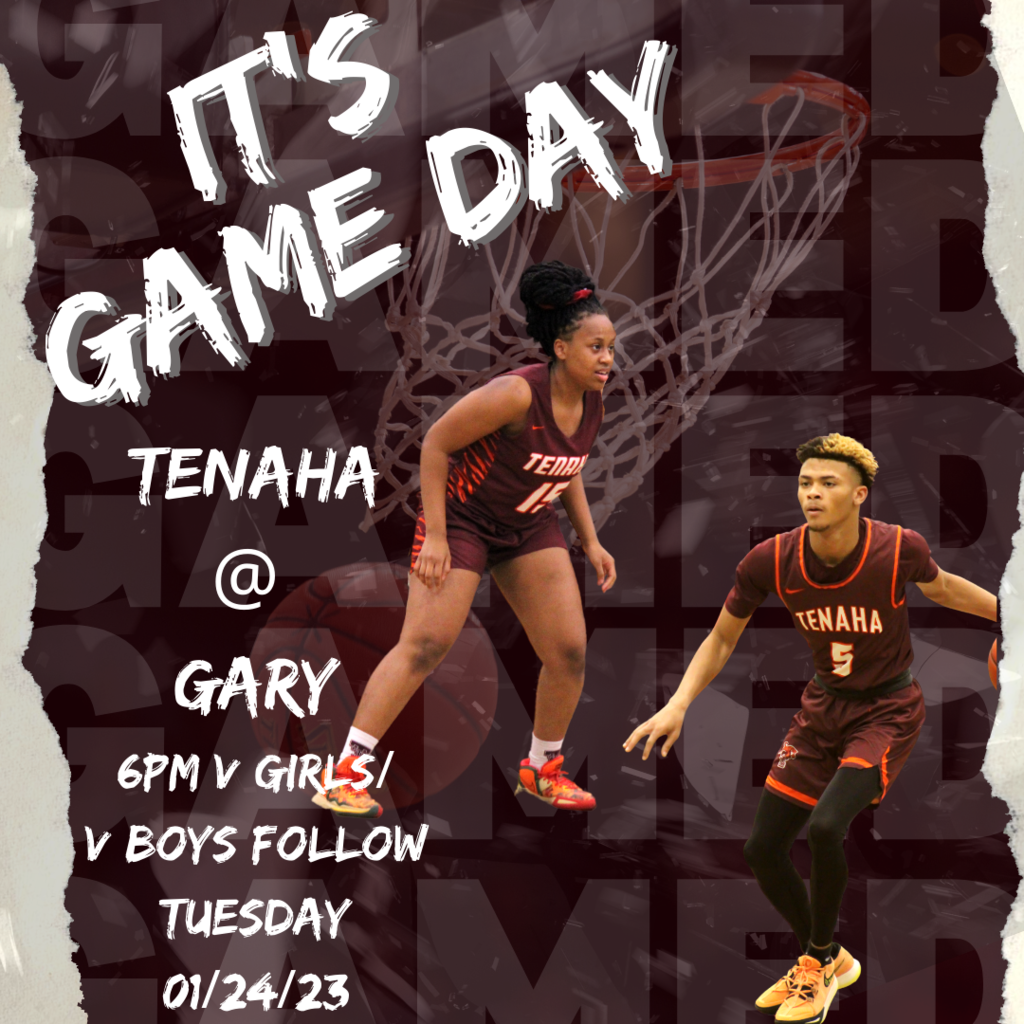 It's been a while since we've shared our "Thank A Tiger" form, but we wanted to share the link again. We are very blessed at Tenaha ISD with a terrific staff that goes above and beyond for our students each and every day. If you have anyone you would like to give an extra shout out to, please feel free to complete the Thank A Tiger form; it will be shared with that individual. A positive word of encouragement or a simple thank you can mean more than you know; let's spread some positivity throughout our school district and community!!
https://forms.gle/nobjQ4VoQgjPMPcNA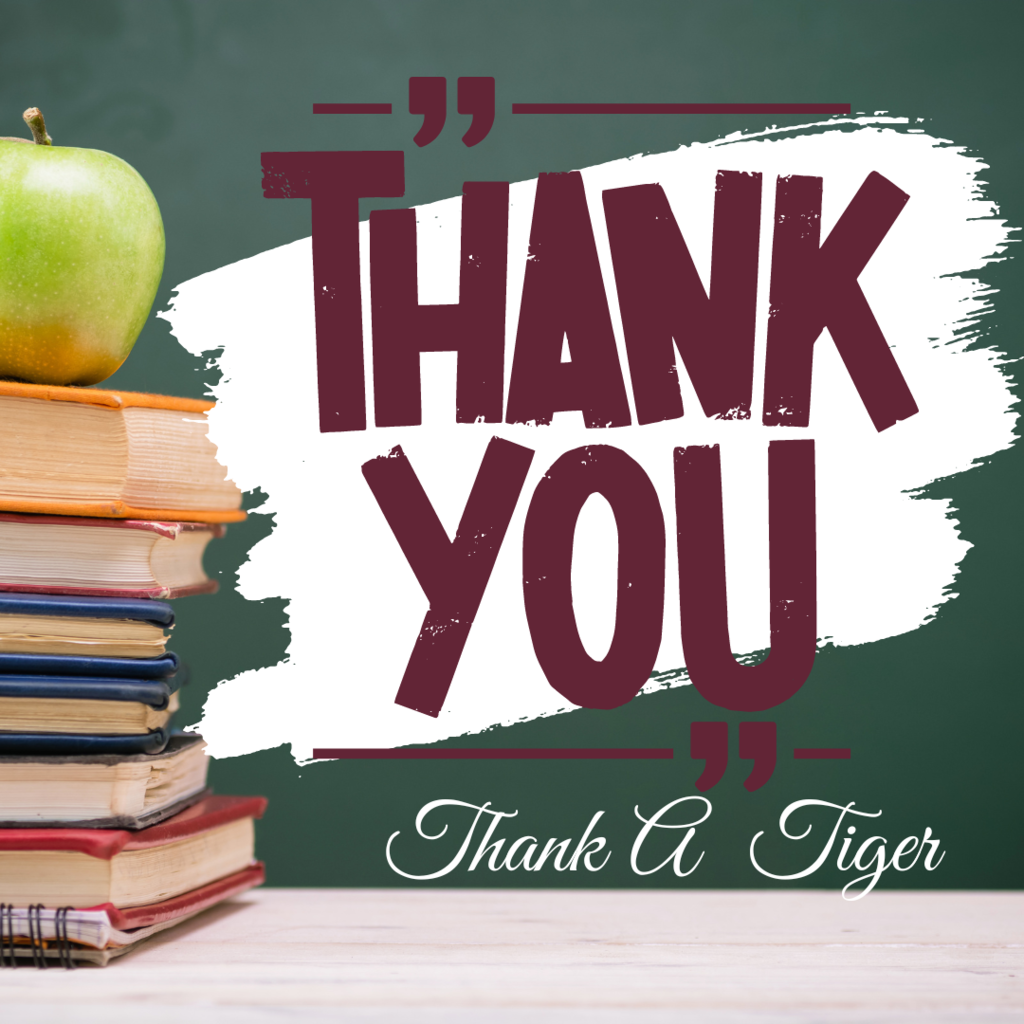 Tenaha Middle School is excited to present the 2023 Valentine's Day Sweetheart Sneaker Ball on February 11, 2023. The Ball will be held in the Tenaha ISD Cafetorium from 6-9pm; attire is Black Tie (Sneakers are optional:-)) and refreshments will be served. Tickets are $20 each and students may bring a guest from another school district meeting the age and conduct requirements set forth in the documentation sent home by the school district. All ticket sales are final once purchased. The Sweetheart Sneaker Ball is a fundraiser for Tenaha Middle School End of the Year Activities. All ticket money is due by February 7th and may be turned in to Mrs. Mia Cloudy. This is going to be such a FUN event for our Middle School students!! For any questions, or if you would like to make a refreshment donation, please email Mia Cloudy at
cloudymia@tenahaisd.com
.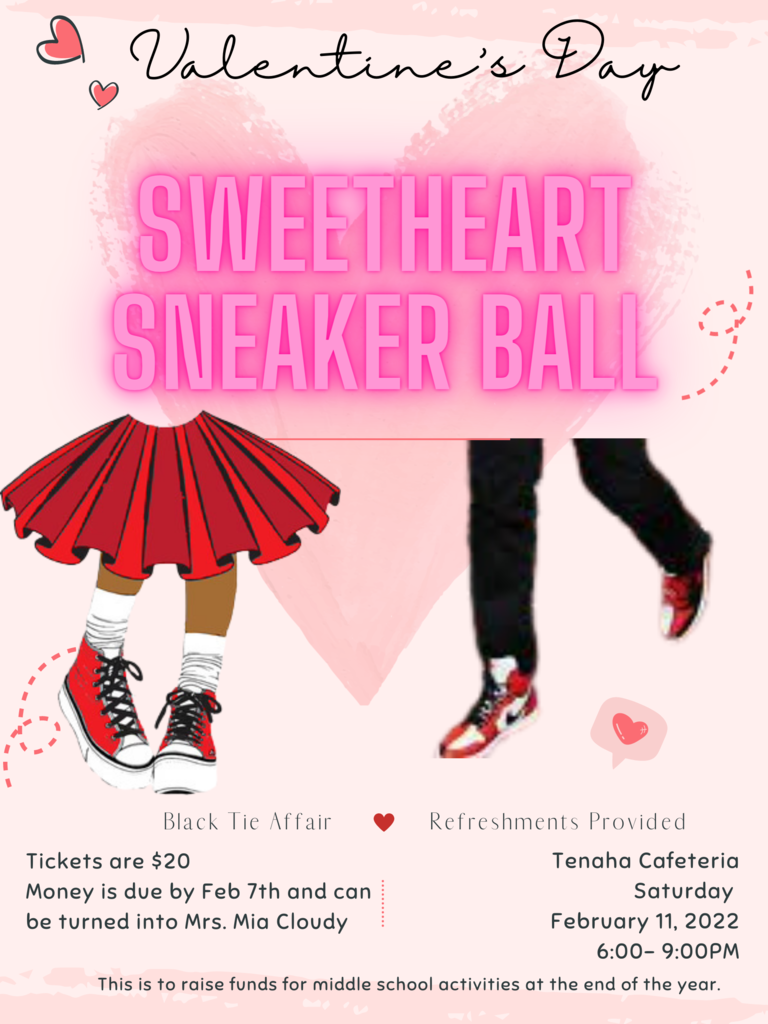 Tenaha High School and Gulf Coast Blood Center will host a Blood Drive February 22 from 8am until 2pm. Just scan the QR code on the flyer to schedule your donation. Each donor will receive a complimentary zip pullover for your donation. Thank you for sharing the Gift of Life and Donating Blood!!

Attention Tenaha Little Dribbler Participants: There will be a mandatory parent meeting TONIGHT at the Tenaha ISD Tiger Gym at 6pm. If you have any questions or concern, please contact Jay Moore.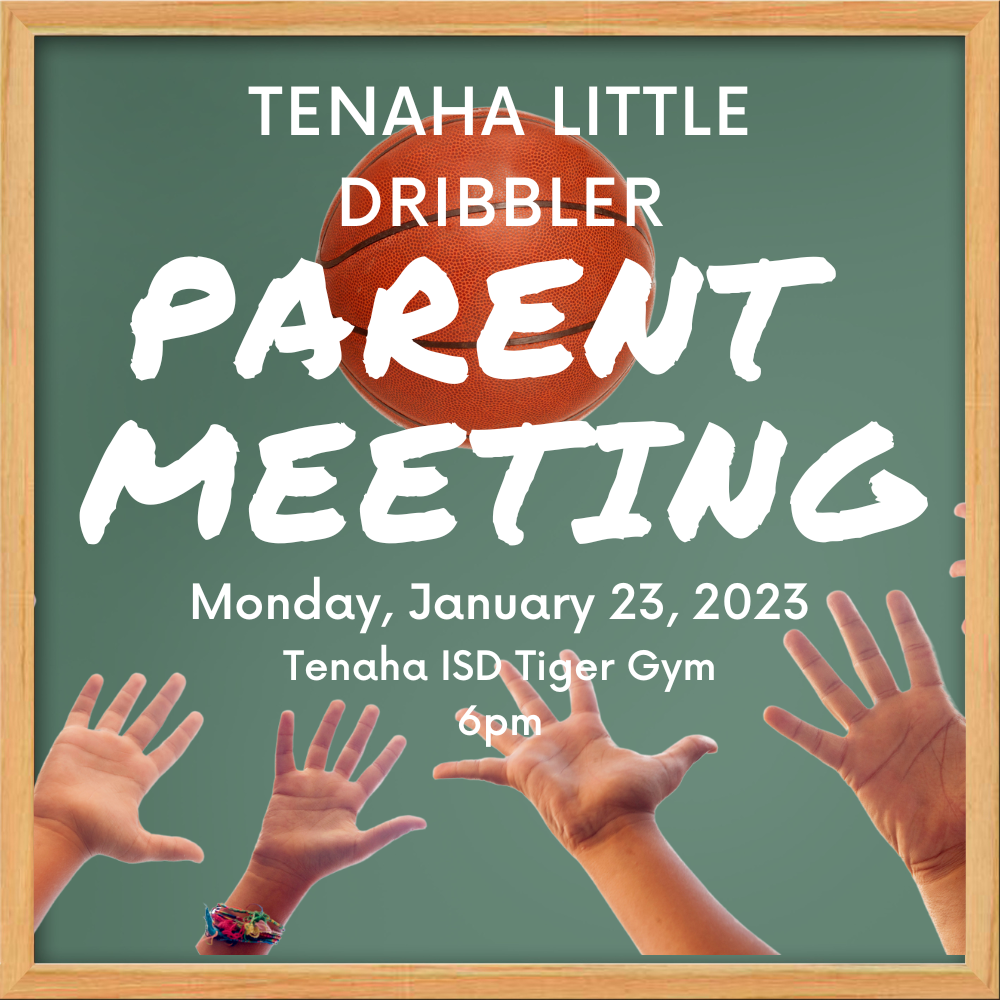 It's GAMEDAY TigerNation!! Our Tiger Soccer teams are back at it today on our home field!! This evening, they will take on Central Heights beginning at 5pm with the Lady Tigers. At 7pm, the Boys will take the field. Both of these teams have started the season EXTREMELY well and we are so proud of their efforts. Bring some warm clothes and your blankets and come support these TIGERS tonight; it is going to be two great games!! We also have a few game updates for the remainder of the week to notify you of: Tomorrow (Tuesday): Our Varsity basketball teams ONLY will travel to Gary; the girls game will tip at 6pm following the JV game against Gary and Carthage and the Varsity boys game will follow the conclusion of the Varsity Girls game. On Thursday, 1/26, our JH Basketball teams will travel to Beckville to play. Times for those games are being confirmed; updated information will be shared as it is received. The Boys Soccer game that was originally scheduled for Friday, has been moved to Thursday. It will begin at 6pm and will be here at Home. There will be NO girls game at the end of this week due to tournament play; they will play in the New Summerfield Tournament Thursday at 10:30am and 1:30pm and then again on Saturday at 10:30am and 1:30pm. Friday, our Varsity basketball teams will be playing Shelbyville here at home. Those games will begin at 5pm. We have plenty for you to participate in this week; come on out and support our students!!! GO TIGERS!!!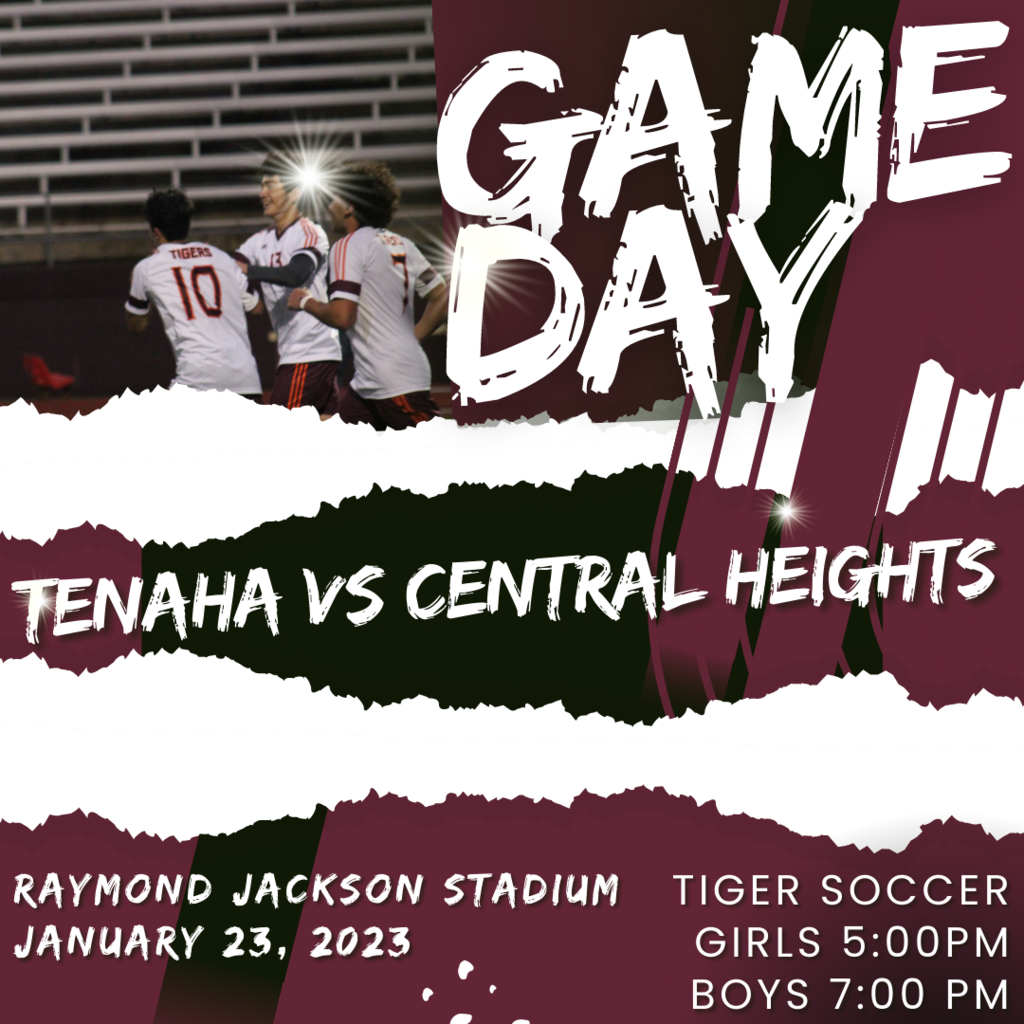 TIGERNATION!! What day is it?? That's RIGHT...It's GAMEEEE DAYYYYYY!!! Our Lady Tigers and Tigers travel to Beckville this afternoon in District Basketball action to take on the Bearcats with games beginning at 4:30pm. The JV Girls and Boys will play in two gyms at 4:30; the Lady Tigers will play in the main gym and the JV Tigers will play in the auxiliary gym. At 6pm the Varsity Lady Tigers will take the court in the Main Gym; and following that game, the Varsity Tigers will finish things off!! Come out and support our TIGERS tonight in Beckville!!!

Class of 2023!! Use the link below to access your Cap & Gown photos taken by Traditions Portraits back before the Christmas Break. Several were asking how to access these photos to purchase. The link will take you to a login page; use your Student ID to login to view your photos and purchase. A form will also be passed out today with a QR code to access the login page. Retakes will be available soon; date will be announce by the end of the week.
https://vando.imagequix.com/g1000976904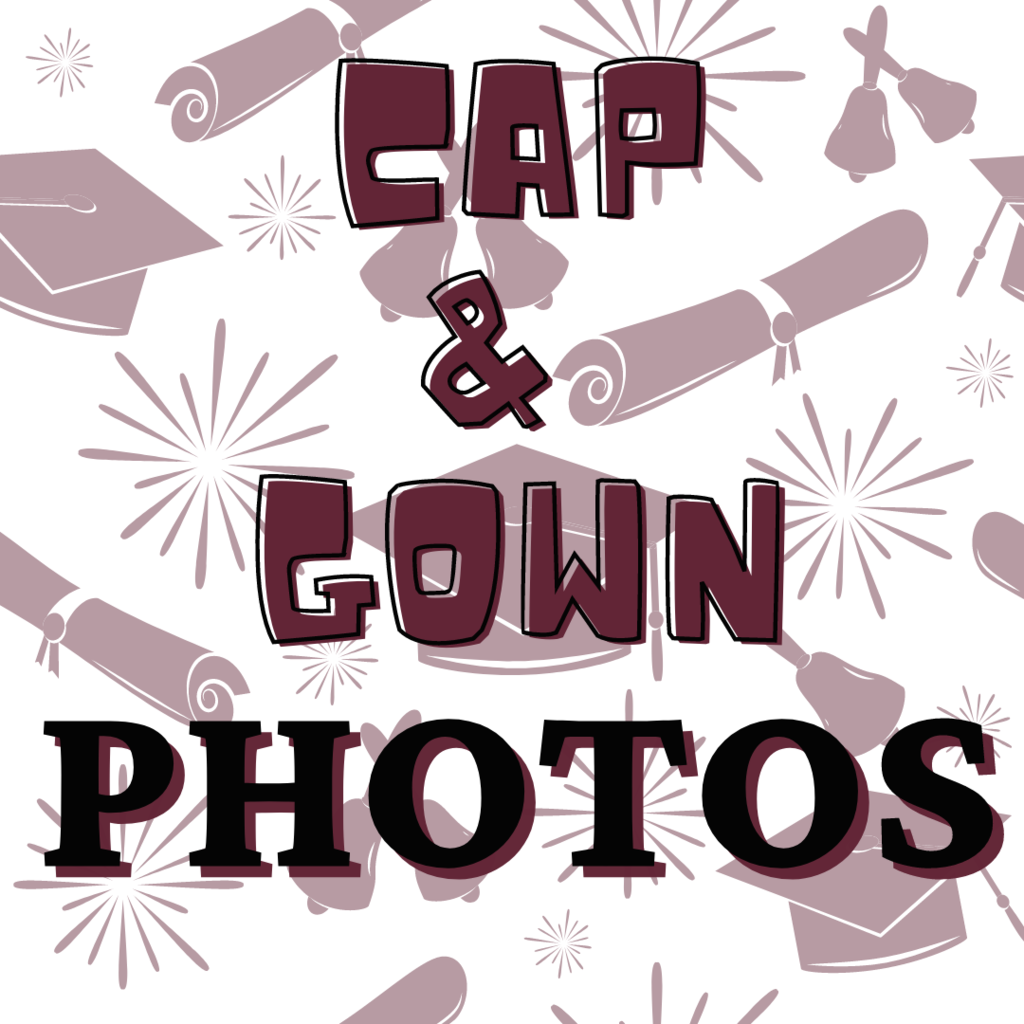 It's GAMEDAY TigerNation!! Our Tigers will travel into Bear Country this evening as the Tigers will take on the Timpson Bears in District Basketball action tonight. We will be playing 3 games this evening starting at 5pm with the JV Girls. Varsity Girls will play following that game and the evening will conclude with the Varsity Boys game. Everyone head over to Timpson to support our Tigers; please remember to follow all guidelines set forth by the hosting school and represent our school and community with pride as we travel . Our neighbors in Timpson have been very hospitable in numerous ways throughout the school year of which we are very grateful and look forward to a great night on the court! Best of luck TIGERS!!

GOALLLL!!! It's a TIGER SOCCER GAMEDAY!!! If you aren't staying in Tenaha today, make the trip to Gladewater to cheer on our Tiger Soccer teams! Our Tigers will kick things off first at 5pm, followed by the Lady Tigers at 7pm. Both of these teams have had a PHENOMENAL start to their season!! Best of luck to both teams; GO TIGERS!!!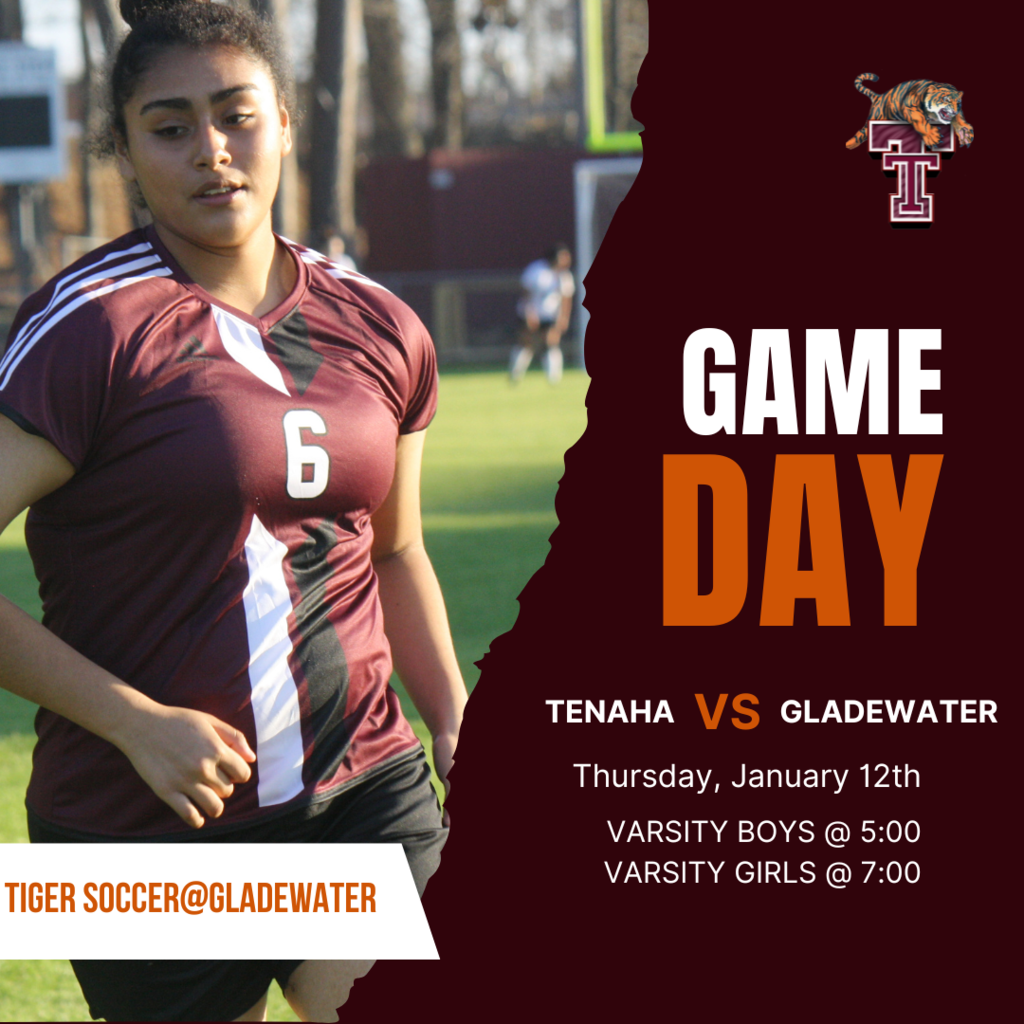 It's GAMEDAY for our Junior High Basketball Teams!! The games will be in Tenaha today beginning at 5:30pm, doors will open at 5:00pm. We will play in both the SEC (A Games) and the Tiger Gym (B Games). Come out and support our TIGERS!!!🐅🐅🐅

The Boys Basketball program will have a table set up tonight selling Tenaha Basketball Hoodies. Hoodies are $12 and they only have select sizes available. Thank you for your support!!🏀🏀🏀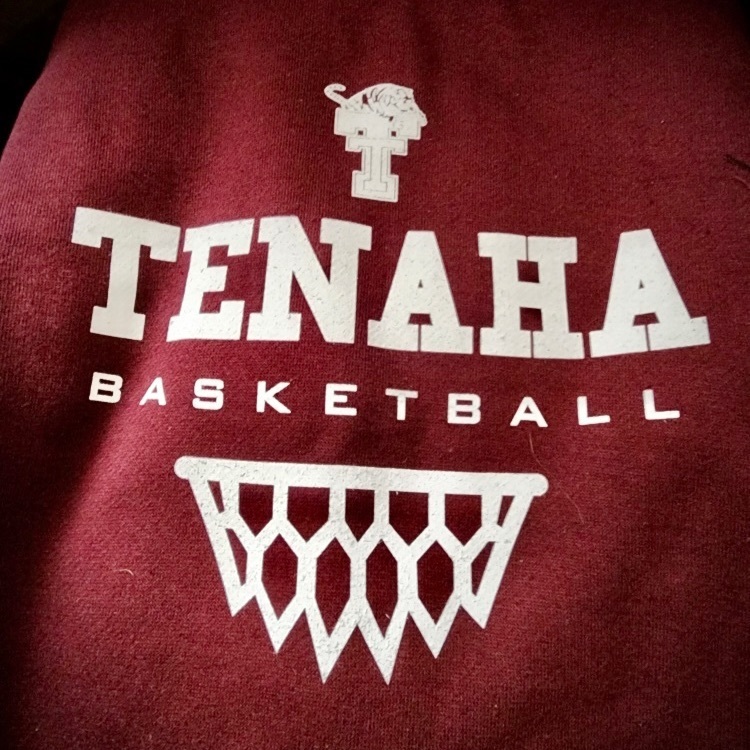 It's GAMEDAY TigerNation!! We've got games all over the district tonight AND Tiger Café will be ready for you as well!! Our basketball teams will be in action against Garrison in the SEC tonight beginning at 5:00pm with our JV boys, followed by the Varsity Girls and Boys. At the Stadium, the Girls Soccer team will play San Augustine at 5pm and the boys will follow at 7pm. Admission is $4 for adults and $3 for students. Cards and cash will be accepted. On the Tiger Café menu tonight: Catfish, Boiled Shrimp or Chicken Strips with a baked potato or french fries, cole slaw, and tea ALL for just $10!!! Tiger Café will be open from 4:30-7:30; you do not have to purchase a ticket for the game to come have dinner or purchase a meal to go. All games will be broadcast on the NFHS Network. Just search for Tenaha High School and select the sport you would like to watch!!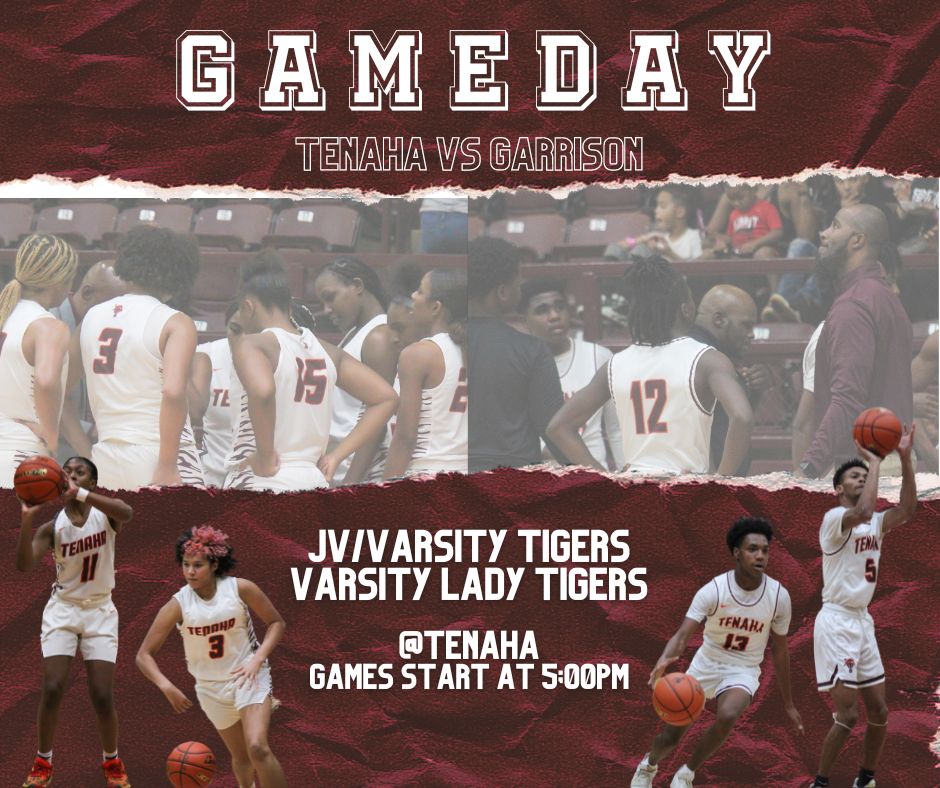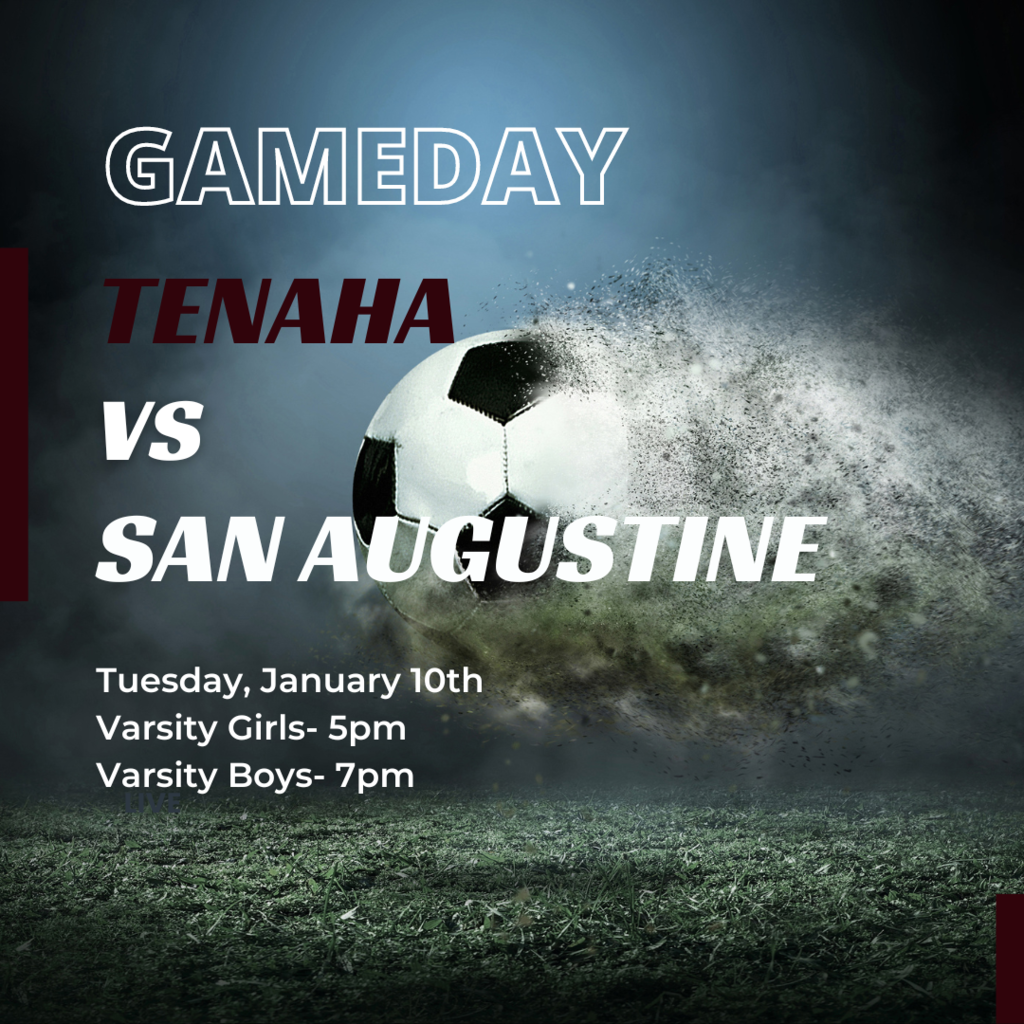 Get some rest, TIGERS!! The second semester begins tomorrow!! We're so excited to see you!!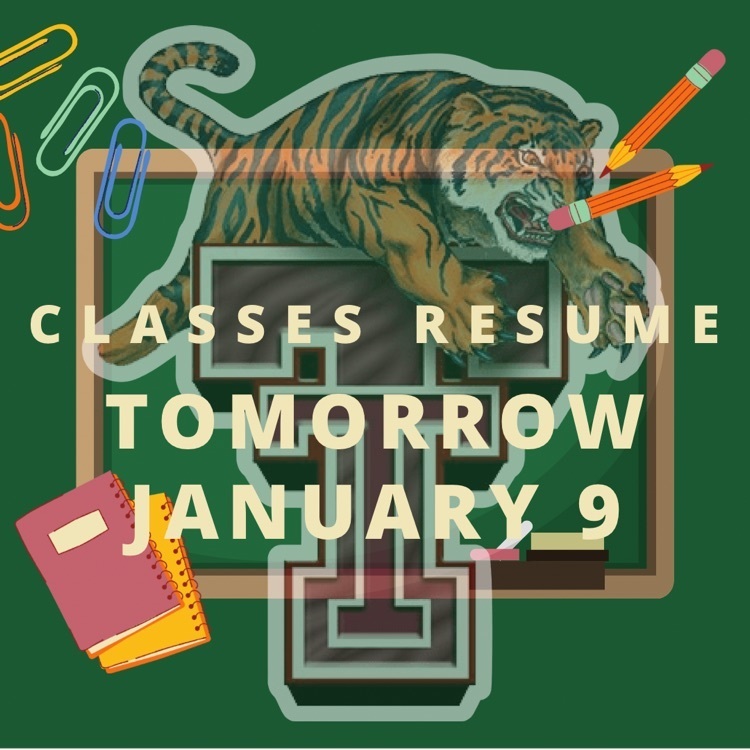 It's GAMEDAY!! Our Tiger Soccer team will be in action today and Saturday at the Sabine Tournament. Today, they will play two games: their first game will be at 1:40 where they will play Tatum and then they will play again this afternoon against Corrigan-Camden at 5:55pm. Best of luck gentlemen!! We will update you with scores as soon as they are available!! GOOO TIGERS!!!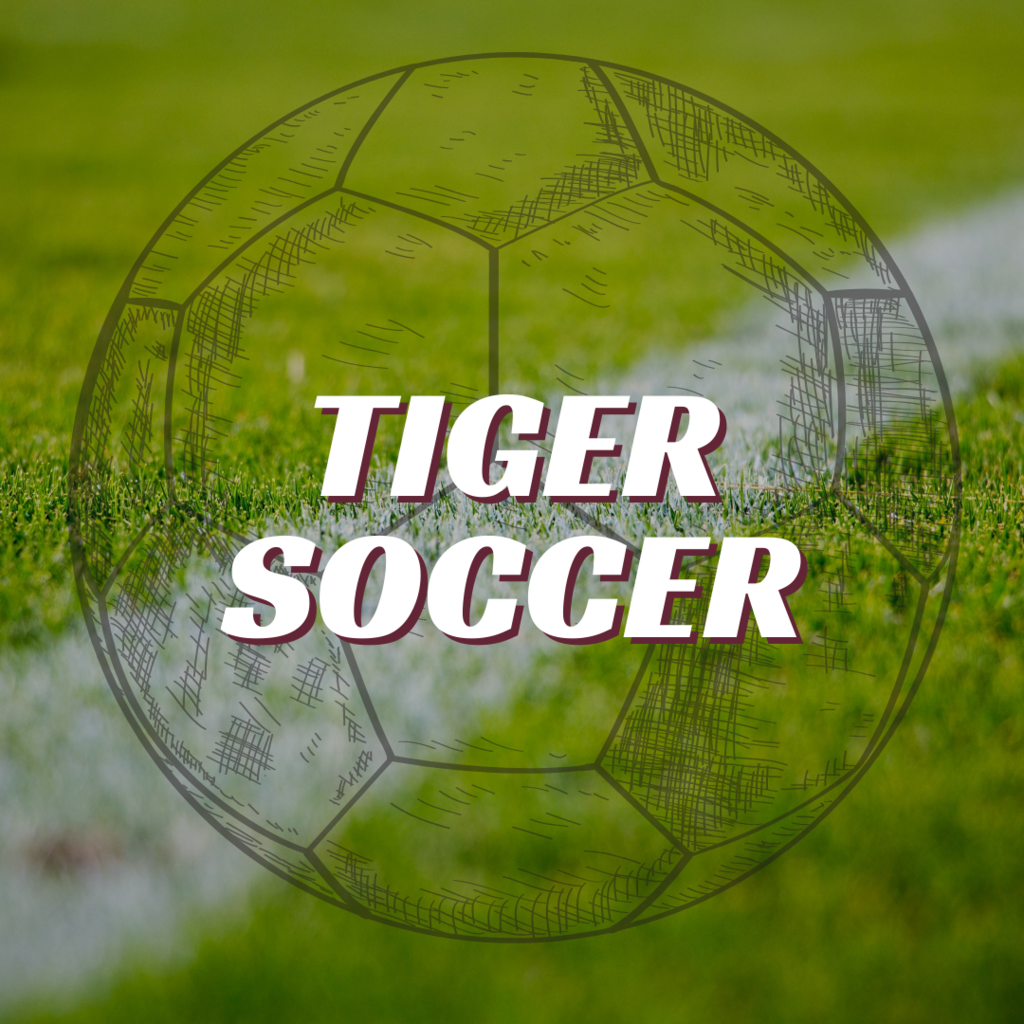 Let's HEAR it for the toughest guys around!! These TIGERS will travel to Atlanta today to play at 5pm!! It may be a bit chilly, but they are EXCITED and READY!! Best of luck to our Tiger Soccer team!!