From Tenaha ISD, we wish you and your family a very Happy and Blessed Thanksgiving!!! We are truly thankful for each one of you that enrich our school district in some way everyday. Enjoy the rest of your break🧡💛🤎🧡💛🤎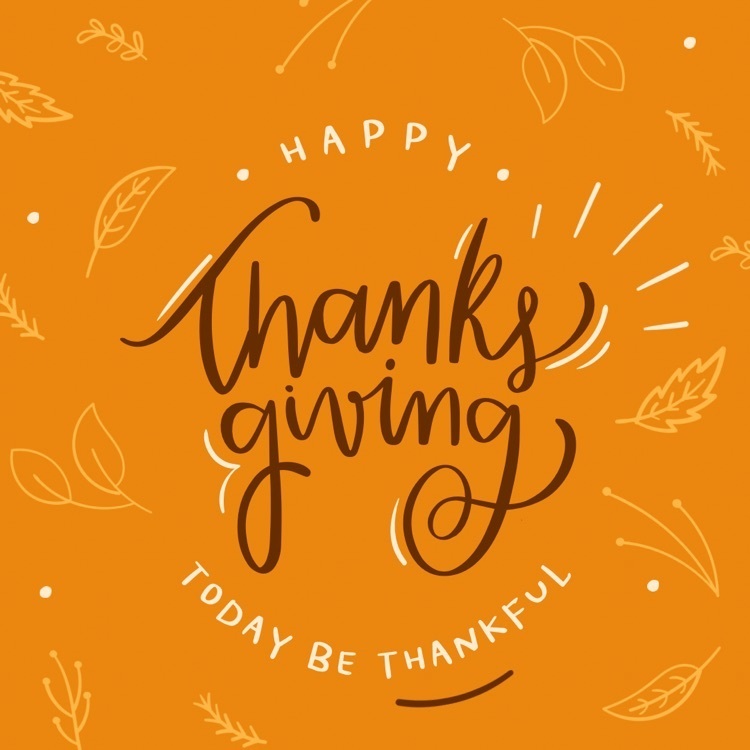 Tuesday is for TIGER BASKETBALL!!! It's a busy day for both our Boys and Girls teams...both of which are on the road today! The ladies are headed to Glen Rose to play Holliday this evening; tip off for that game is 7:15pm. This will be a great game; we will provide a streaming link as soon as one is made available. The boys are headed just down the road to take on the San Augustine Wolves this afternoon. The JV game is set for 2pm with the Varsity game to follow at 3:30. Make sure you head over to support these young men if you are able and then catch the ladies in action tonight!! Both teams will take a well deserved break for a few days after the games today to celebrate the Thanksgiving holidays with family. They will all be back in action next week however, when school resumes! Next up on the schedule: TOURNAMENT ACTION - Lipan Style!!!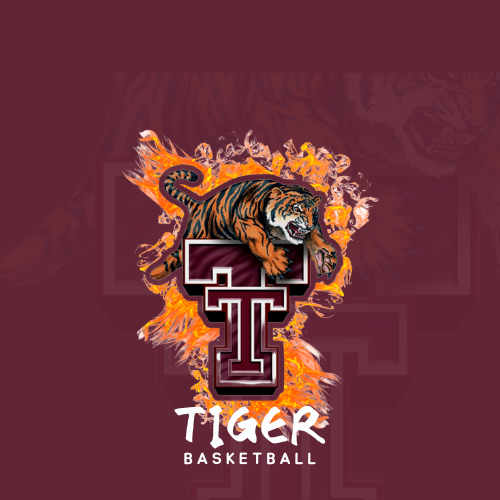 It's GAMEDAY TIGERS!! Come out and watch the Lady Tigers in action this morning at they take on the Carthage Lady Dawgs! Tip off for the JV game is set for 10am followed by the Varsity game at 11:15. Let's Go Lady Tigers!!! All games are streamed on the NFHS Network, search Tenaha High School to find game schedule!

TIGERNATION!! Don't forget that our Lady Tiger JV and Varsity teams will face off with the Lady Dawgs from Carthage tomorrow morning in the SEC beginning at 10am!! JV will kick things off with tip off at 10:00am. The Varsity game is schedule to start at 11:15am. Come on out and watch these ladies in action!!! You won't regret it!!!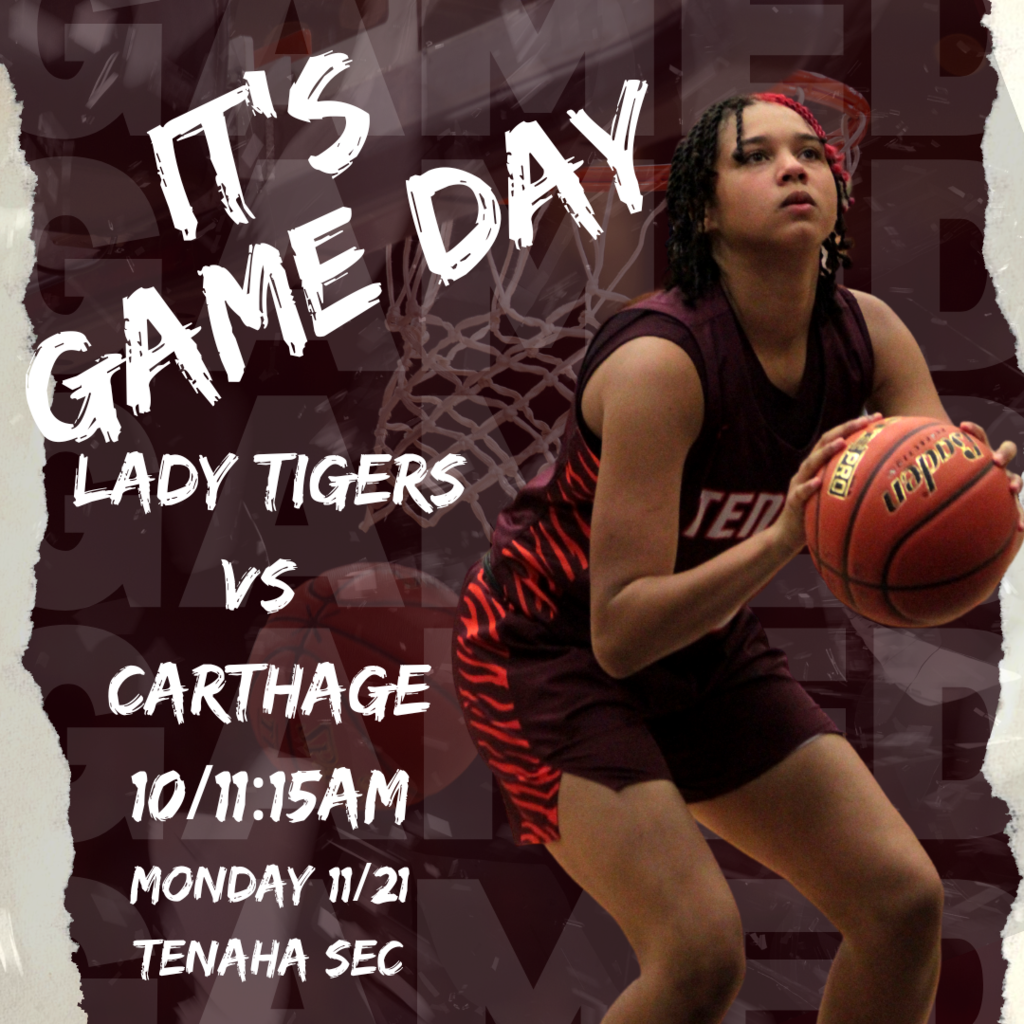 It's GAMEDAY!! That's RIGHT TIGERNATION!! The Varsity Lady Tigers will square up with Wills Point today at home in the SEC at 12:30!! Be there and cheer these ladies on to another TIGER VICTORY!! Varsity Lady Tigers vs Wills Point Tip Off 12:30pm Tenaha SEC

IT's GAME DAY for our Varsity TIGERS!! Come out and watch our Varsity Tigers as they open the season this afternoon at home against West Sabine. Adults $4, Students $2 Games begin with the JV at 5pm and the Varsity game at approximately 6:30. Also, a BIG Congratulations to our JV Lady Tigers as they go 3-0 in the Queen City Tournament this week winning today's game 30-18!!! Great job, ladies!!! We look forward to seeing everyone out this evening to support our Tigers!!

And the JV Lady Tigers DO IT AGAIN in Game 2 of the Queen City Tournament!! Tenaha JV 26 Fouke 25 Great job Lady Tigers!! The Lady Tigers will be back in action tomorrow at 2pm!!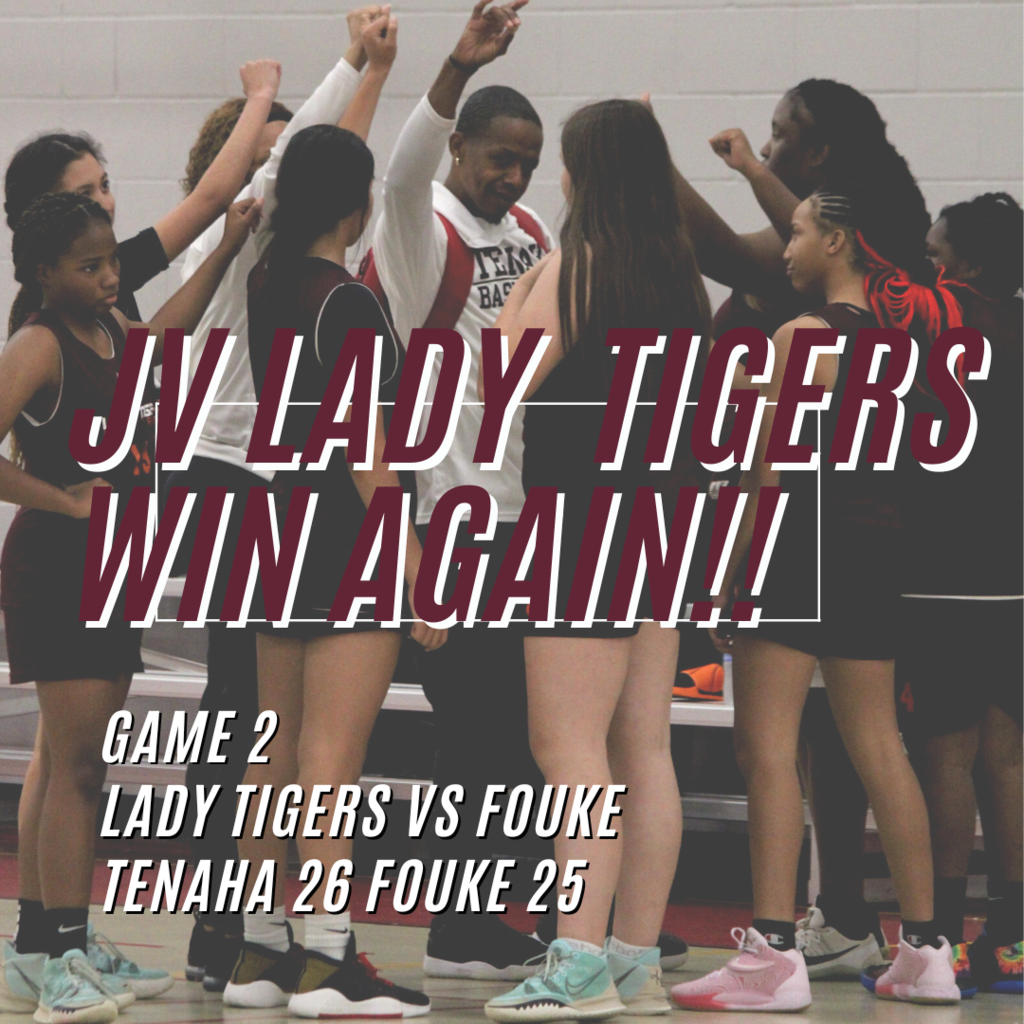 Our JV Lady Tigers are in Queen City this morning at the Queen City Basketball tournament!! They played their first game at 9:30 against the hosting team and came out with the W!!! Tenaha Lady Tigers 27....Queen City 26!!!! Way to play Lady Tigers!!! They will play their next game at 12:30 today. Great job ladies!!!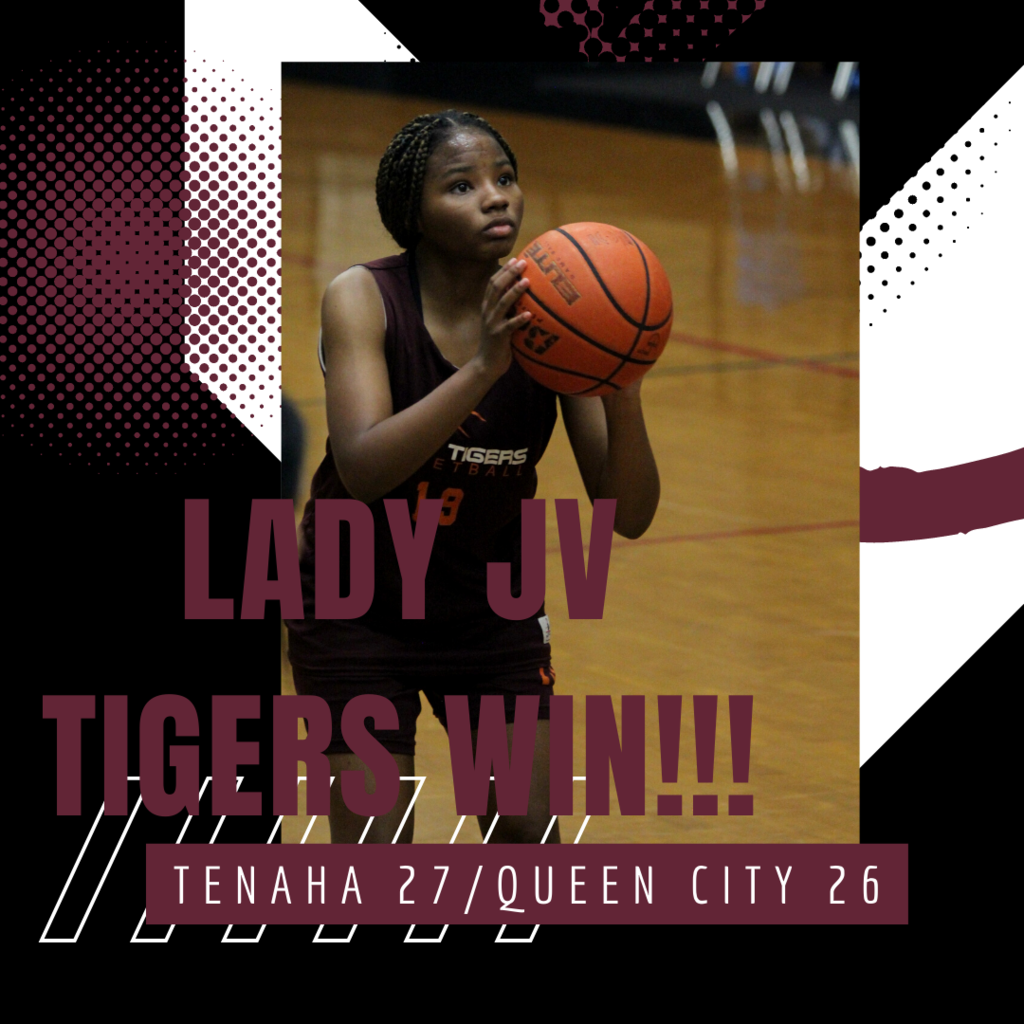 REMINDER: Fall Retakes, Elementary Class pictures(except for Ms. Cantrell's Classes) and Sports/group photos for band, football, cross country, cheer and basketball are tomorrow beginning around 9am. We will make announcements when we are ready for each group. We will also share information about ordering online and viewing proofs once it is provided by Traditions Portraits. Thank you!!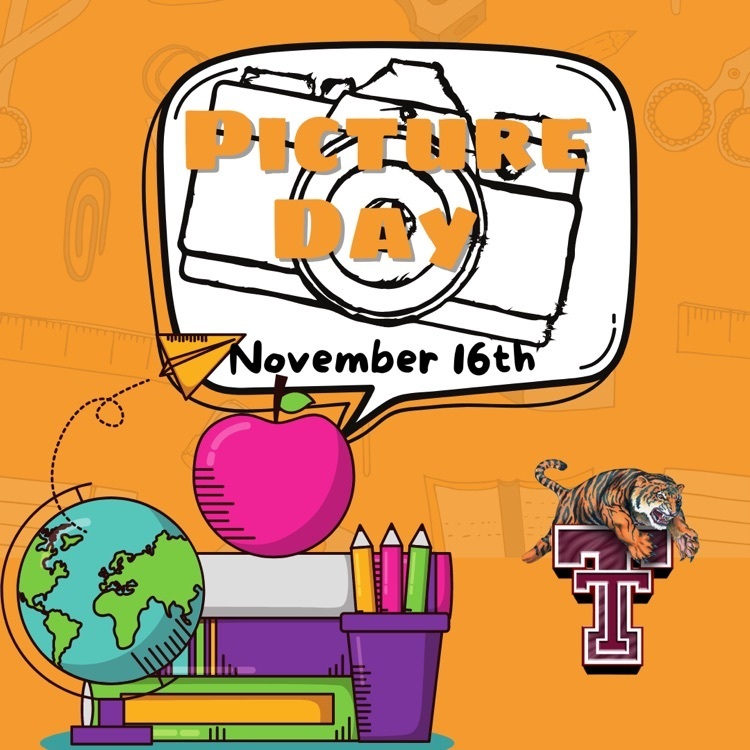 Attention PRE-K Students: Purple day has been rescheduled for another time due to Elementary Class pictures being taken tomorrow!! Thank you!!

TIGERNATION!! What day is it??? It's GAME DAY for our LADY TIGERS!! Tonight, our JV and Varsity Lady Tigers will take on the Jacksonville Maidens at 5:00pm in the SEC. The JV game will begin at 5pm and the Varsity game will start at approximately 6:15pm. This is your first opportunity to see this amazing group of young ladies in action at HOME!! Come on out and enjoy a great night of basketball supporting our Lady Tigers!! Let's Go LADIESSS!!!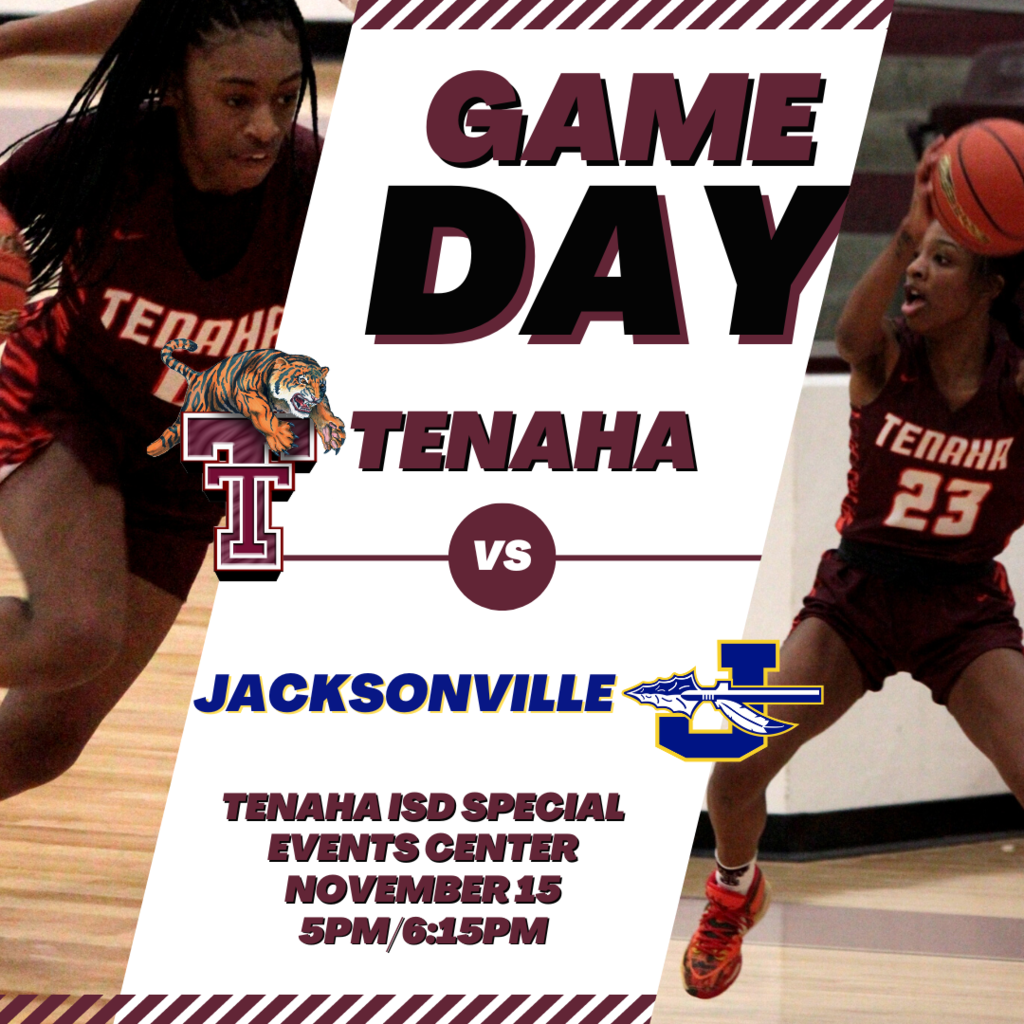 ALRIGHT TIGERNATION!! It's time for ROUNDBALL!! We are starting the week off fast and furious!! Junior High kicks off their season TODAY in the SEC with 4 games vs Beckville starting at 4:30. Then the rest of the week will shape up like this: Tuesday, 11/15 - Lady Tigers vs 4A Jacksonville in Tenaha Games are at 5:00pm/6:30pm Thursday&Friday 11/17-18 - Queen City Tournament The JV Lady Tigers will play at 9:30am & 12:30pm on Thursday and at 2pm on Friday. Friday, 11/18 - The JV & Varsity Tigers Open Play here in the SEC against West Sabine; games are at 5pm & 6:30pm Saturday, 11/19 - The Varsity Lady Tigers will play Wills Point here in the SEC at 12:30pm!! Come on out this week and get your BASKETBALL FIX!!! It's going to be a great week!!!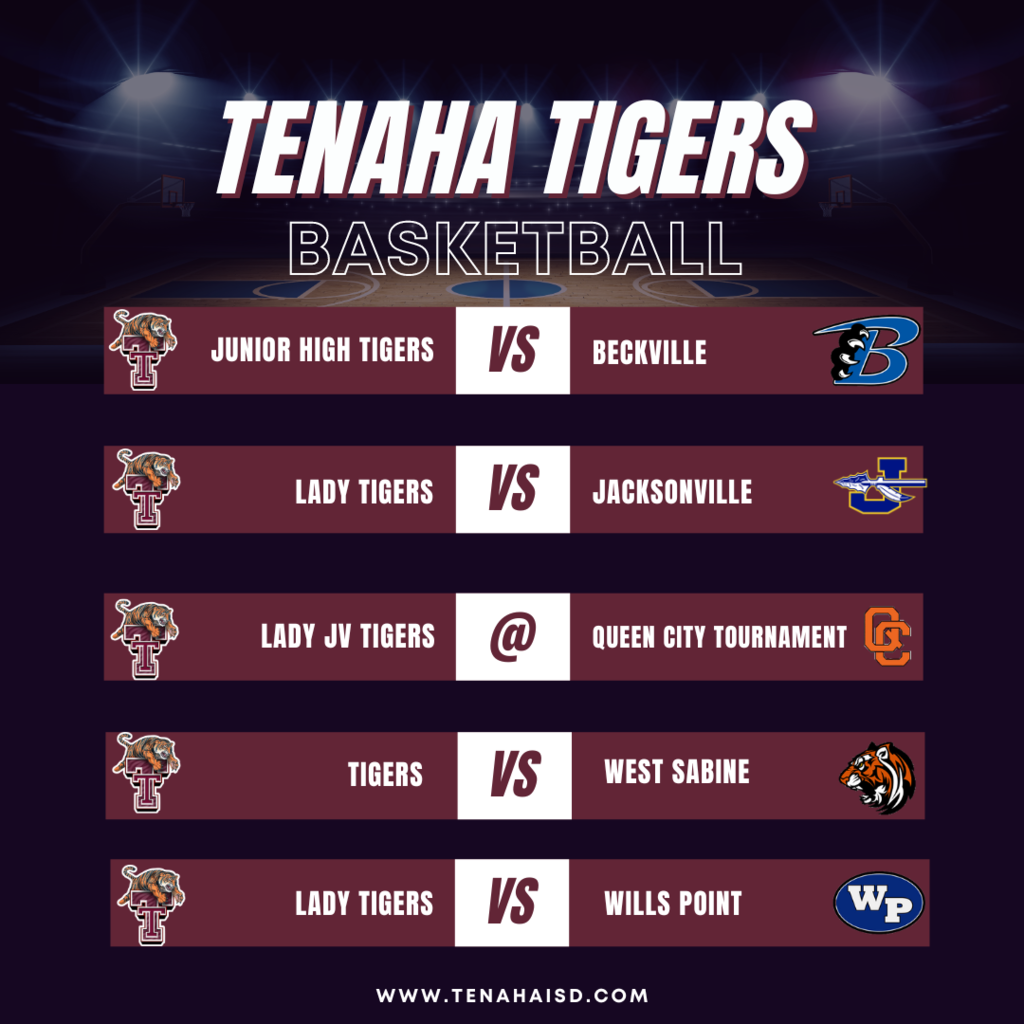 Good Morning: Bus C will be 20 minutes late and Bus D will be 10 minutes late. Thank you for your patience and cooperation!!

It's GAMEDAY for our Lady Tiger Basketball teams!!! Today, the #4 Tenaha Lady Tigers will face off with the #8 2A Hearne Eagles in Hearne. The JV Game will start at 12:30 followed by the varsity game at 2pm. These games will be broadcast through the NFHS Network…just search Hearne ISD for the games!! Let's GO LADY TIGERSSSS!!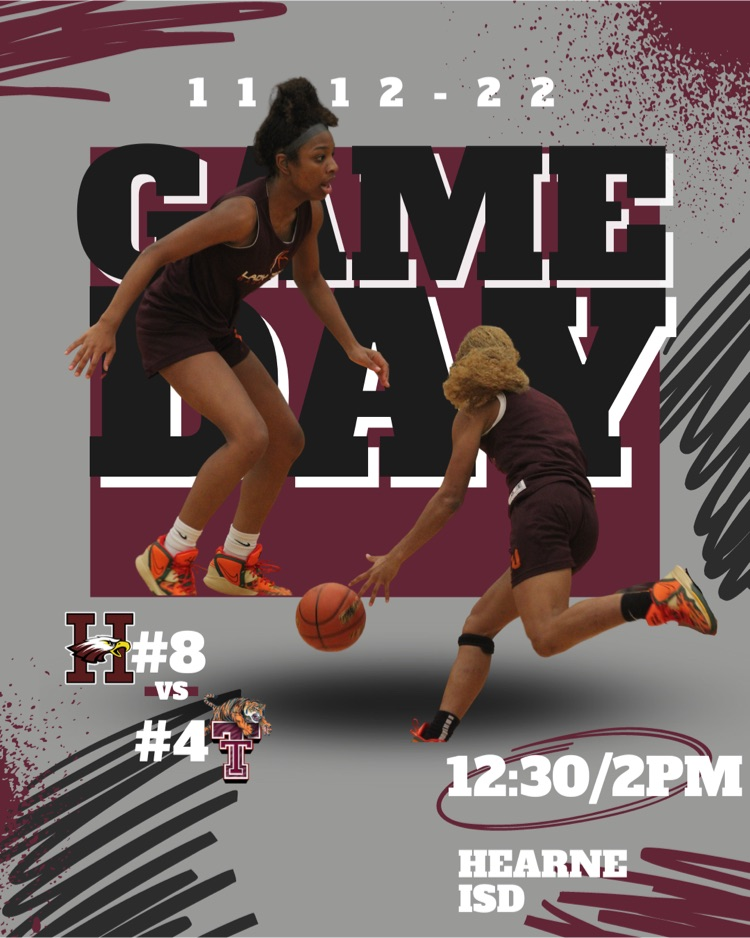 The TIGERS will head to Eagle Stadium in Woodville this Friday night for the first round of the football playoffs to take on the Pirates of Deweyville. The game will kick-off at 7pm. Tenaha is the visiting team. Tickets will be sold at the gate; adult tickets are $5, student tickets are $3. It's TIME TIGERNATION!! Wear your MAROON, BE LOUD AND COME OUT AND SUPPORT OUR TIGERS!!!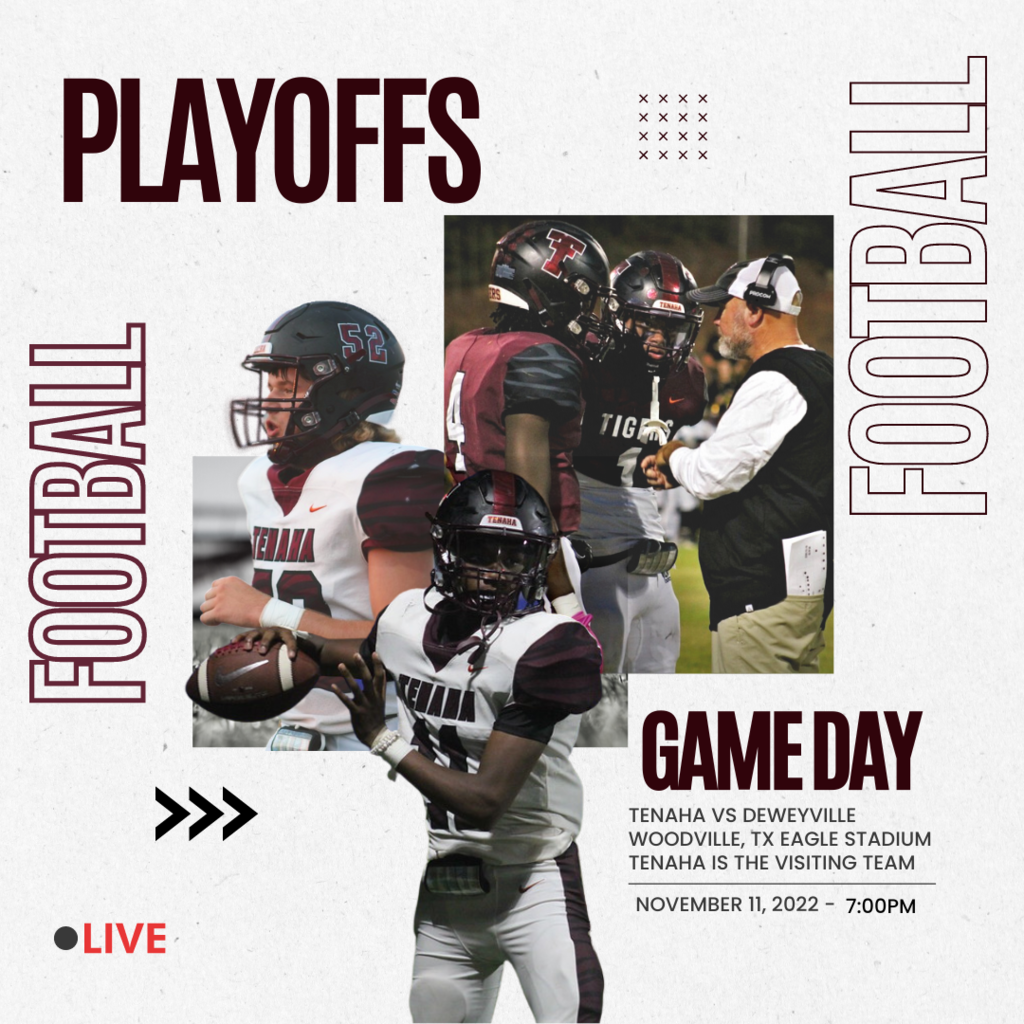 REMINDER!!! TOMORROW, Thursday, November 10th, Traditions Portraits will be on campus taking SENIOR CLASS Cap & Gown photos and Kindergarten Class Cap & Gown photos. They will start as close to 8am as possible (once they have their photos stations set up). **SENIORS:** The company provides the caps and gowns for our seniors; however, it will make the process go much more quickly if the young men will have a white collared, button up shirt on and the young ladies will have a tank with them to change into for the photo to wear under the gown and collar. Typically, two photos will be taken, one with the cap ON and one with the senior holding the cap. **Remember: You will need to have a change of clothes (ladies with tank tops) that meets dress code once photos are completed.** **KINDERGARTEN STUDENTS:** Kindergarten caps and gowns will be provided as well. Usually these students hold the cap, rather than putting them on, so you may style your child's hair as you wish. These photos will be available for purchase online at
www.traditionsportraits.com
once the proofs are ready (usually one week after photos were taken). You will just click "Order Images" from the home page of the website, navigate to November 2022 and find the correct Tenaha gallery. For questions, please email Joanna Huckabee at
huckabeejoanna@tenahaisd.com
.

Mrs. Cindy Moreno is selling "Tenaha Tiger" Christmas Ornaments benefitting Project Graduation 2023 and our Senior Class of 2023!! The ornaments are just $10 each and would make a great addition to your tree this holiday season!! All proceeds will go towards Project Graduation and the Class of 2023! For more information or to purchase an ornament, please contact Cindy Moreno at
morenocindy@tenahaisd.com
.

For ALL of our Elementary Tigers who have been working so hard to sell the World's Finest Chocolate...this is a REMINDER that the fundraiser is ending this FRIDAY, November 11th!!! All remaining chocolate and money must be turned in NO LATER than Friday, November 11th to the Elementary Office. Prize Winners will be announced once everything has been turned in and finalized!! Thank you SOOOO much for doing such an outstanding job!!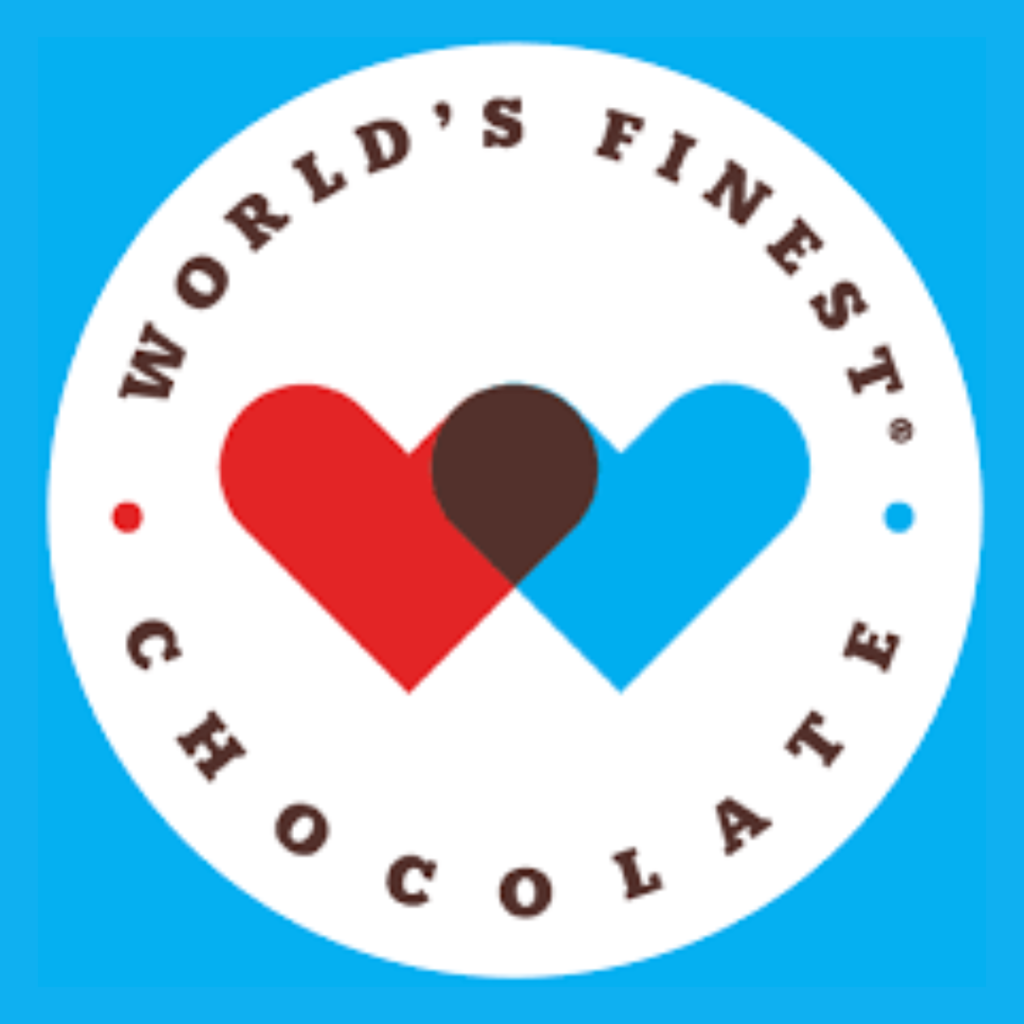 TIGERNATION!! It's GAMEDAY!! Our Varsity Football team travels to Overton this evening in their final regular season game to take on the Mustangs of Overton. Kick-off is set for 7pm. Please plan to join us to support these young men and their coaches as they prepare for the playoffs!! Let's GOOOOO TIGERSSSS!!!

Don't FORGET to join us in the morning as we SEND OFF our XC Boys to the State Meet in Round Rock!! We will line the hallways at 8:10 tomorrow morning to wish them well as they leave to WIN the STATE CHAMPIONSHIP!! Any of the community that wishes to join us may do so by lining the sidewalk and staircase outside the front entrance to the team's vehicle. Thank you for supporting our TIGERS!! The XC Meet will be held Friday in Round Rock. The 2A Boys Race will take place at 12:10. Use the link below to track the live race results:
https://www.uiltexas.org/cross-country/state/cross-country-state-meet-qualifiers-results
You can also catch a live feed on the NFHS Network by purchasing a subscription; this will also be where the State Marching Competition and State Football games are streamed as well.