Select high school band students will attend UIL Solo & Ensemble Contest on Saturday, February 4th at Nacogdoches High School. These students have been working hard preparing small ensembles that they will play for a judge. The judge they perform for will then give the ensemble a rating. If any of these small ensembles receive a first division, they will advance to State Solo & Ensemble in late May. Please join us in wishing these students the best of luck as they compete tomorrow!!

TigerNation!! It's FRIDAY and IT'S GAMEDAY!!! Our Varsity Basketball teams will travel to Garrison this afternoon to play 2 games: the Lady Tigers will tip off at 5pm and the Varsity Tigers will play at approximately 6:30. The rain has stopped, the sun is trying to come out...so load up and head to Garrison to support these athletes!! Also, just a reminder that the soccer games that were scheduled to be played in Carthage tomorrow morning: those have been CANCELLED.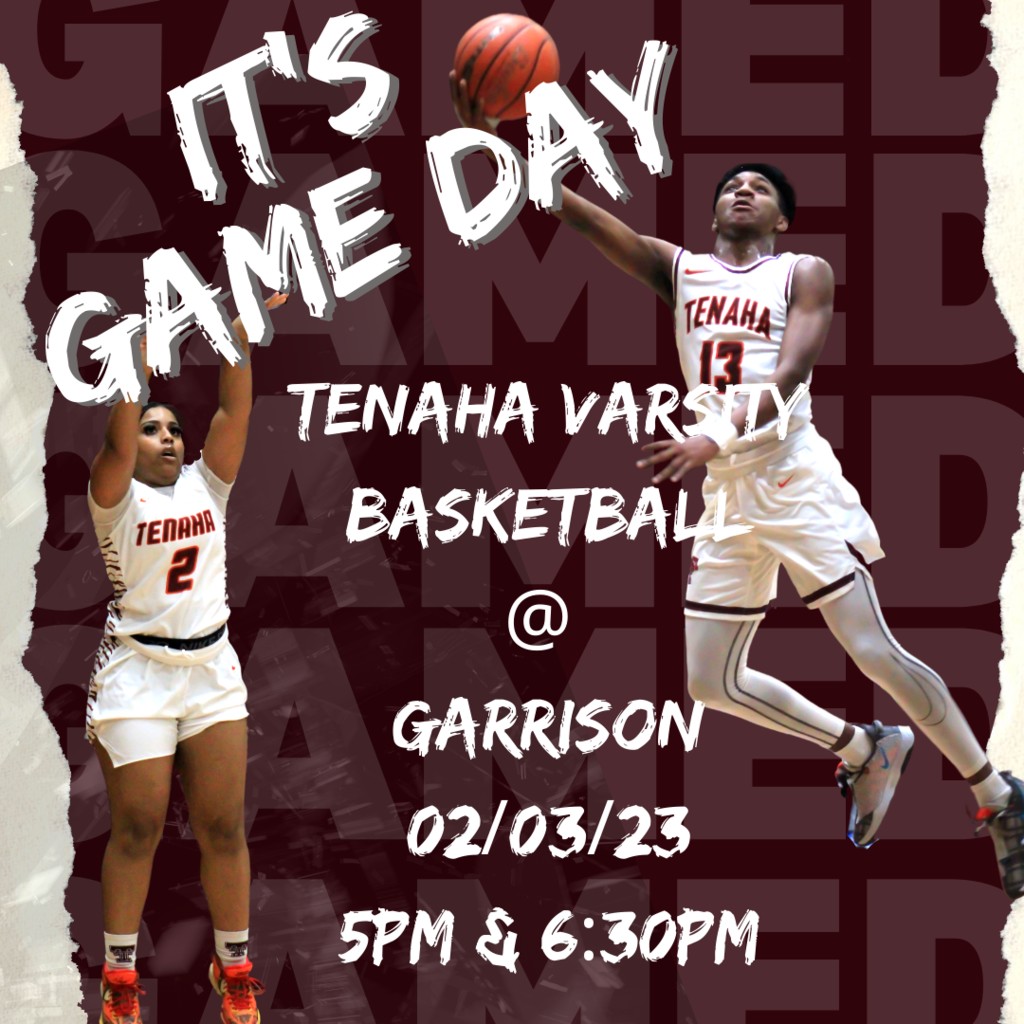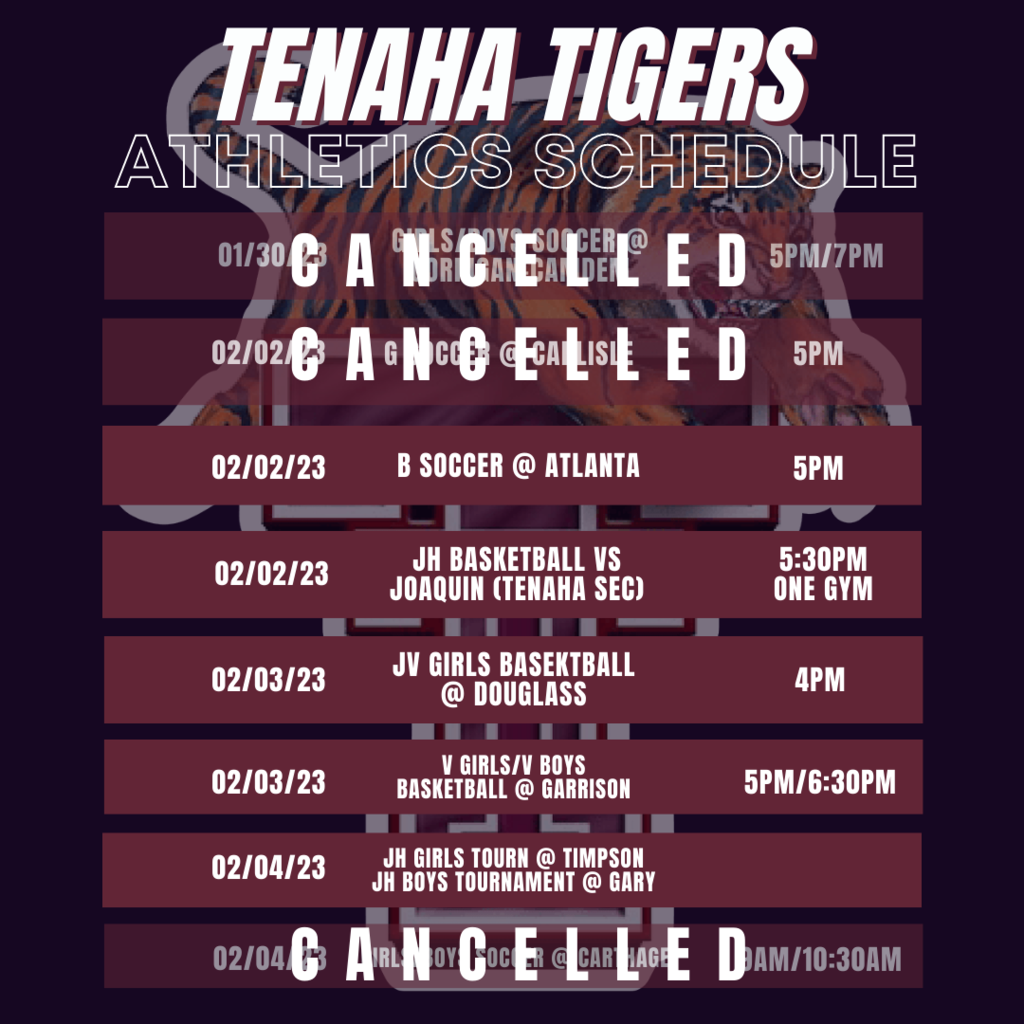 Lady Tiger Basketball Playoff Shirts are now available for purchase!! Orders are DUE FEBRUARY 6th to the Tenaha High School Main Office!! Tee Shirts are $10 and Long Sleeved Tees are $16; please see the additional pricing for 2XL-4XL listed on the order form. Payment is due at the time your order is placed; we will not take orders via social media. The shirts are black with maroon and white lettering. If paying by check, please make them payable to A&J Printshop. Flyers will be sent home with students tomorrow! Let's GO LADY TIGERS!!!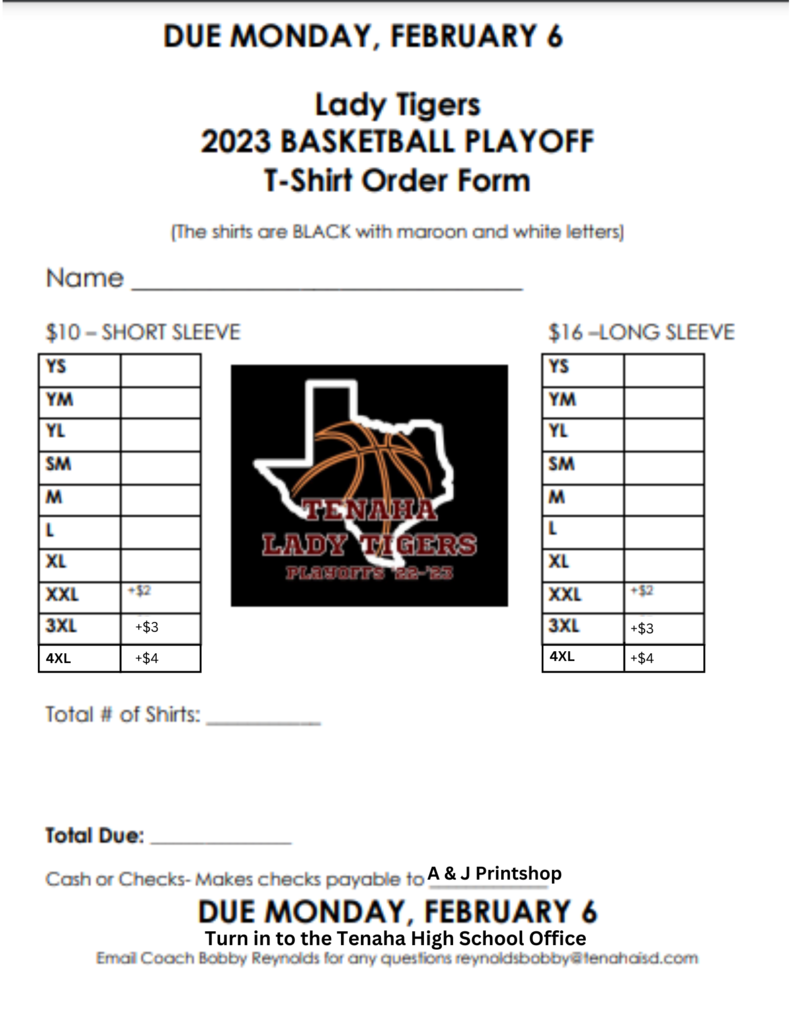 Join us on February 17th and 18th at the Tenaha ISD Special Events Center for some of the BEST boy's basketball action in East Texas as they battle in the annual High School Boys Playoff Preview hosted by the Longview Basketball Official Association and Longview Orthopaedic Clinic Association. Games will begin at 5pm on the 17th and 10am on the 18th; schedules will be released SOON!! All proceeds raised will be donated to scholarships for East Texas athletes!!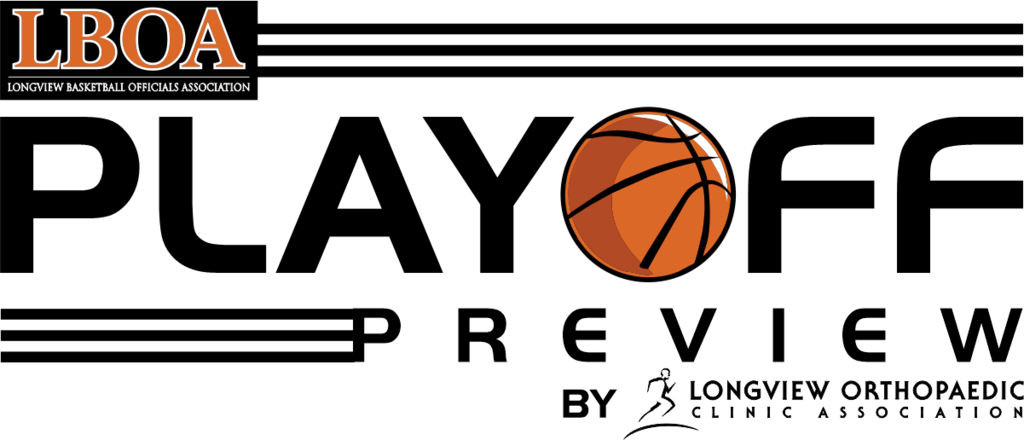 There will be a fundraiser in honor of Mr. Mike Ogden, father of TISD Counselor Stacie Barr, who recently received a kidney transplant. In order to help with travel and medical expenses associated with Mr. Ogden's procedure, a BBQ Pulled Pork luncheon will be held February 13th from 11am-1:30pm. For $10, you will get a sandwich, chips and bottled water. Meals may be picked up during these times at the side entrance of the Tenaha First Baptist Church; or if you are a school employee, there will be a sign up sheet in all of the teacher lounges (meals will be delivered to the school). For more information, please contact Robert or Janice Barton. Thank you for supporting such a wonderful family!!

TIGERNATION!! It's GAMEDAY!! Don't let the weather keep you from coming out and supporting our dedicated athletes today! Our Varsity Tiger Soccer team will travel to Atlanta this afternoon for their game that is scheduled to begin at 5pm. Our Junior High Basketball teams will remain at home this evening and will play two games in the SEC with the Boys taking the court first tipping at 5:30pm, followed by the girls at 6:30. Best of luck to all of our athletes playing today and prayers for traveling safety!!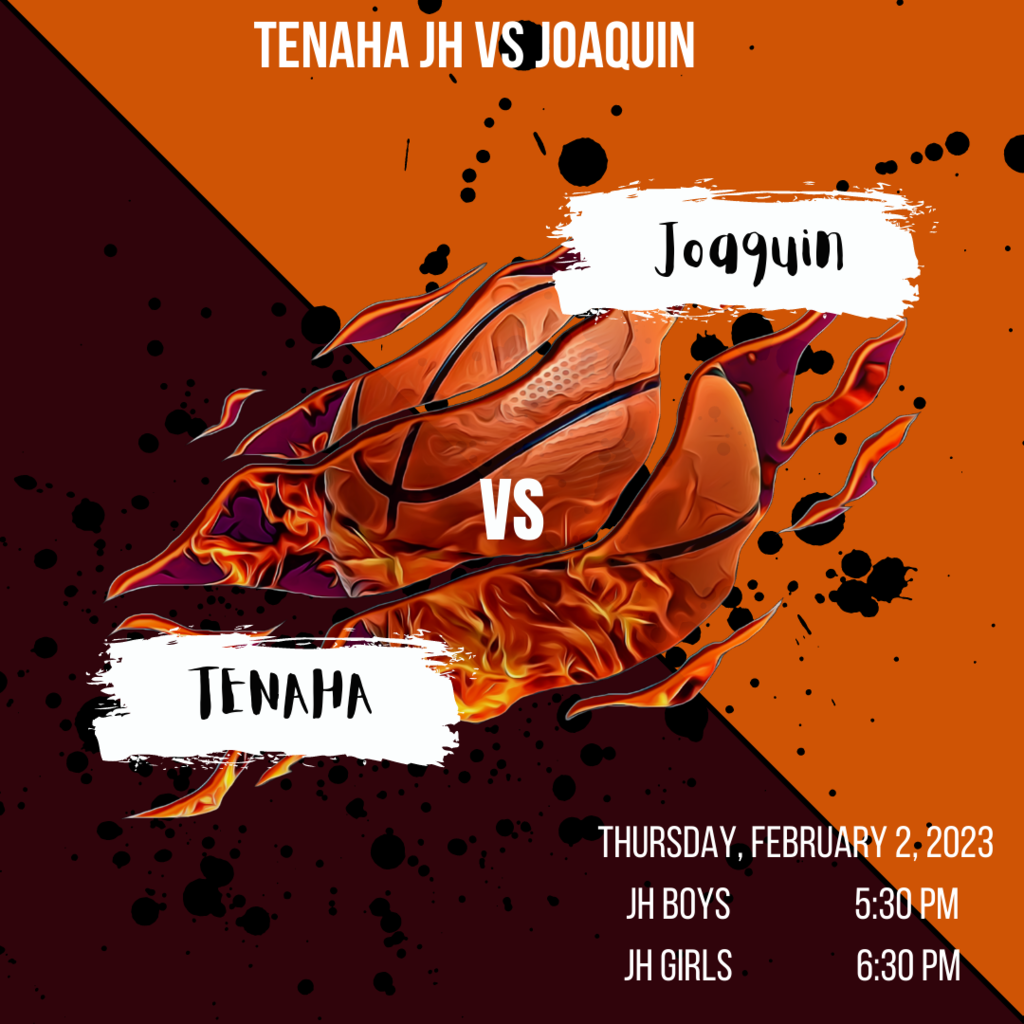 Don't forget that Cheerleader Sign-Ups for both Junior High and High School Cheerleader are going on NOW through February 10th, ALONG WITH, MASCOT SIGN-UPS. Mascot sign-ups are for high school students ONLY (incoming freshman through current juniors). You will be required to try-out and meet the requirements to do so. All deposits will be due by February 10th at 3:30pm; NO EXCEPTIONS!!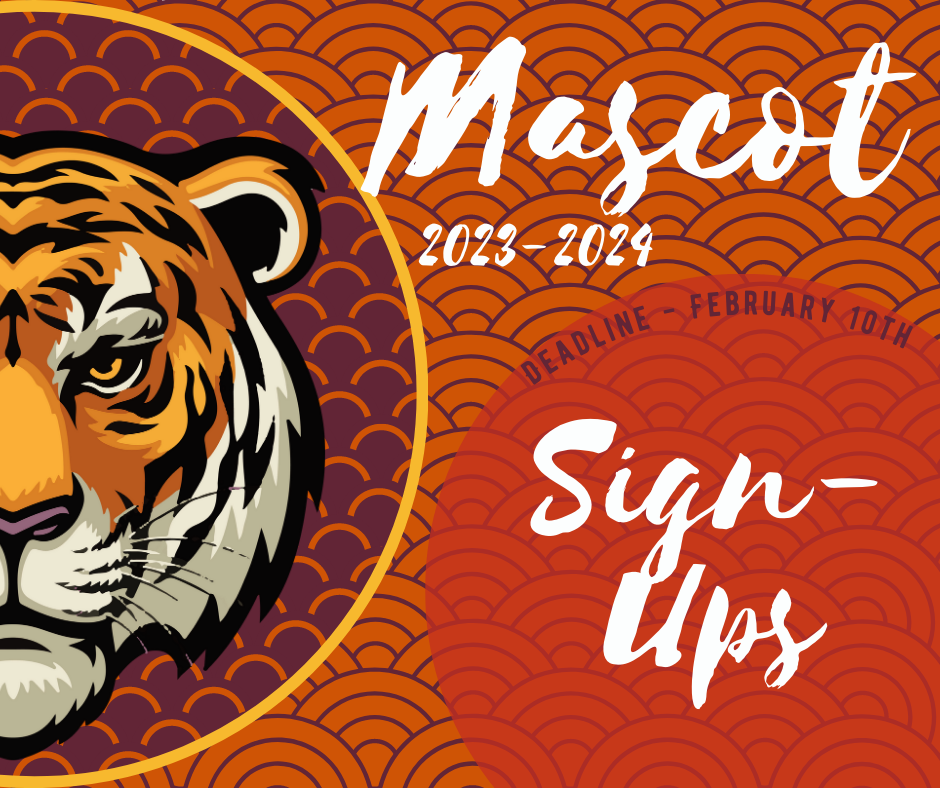 GAME UPDATES!! The rain is making it a bit difficult to play games this week!! The Girls Soccer game that was scheduled for Thursday, 2/2/23 in Carlisle has been cancelled. We will continue to update you on any other changes!!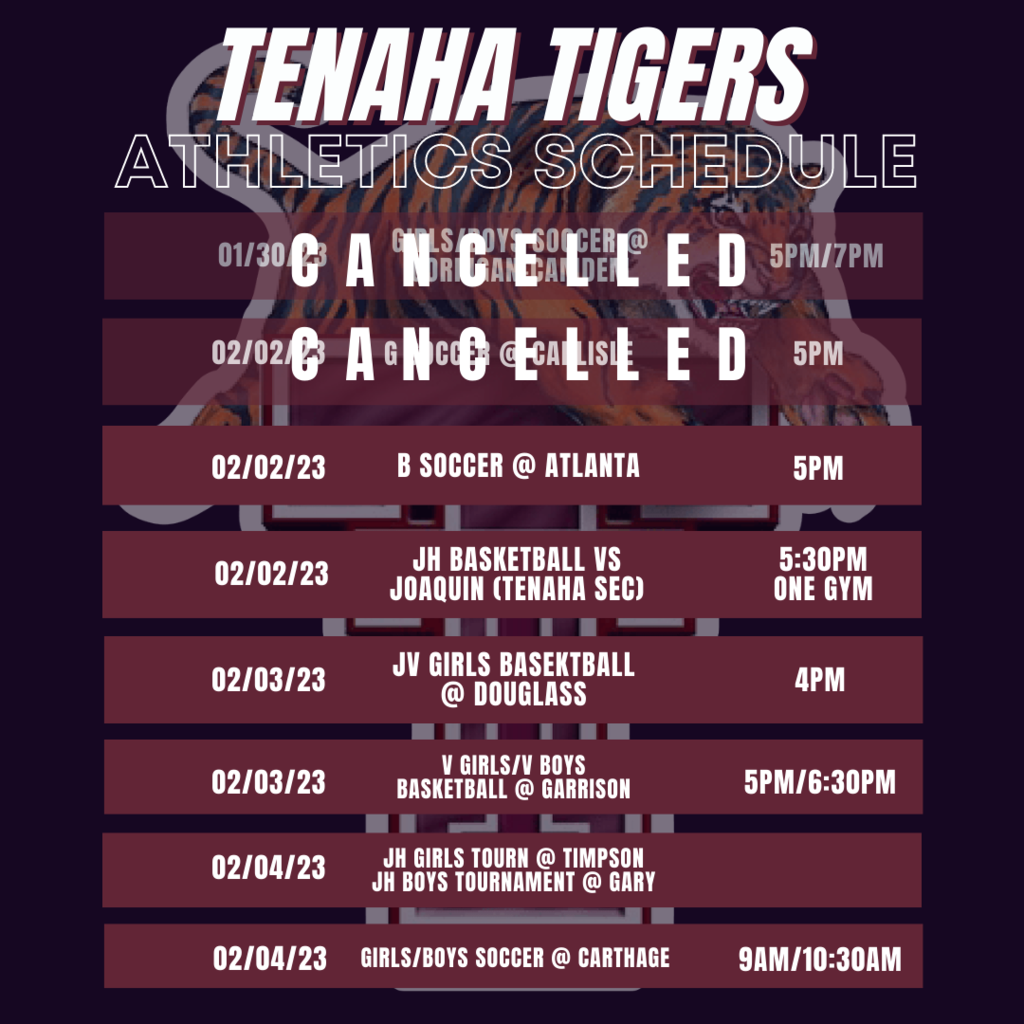 At 5:30 am this morning, we have received word that all roads in the Tenaha School District are clear. This includes Hwy 59 to Carthage, Hwy 84, Hwy 96, and FM 699. Continued monitoring of road surfaces will take place throughout the day. All buses will run at regular times.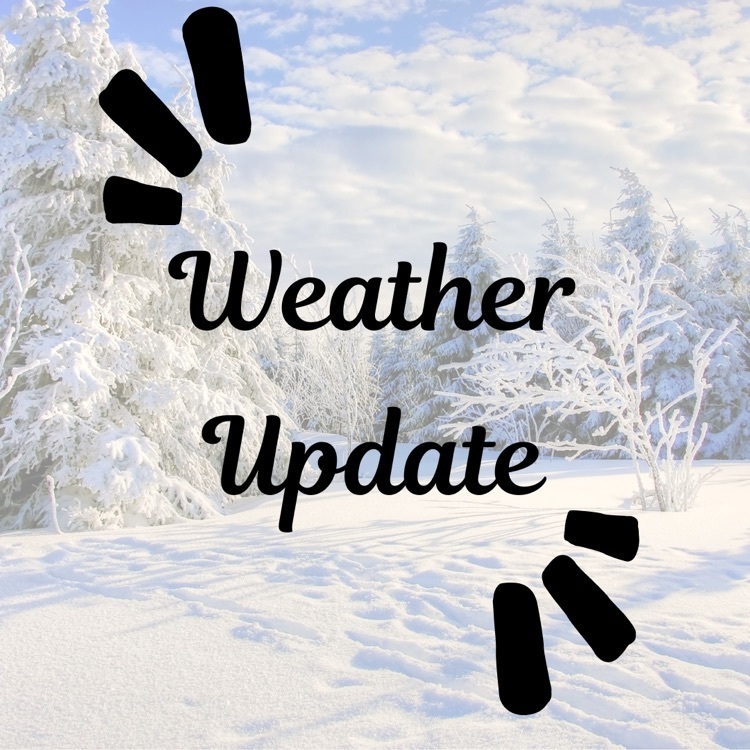 At this time, Tenaha ISD is closely monitoring current and future weather conditions. Currently, there have been no indications of future weather events that would lead us to making adjustments to our school day tomorrow (Wednesday). However, we have two representatives of the school district that will evaluate road conditions on HWY 59 and HWY 84 tomorrow morning between 5am and 5:30am. If any changes or a delayed start is necessary, this information will be communicated no later than 6am. Please check our Facebook page, instagram, website and have notifications enabled on the Tenaha ISD app to receive the most up to date information. Thank you for your patience and STAY WARM!!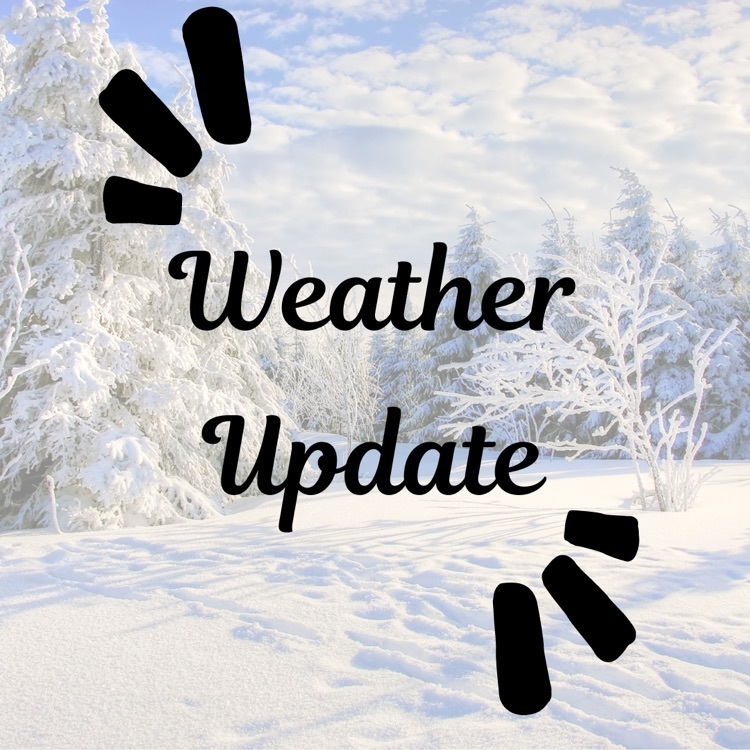 The Senior Class will be selling VAL-Grams for Valentine's Day until February 10, 2023. This is a fundraiser for the senior class. Order forms are available from Senior Class members and teachers. Blow Pops are $1 Flowers are $2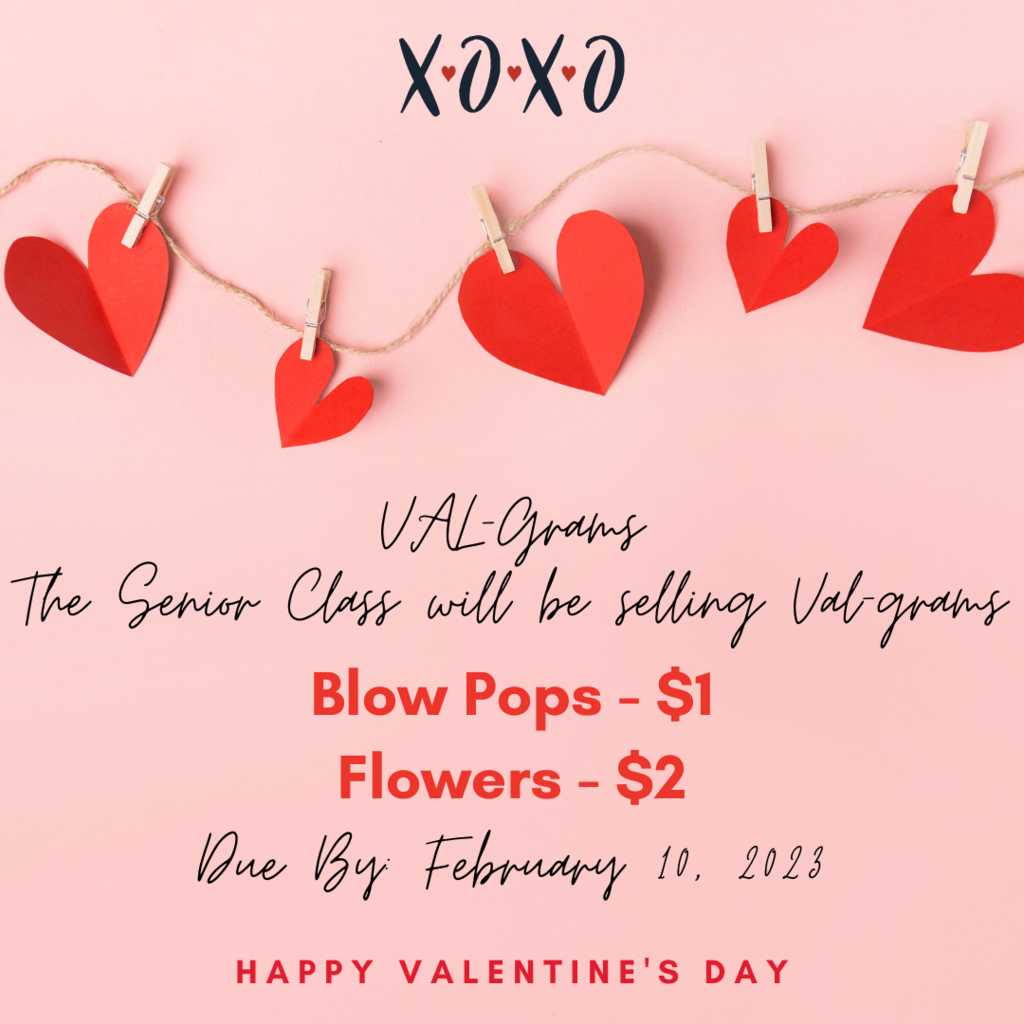 ATTENTION!! For anyone interested in trying out for 2023-2024 Junior High or High School Cheerleader, SIGN UPS have now started. You may sign up in the High School office and get your packet of information detailing tryout requirements and procedures. The final day for both sign-ups and to turn in your $200 deposit will be FEBRUARY 10th at 3:30pm...NO EXCEPTIONS!!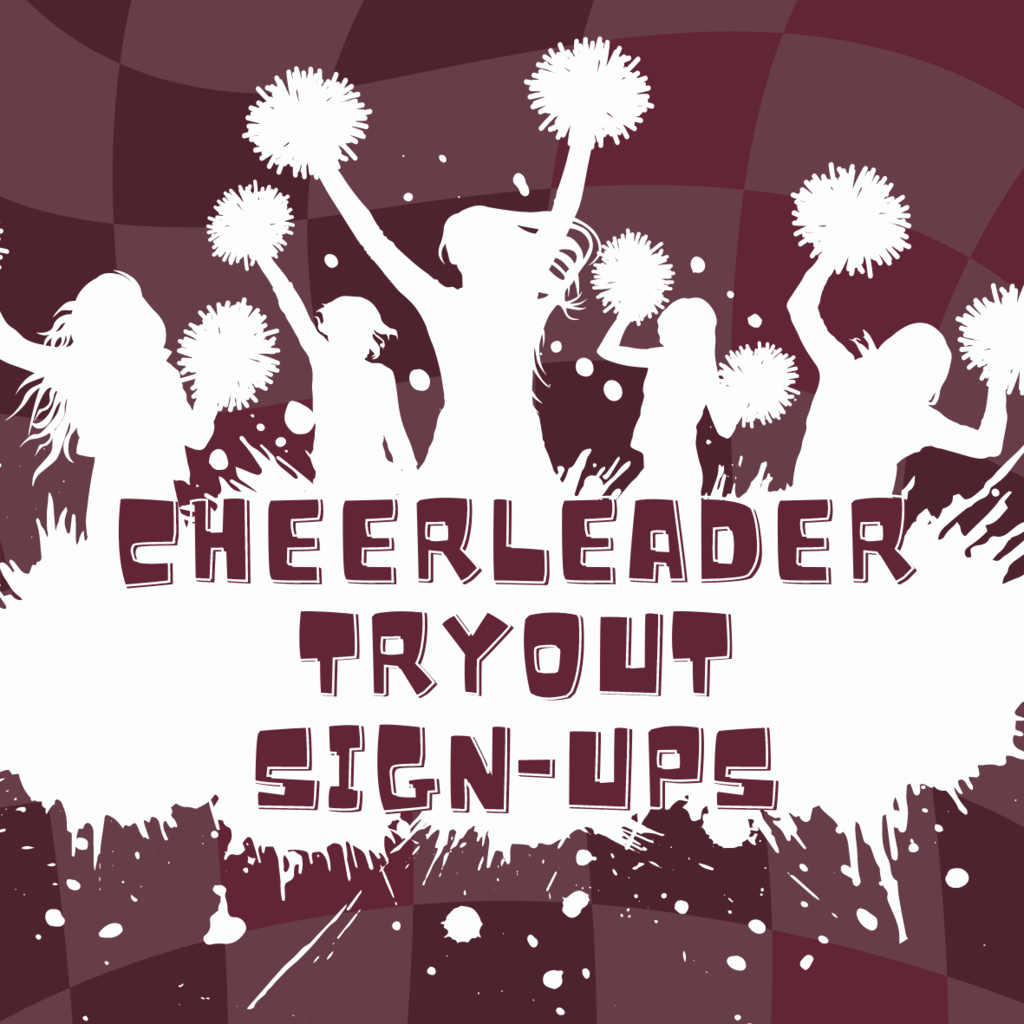 As promised, we are updating you on some game time changes for the week. Friday's Varsity Basketball games in Garrison will take place with the Girls game starting at 5pm and the Boys Varsity game at 6:30. We will continue to make you aware of any changes that may occur!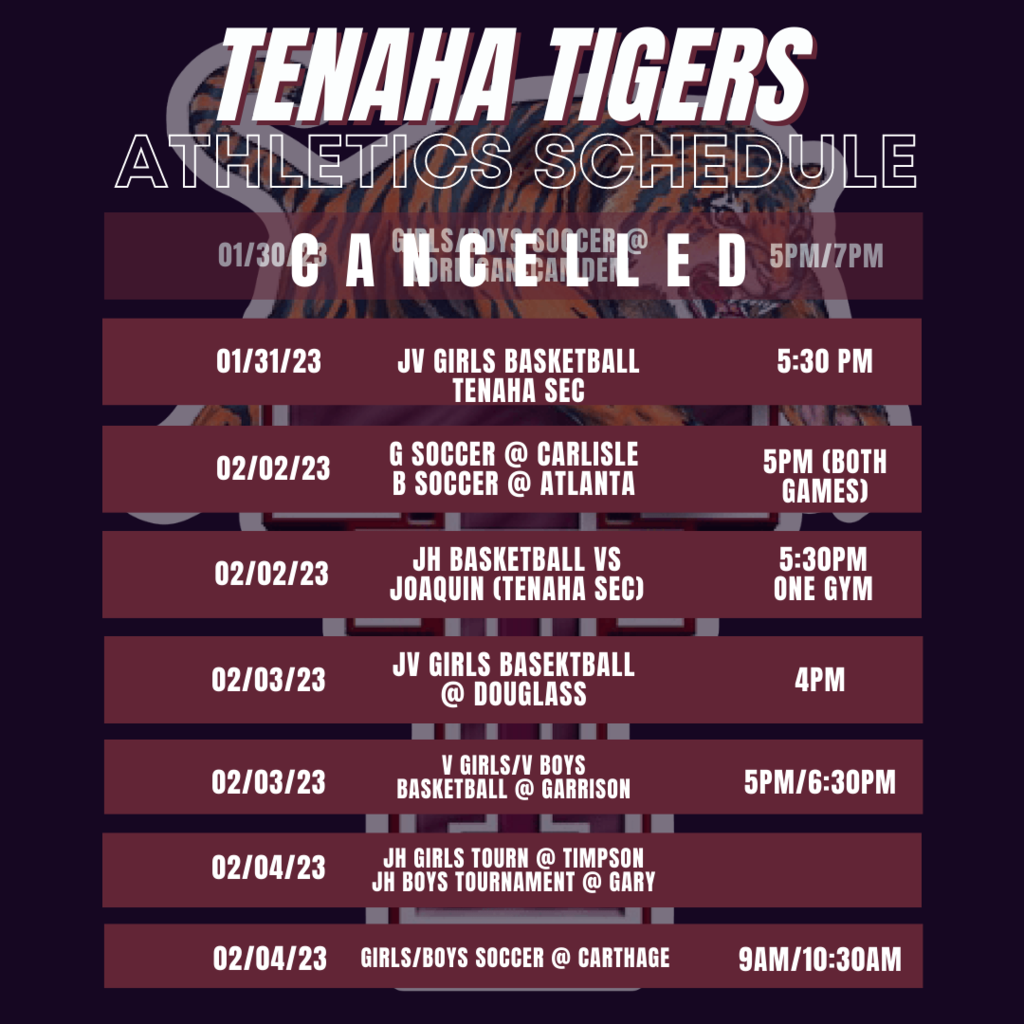 It's GAMEDAY for our JV Lady Tigers Basketball Team!! This afternoon, they will play Douglass at 5:30pm here in the SEC. This game is free of charge and there will be no concessions due to it just being one game this evening. Come out and support these ladies and their coaches!!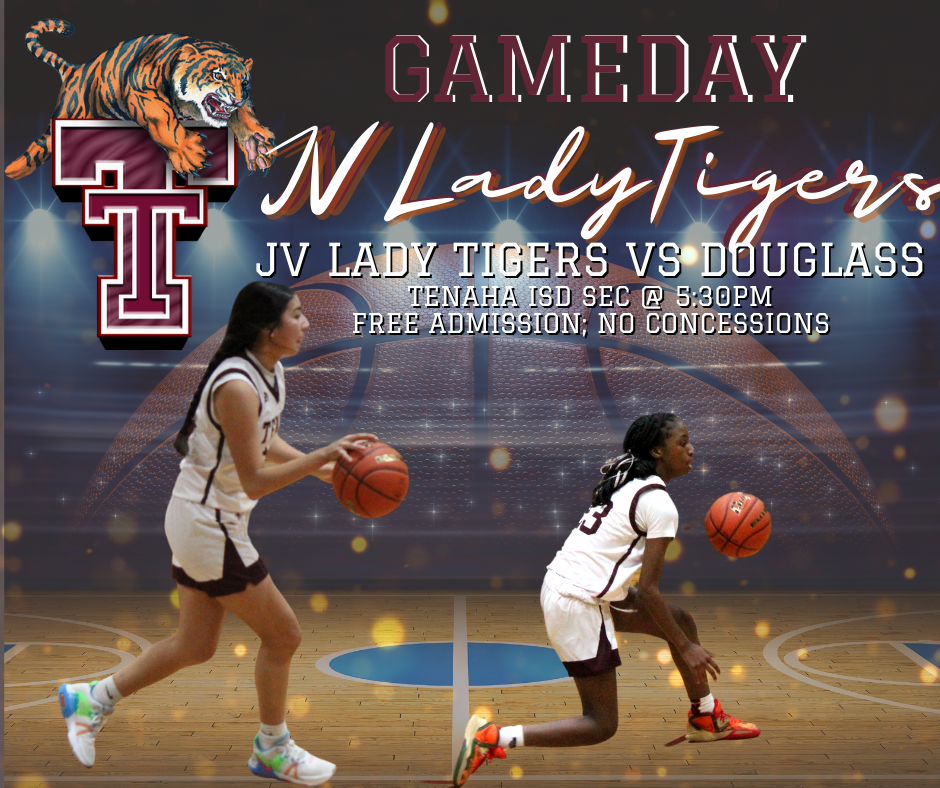 Today's Soccer Games that were scheduled for 5pm & 7pm in Corrigan-Camden have been cancelled for today and rescheduled for February 10th at 5/7pm.

TIGERNATION! Happy Monday!! This is what's on the schedule for Tiger Athletics this week: Please note that Tuesday's JV Girls Basketball game that will be played here in the SEC at 5:30pm will be a FREE game; there will be no gate charge, nor will there be concessions offered during this game. In the event time or schedule changes occur throughout the week; we will keep you updated as that information is communicated and confirmed. Go TIGERRRSSS!! Make it a great week!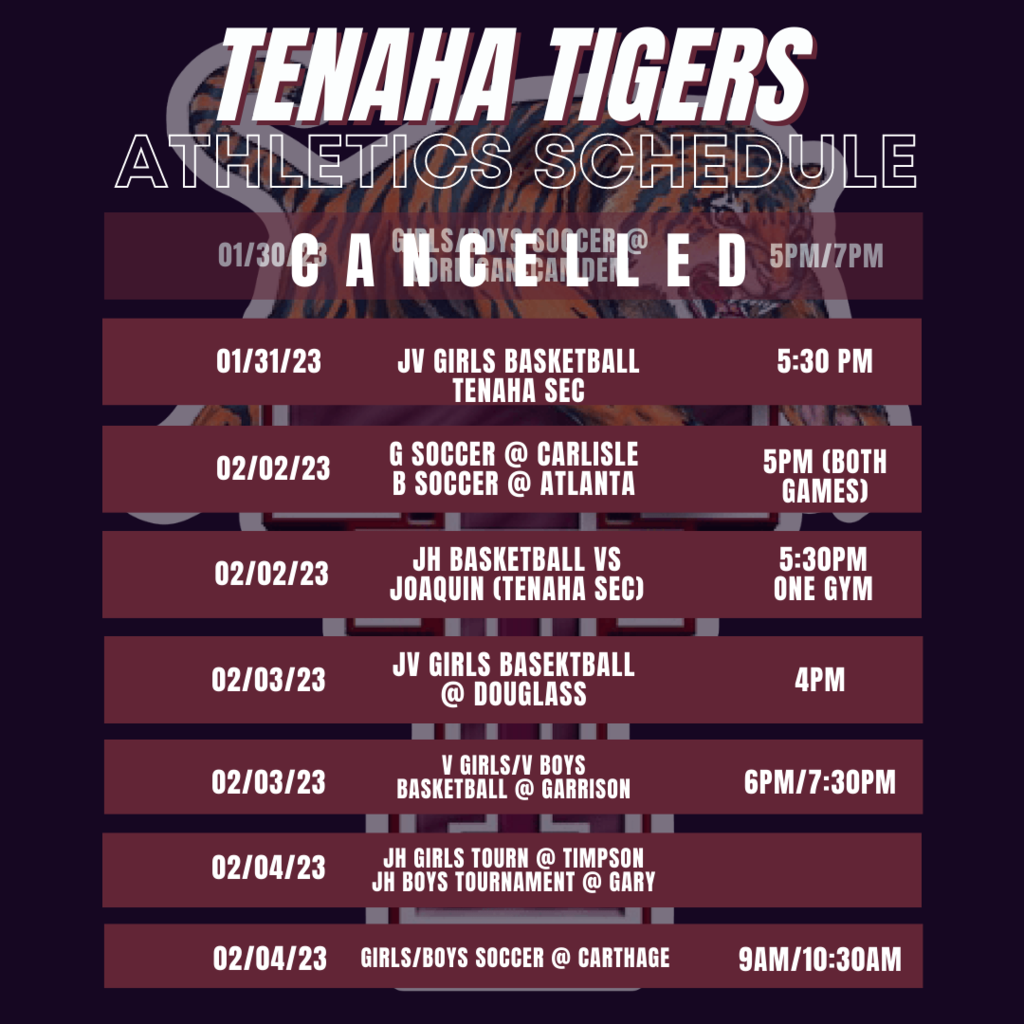 Best of Luck to our Lady Tiger Soccer team as they head out to New Summerfield for Day 2 of their tournament this week. This morning they will play Game 1 at 10:30 vs Carlisle and they will face Gladewater at 1:30 for Game 2 of the day. These ladies have been working so hard and have had a great season so far!! Let's Go Ladies!!!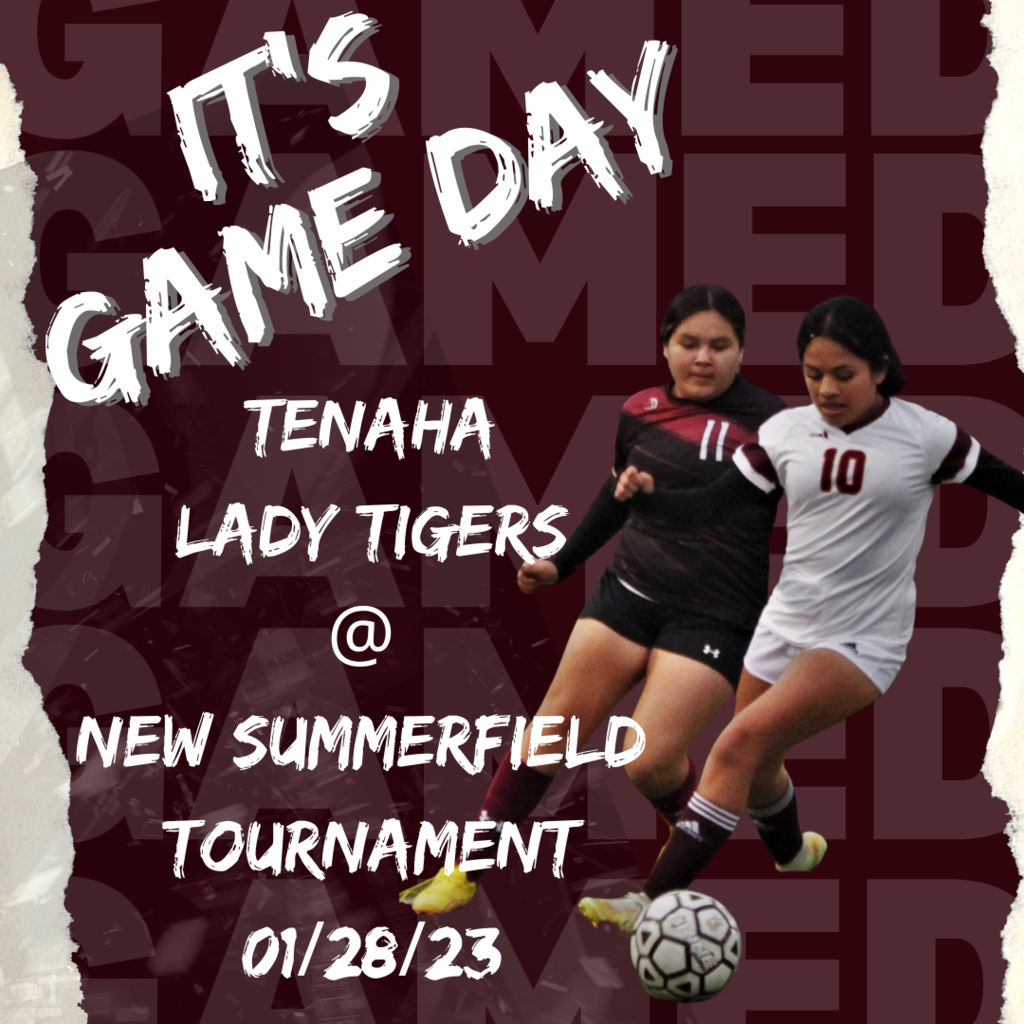 Tomorrow (Saturday, 1/28/23), Tenaha ISD will host a Junior High Girls Basketball Tournament here at the SEC and Tiger Gym. Concessions will be available. The games will begin at 9am and the final game is scheduled to start at 3pm. Come out and support our Junior High Lady Tigers!!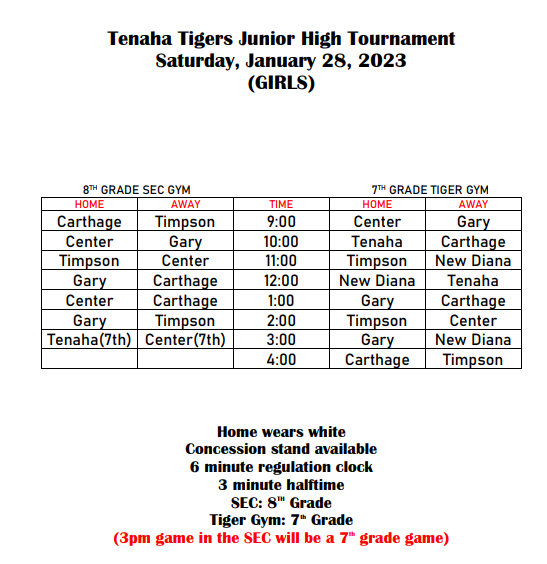 We are excited to announce the return of the Parent/Student Formal Gala, An Enchanted Evening, for 2023. The event will be held Saturday, March 11th from 6pm-8pm in the TISD Cafetorium. This is for students ages 3-13. Tickets will go on sale MONDAY, January 30th. Tickets may only be purchased in the Elementary Office between the times of 7:30am-9:00am. Tickets are $30 per COUPLE, those attending with more than one child (same parent) will be an additional $15 per child. There will ONLY BE 80 tickets sold!! Once tickets are sold out, there will be no more available. Please get your tickets purchased as soon as possible!! This was such a great evening for our students and community last year; everyone looked fantastic and had a fantastic time!! All proceeds benefit Tenaha Elementary School.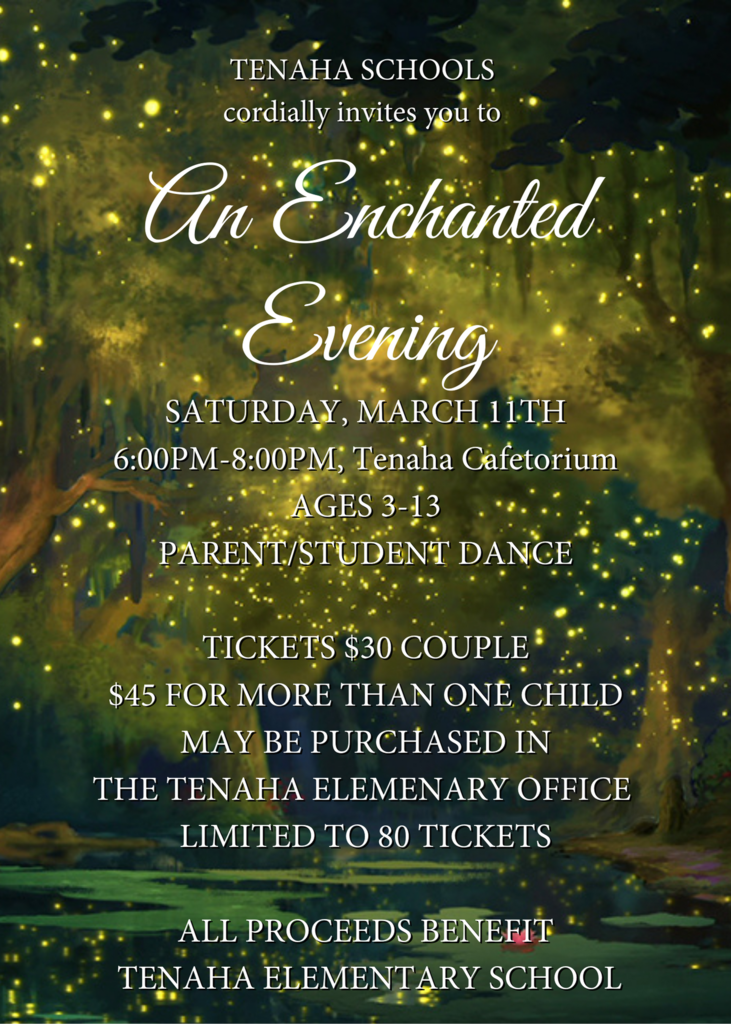 TIGERS!! It's GAMEDAY!! Tonight, the Tigers will host the Dragons in the SEC for two Varsity games. The evening will begin at 5:15 pm with Teacher Appreciation recognition by both the Lady Tigers and Tigers and their respective teachers they have elected to recognize. Tiger Café will open at 5:30 with our Regular Season Menu: Catfish, Chicken Strips or Boiled Shrimp, Baked Potato or French Fries, Cole Slaw and Tea for $10. The Lady Tigers will tip off at 6pm and the Varsity Boys game is scheduled to begin at approximately 7:30. Come out tonight and enjoy some GREAT Basketball and GREAT Food!! GOOOO TIGERSSSS!!!