Buy your chance to win a VALENTINE BASKET TOMORROW!! Tickets will be $2 each or 3 for $5. Students can purchase from Mrs. Cloudy at breakfast tomorrow, during lunches, or come by her room. Names will be pulled at the end of the day for a winner!
The Longview Basketball Officials Association and the Longview Orthopaedic Clinic Association will host a Boys Basketball Playoff Preview at the Tenaha Special Events Center February 17th & 18th beginning at 2pm on Friday. The Saturday schedule will be released within the week. However, here is the line-up for the Friday games!! Tickets are $6 for Adults and $4 for Children; concessions will be available. Come out and be the first to check out some of the BEST playoff match-ups in Boys Basketball Playoff action in EAST TEXAS!!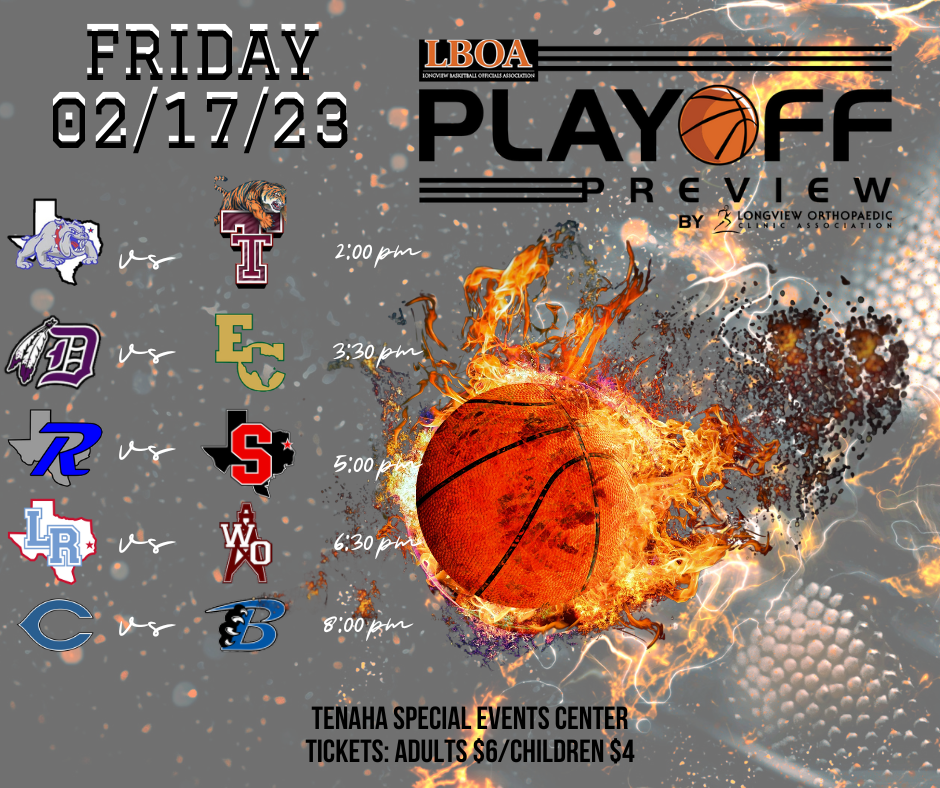 Just a reminder that the BBQ Pulled Pork fundraiser in honor of Mr. Mike Ogden, father of TISD Counselor Stacie Barr, who recently received a kidney transplant is TODAY from 11am-1:30pm. For $10, you will get a sandwich, chips and bottled water. Meals may be picked up during these times at the side entrance of the Tenaha First Baptist Church! Thank you for supporting such a wonderful family!!
Don't forget: If you ordered a playoff shirt, those are available for pick-up in the high school main office at this time!!
TigerNation! It's GAMEDAY! This evening, we will host a double header in the first round of Girls Basketball Playoff action here at the Tenaha ISD Special Events Center beginning at 6pm with the Timpson Lady Bears vs the West Sabine Lady Tigers. Following that game, the Tenaha Lady Tigers will take on the Lady Bulldogs of Broaddus at 7:30. Tickets will be $4 for adults, $3 for students; no passes will be accepted (you must be on the pass list submitted by each school). The Tiger Café will open at 5:30pm serving our fantastic plate option of: Cajun fried catfish, fried shrimp, boiled shrimp or chicken strips, your choice of baked potato or french fries, all plates will come with coleslaw and tea...all for just $10! In addition to these games indoors, our Varsity Soccer teams will play Corrigan Camden and will be hosting their Senior Night activities at Raymond Jackson Stadium beginning around 5:15 for the girls with game time at 5:30; and for the boys festivities: 6:45, game time 7pm. Please make plans to come out and support all of our athletes this evening; we have something for everyone!!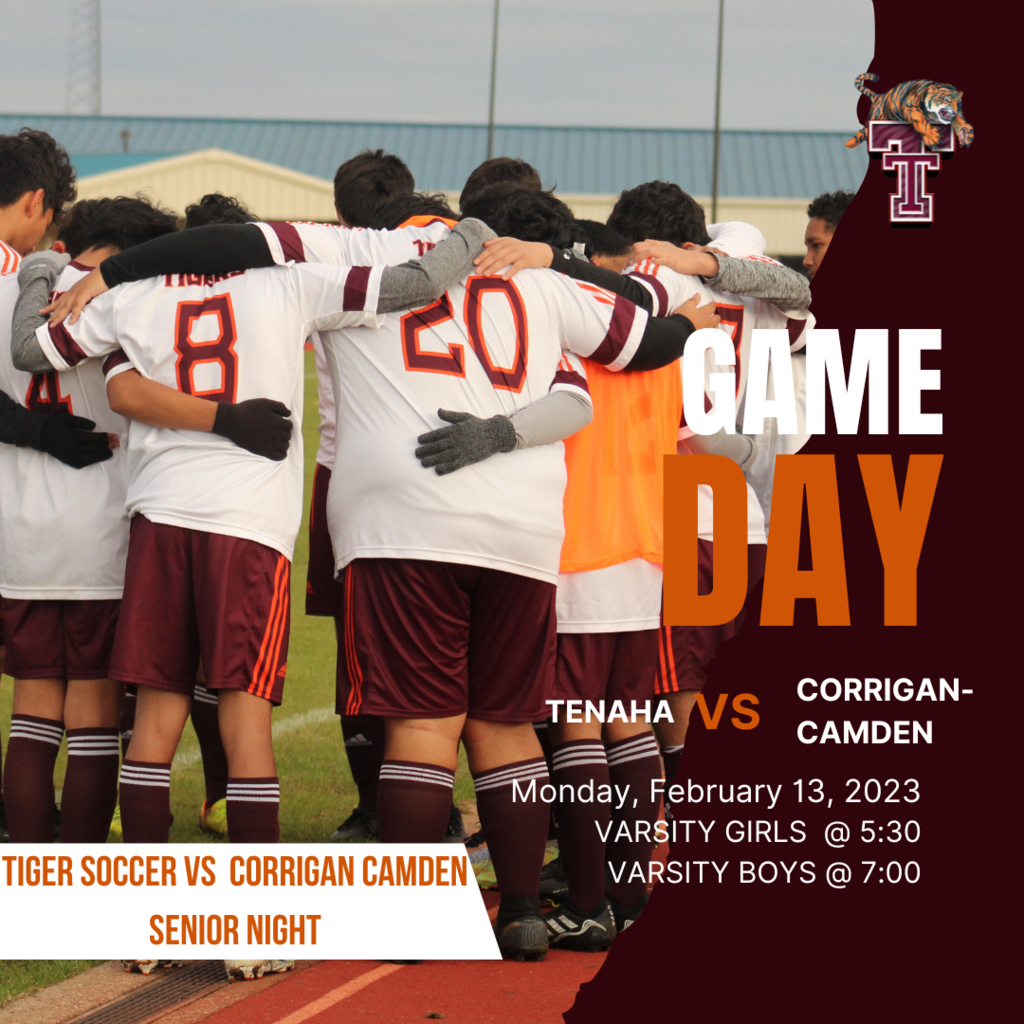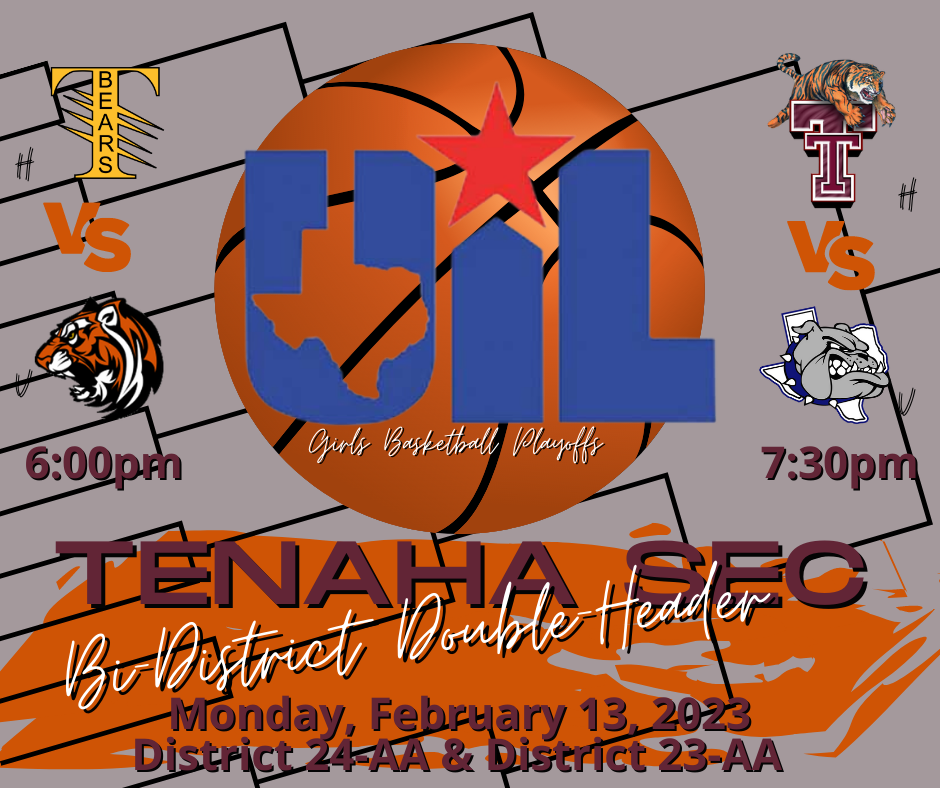 Just a final reminder that cheer and mascot tryout signups end TODAY at 3:30; this is also when your deposit is due. Sign up sheets are located in the High School Office.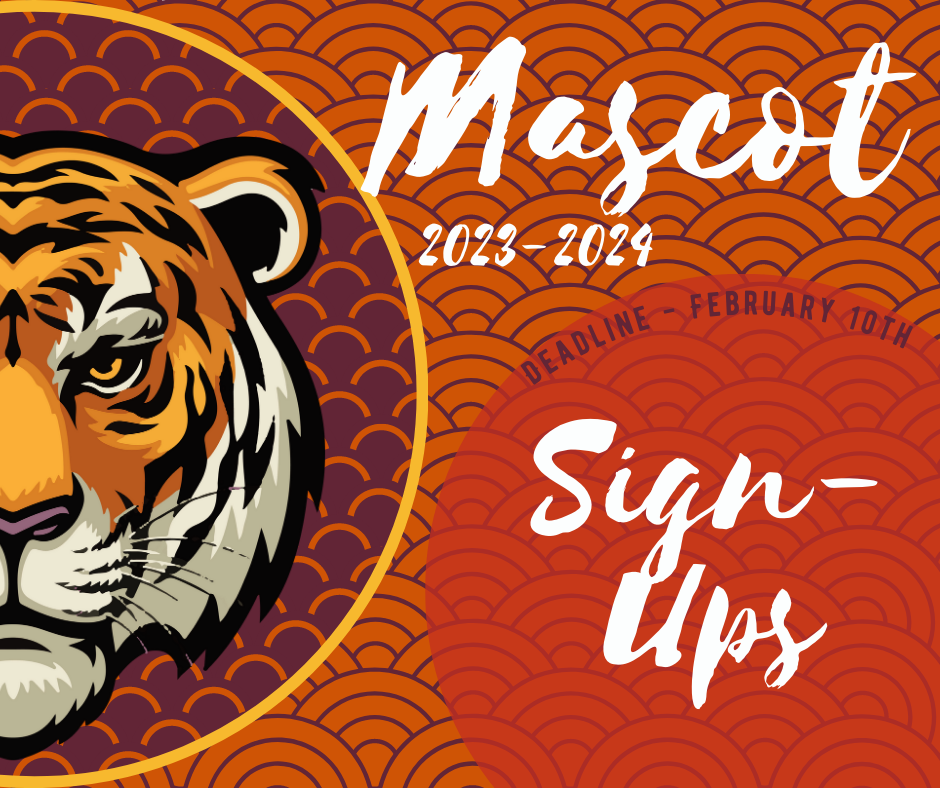 Our Tiger Soccer teams will also be on the road today as they take the field in Corrigan-Camden this afternoon. The girls will play at 5pm, followed by the boys at 7pm. These two teams have had an exceptional season, both with outstanding records!! They will host their final home games of the season this coming Monday evening as well, including their Senior Night recognition ceremonies. Those games will begin at 5:30pm (girls) and 7pm (boys). Best of Luck Tiger Soccer!! Safe Travels and Get the W!!!!

This week, schools all across the nation are celebrating School Counselors and the labor of love they perform each and every day. We are absolutely blessed with the VERY BEST at Tenaha ISD in Mrs. Stacie Barr. She is not only a friendly face for those who need it each day, but she is a safe haven when some days are a bit rougher than others, she is a voice of reason when it is needed, she is an encourager, motivator and someone who our students know always has their best interest at heart. She plans numerous activities for our students to better themselves no matter what their age...starting at the very youngest all the way to those getting ready to graduate by assisting with completing the necessary paperwork and applications for college, scholarships or prospective jobs. She is also a friend and sounding board to our staff and employees. She shoulders a lot, and does it all with so much grace and kindness. We can all take so many lessons from Mrs. Stacie. Please join me in thanking Mrs. Barr for the many hats she wears and how beautifully in which she does so. We couldn't do it without you!! We celebrate you this week; but, just know we are thankful for you each and every week of the year!!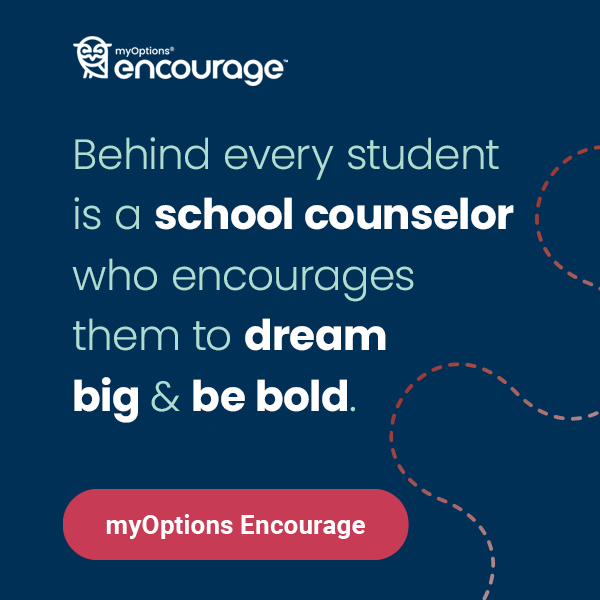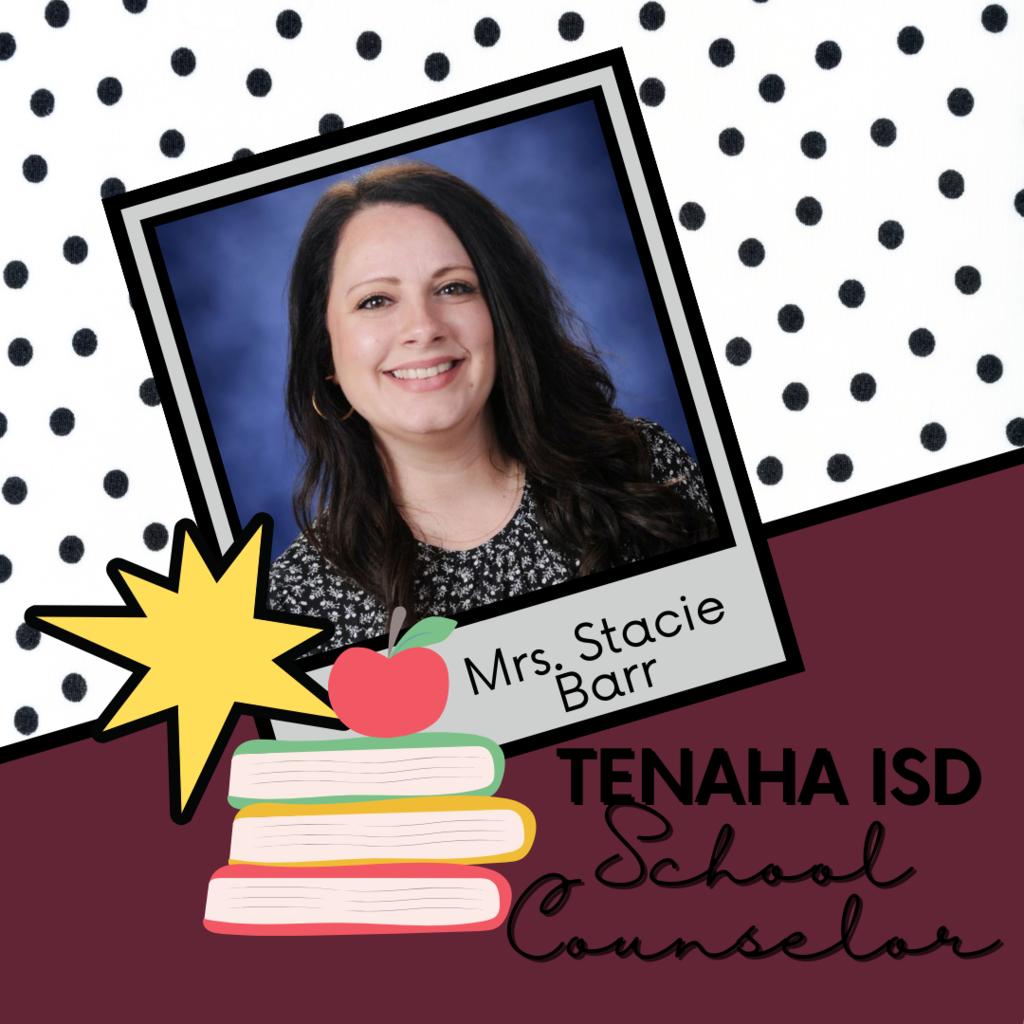 It's GAMEDAY TigerNation!! Our Varsity Boys Basketball team will play their last home game of the regular season tonight against the Beckville Bearcats at 6pm. Senior Night festivities will begin at 5:30pm. Please make sure to join us at that time to honor this great group of young men who have been so instrumental to this team and school. Also, at halftime, we will honor and recognize the 20 year anniversary of the 2003 State Championship Tenaha Tiger Basketball team on the court. Please spread the word!! There will be concessions available for the game tonight. Let's Go Tigers!!!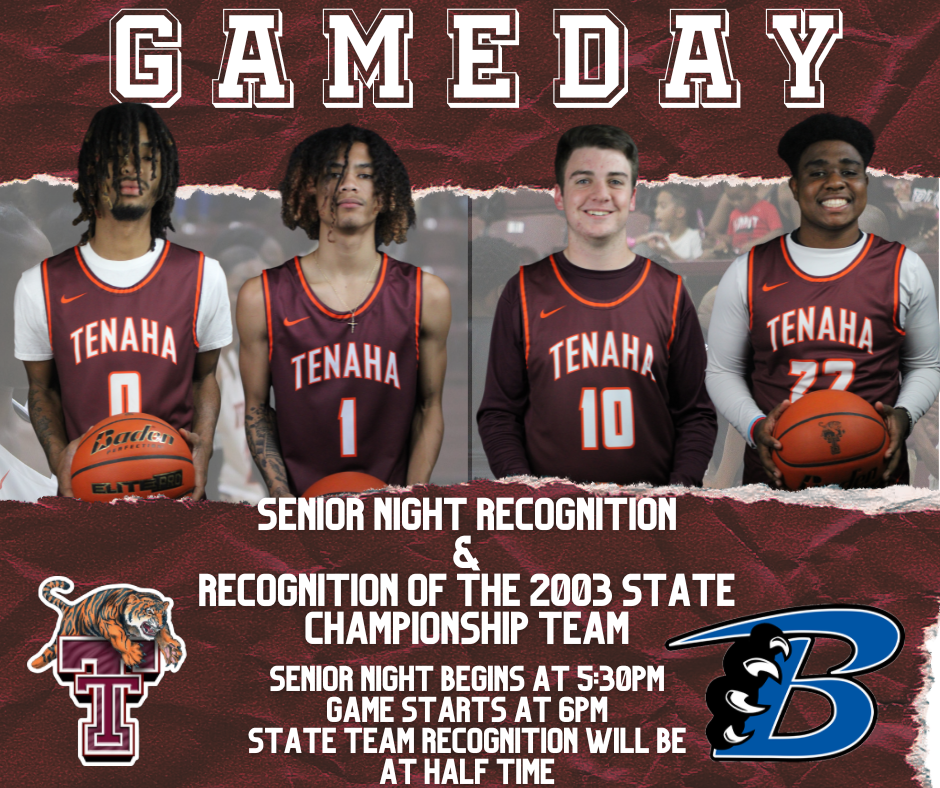 Tenaha ISD is excited to host a double header for Round 1 of the Bi-District Girls Basketball Playoffs Monday, February 13th! At 6pm, the Region III District 23-AA Timpson Lady Bears will play District 24-AA West Sabine Lady Tigers. Following this game, your District 23-AA Champion Tenaha Lady Tigers will play the District 24-AA Broaddus Lady Bulldogs at 7:30pm. The Tiger Café will be open starting at 5:30 serving the following menu: your choice of Cajun fried catfish, chicken strips, fried shrimp or boiled shrimp, baked potato or french fries, all meals will come with coleslaw and tea...all for $10!! Ticket prices are $4 for general admission for adults, $3 for students, no passes will be accepted (you must be on the school pass list). Please be advised and prepared that security screening will be enforced before entering the facility; we appreciate your patience and cooperation. Come out and enjoy a fantastic night of Girls Playoff action in Tenaha!!

Good Wednesday morning Tiger Nation!! Just a reminder that there will be a fundraiser in honor of Mr. Mike Ogden, father of TISD Counselor Stacie Barr, who recently received a kidney transplant. In order to help with travel and medical expenses associated with Mr. Ogden's procedure, a BBQ Pulled Pork luncheon will be held February 13th from 11am-1:30pm. For $10, you will get a sandwich, chips and bottled water. Meals may be picked up during these times at the side entrance of the Tenaha First Baptist Church; or if you are a school employee, there will be a sign up sheet in all of the teacher lounges (meals will be delivered to the school). The last day for school employees to sign up for those lunches is this Friday!! For more information, please contact Robert or Janice Barton. Thank you for supporting such a wonderful family!!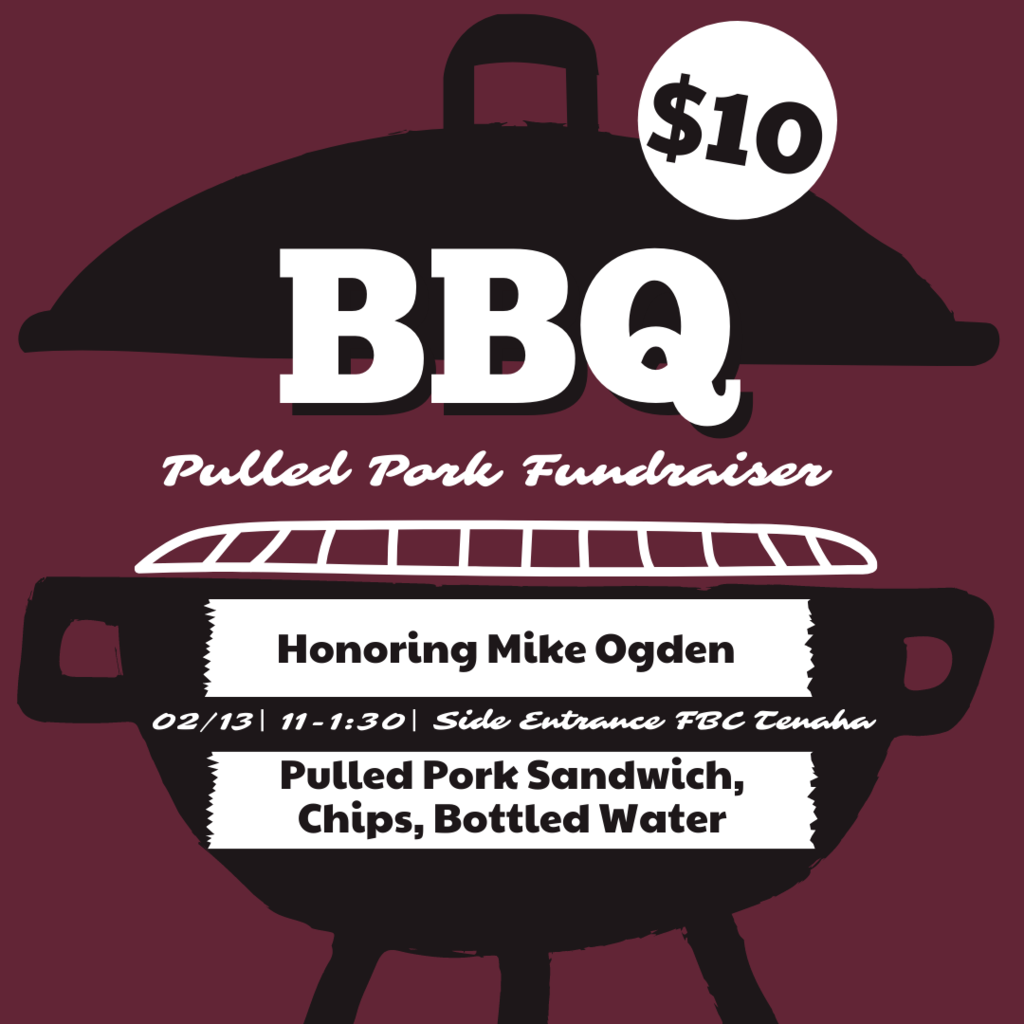 Match Day!! Our Tiger Soccer team will host Center JV in a scrimmage this evening at Raymond Jackson Stadium at 6pm. They have put together an awesome season this year with their awesome coaching staff and we are so proud of their efforts and improvements!! Best of Luck tonight Tigers!!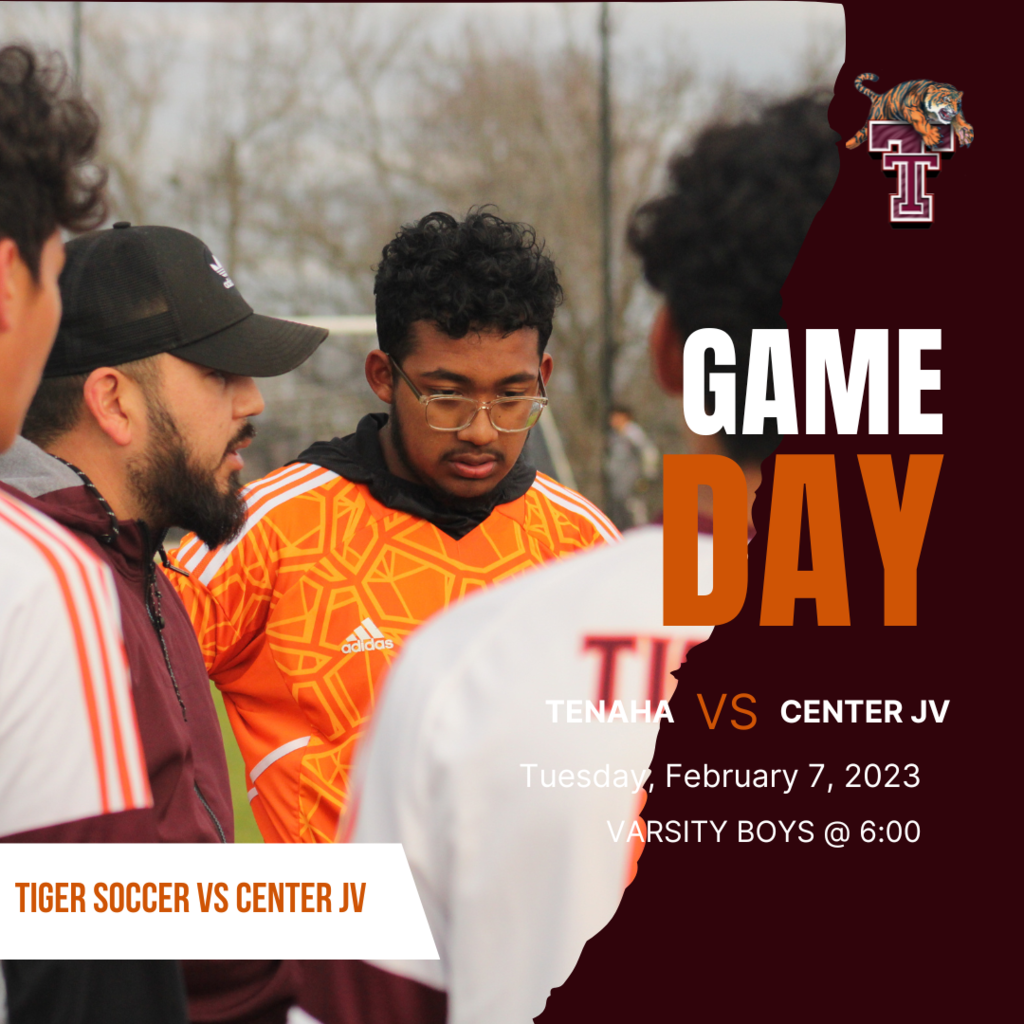 TIGERNATION!! It's a BIG GAMEDAY!! This evening in the SEC, it's an epic battle of TIGERS and BEARS...and brothers also:-) We will welcome the outstanding program from Timpson over for 3 games this evening starting with JV girls at 5pm, followed by our Varsity Girls Senior Night Recognition and Game at 6:15 and then wrap things up with the Cloudy brothers and our Varsity Boys game!! Luckily we have a neutral spot on the end of the SEC for their sweet family!! We will also have the Famous Tiger Café up and running this evening as well. Doors will open at 4:30 with our regular menu being served: boiled shrimp, chicken strips or fish BUT...we will also offer fried popcorn shrimp tonight as well!! With one of those entrées, you have the choice of fries or baked potato, coleslaw, and tea...all for just $10!! We are looking forward to a great evening; come out and join us for a great night of basketball!!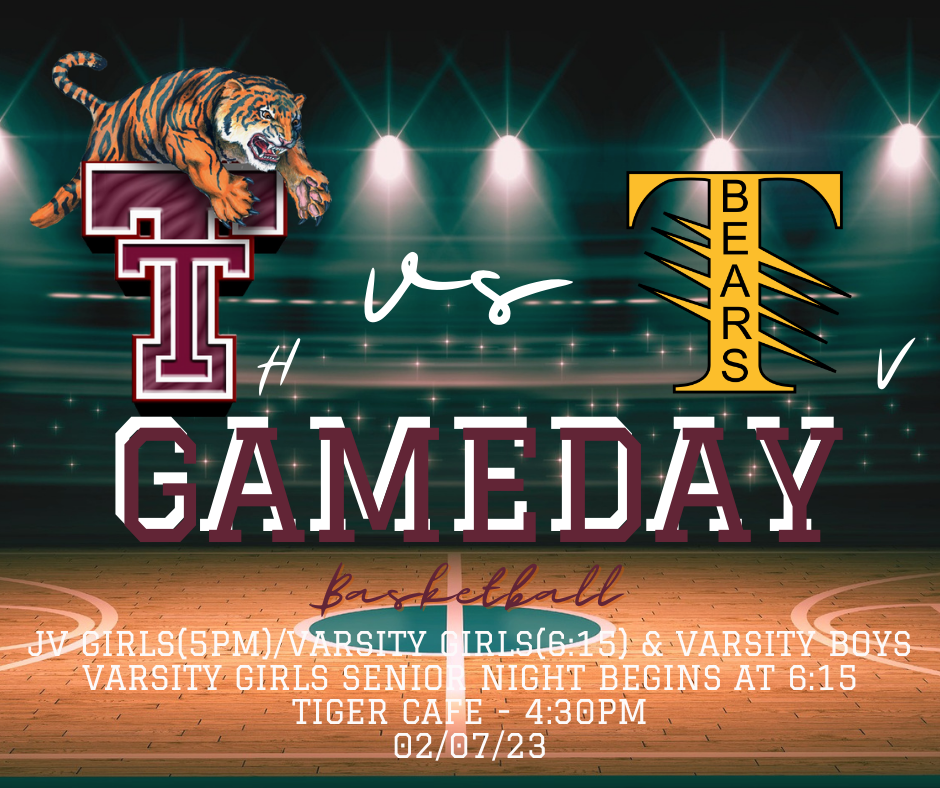 It's a JH GAMEDAY for our JH TIGERS!! Today they will travel to Gary to play the Bobcats at 5:30pm. There will be 2 games this afternoon. Best of luck to these athletes as both teams have shown so much improvement all season long; we are very proud of you!! Let's GO TIGERS!!!

Our Basketball Teams have their final home games of the regular district season this week!! Senior Nights take place this week: Girls Senior night will be tomorrow before the game at 6:15 and the Boys Senior Night will be Friday before the game at 6pm!!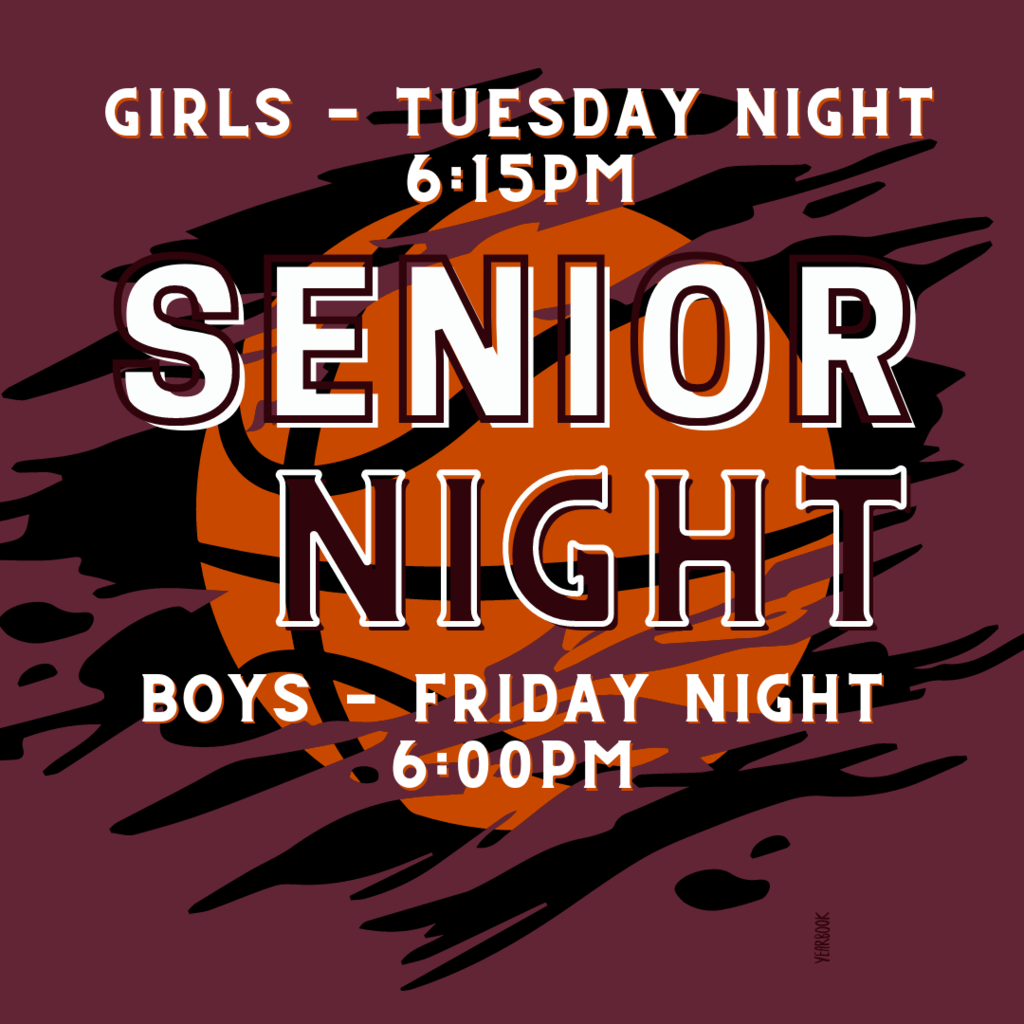 TigerNation! Here's what on the Tenaha Tiger Athletic Schedule for the Week of February 6th through the 10th! It's a light week with the cancellation of today's soccer games at Central Heights. Just a reminder that this week are our Senior Night recognition events for our basketball teams: Girls will be recognized tomorrow evening at the beginning of the Varsity game and the Boys will be recognized Friday night at the beginning of their game at 6pm. We will also recognize any members of the State Champion Boys team from 2003 at half time of that boys game on Friday as well, so please SPREAD THE WORD!!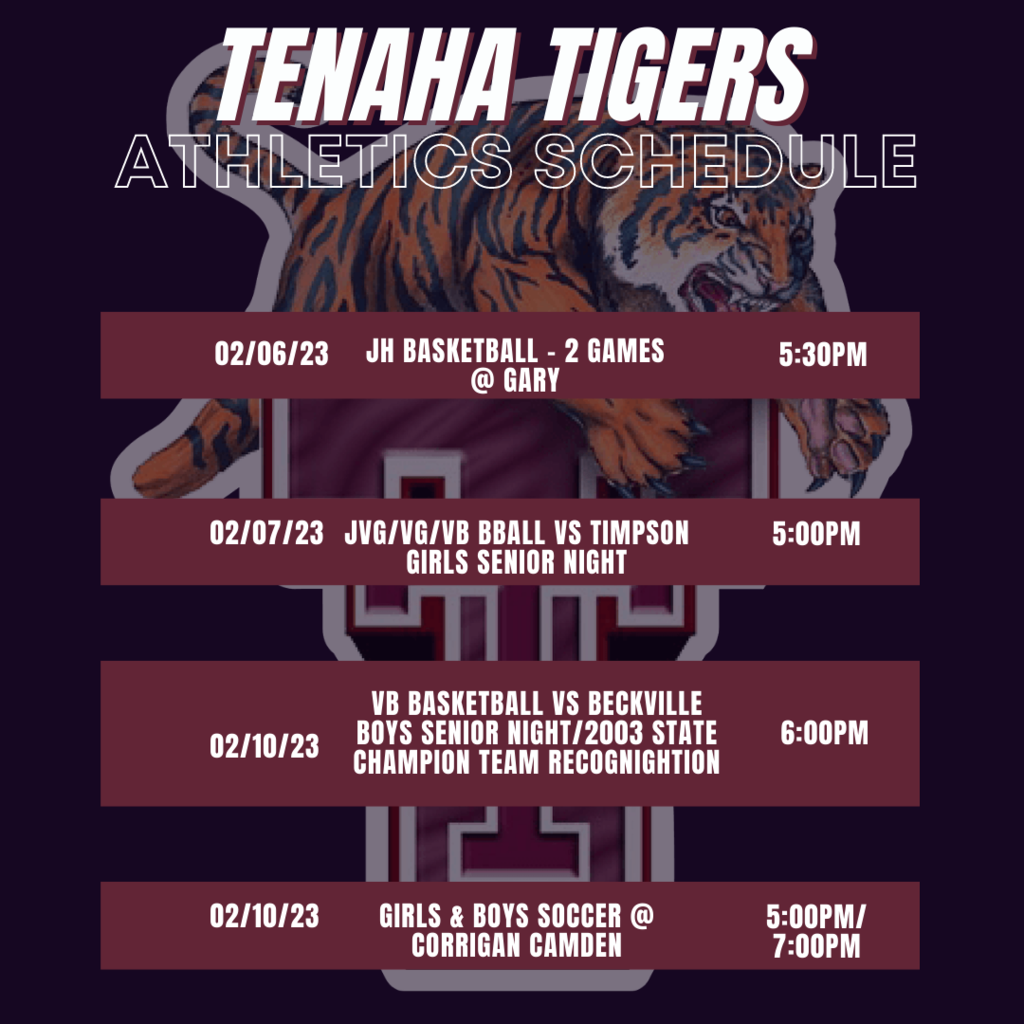 Select high school band students will attend UIL Solo & Ensemble Contest on Saturday, February 4th at Nacogdoches High School. These students have been working hard preparing small ensembles that they will play for a judge. The judge they perform for will then give the ensemble a rating. If any of these small ensembles receive a first division, they will advance to State Solo & Ensemble in late May. Please join us in wishing these students the best of luck as they compete tomorrow!!

TigerNation!! It's FRIDAY and IT'S GAMEDAY!!! Our Varsity Basketball teams will travel to Garrison this afternoon to play 2 games: the Lady Tigers will tip off at 5pm and the Varsity Tigers will play at approximately 6:30. The rain has stopped, the sun is trying to come out...so load up and head to Garrison to support these athletes!! Also, just a reminder that the soccer games that were scheduled to be played in Carthage tomorrow morning: those have been CANCELLED.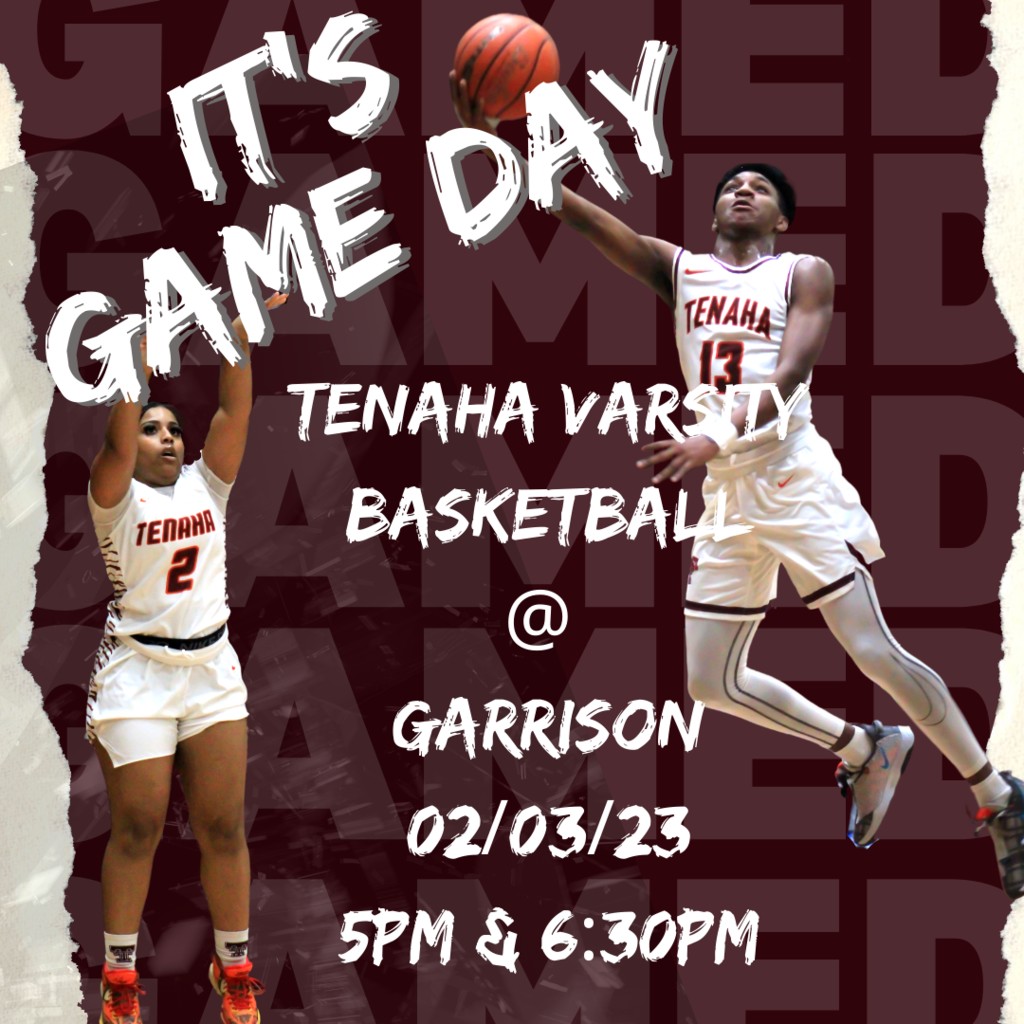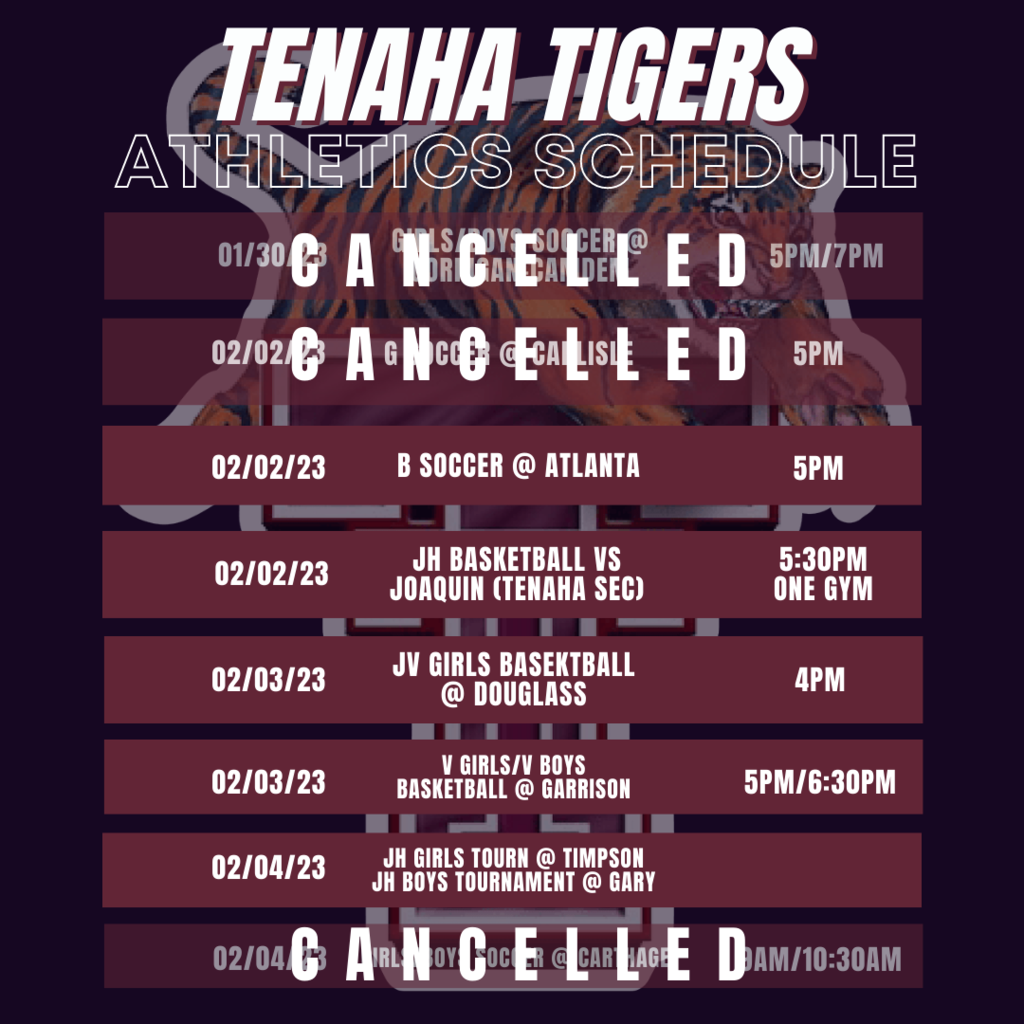 Lady Tiger Basketball Playoff Shirts are now available for purchase!! Orders are DUE FEBRUARY 6th to the Tenaha High School Main Office!! Tee Shirts are $10 and Long Sleeved Tees are $16; please see the additional pricing for 2XL-4XL listed on the order form. Payment is due at the time your order is placed; we will not take orders via social media. The shirts are black with maroon and white lettering. If paying by check, please make them payable to A&J Printshop. Flyers will be sent home with students tomorrow! Let's GO LADY TIGERS!!!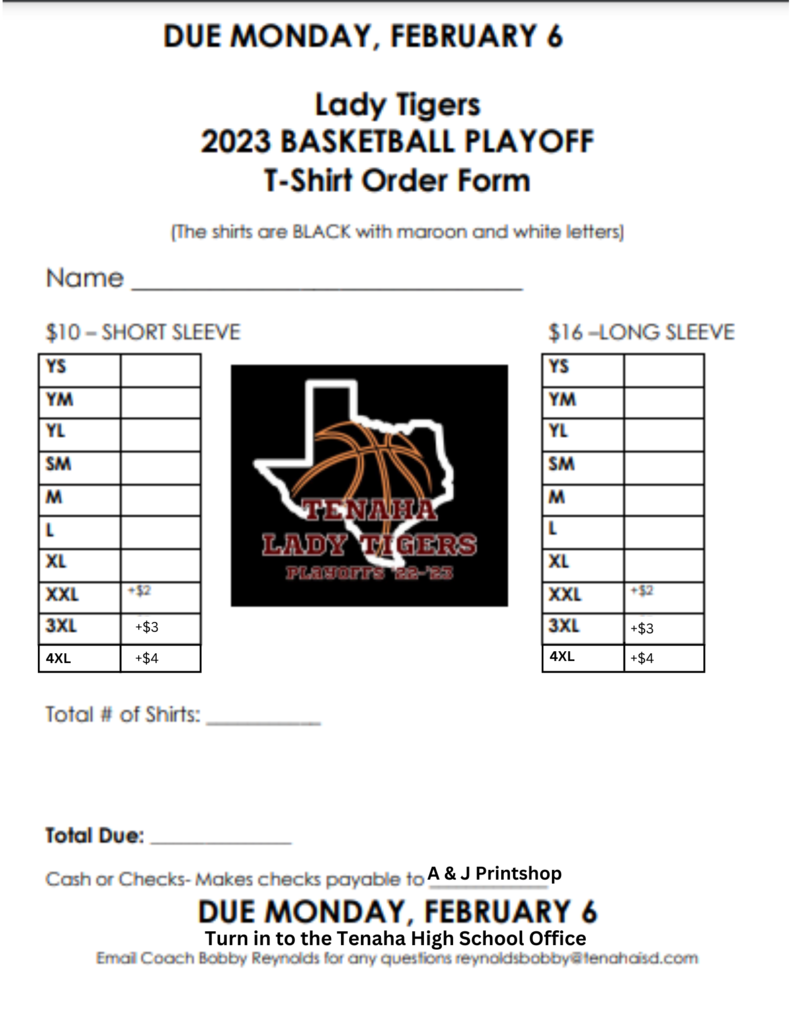 Join us on February 17th and 18th at the Tenaha ISD Special Events Center for some of the BEST boy's basketball action in East Texas as they battle in the annual High School Boys Playoff Preview hosted by the Longview Basketball Official Association and Longview Orthopaedic Clinic Association. Games will begin at 5pm on the 17th and 10am on the 18th; schedules will be released SOON!! All proceeds raised will be donated to scholarships for East Texas athletes!!