There's No Place Like HOMECOMING!! Homecoming 2022 is only about a month away!! Check out the schedule of events and festivities that will take place Friday, October 14th & Saturday, October 15th! Please share this information; we hope to see our alumni back and look forward to a fun-filled, memorable weekend!!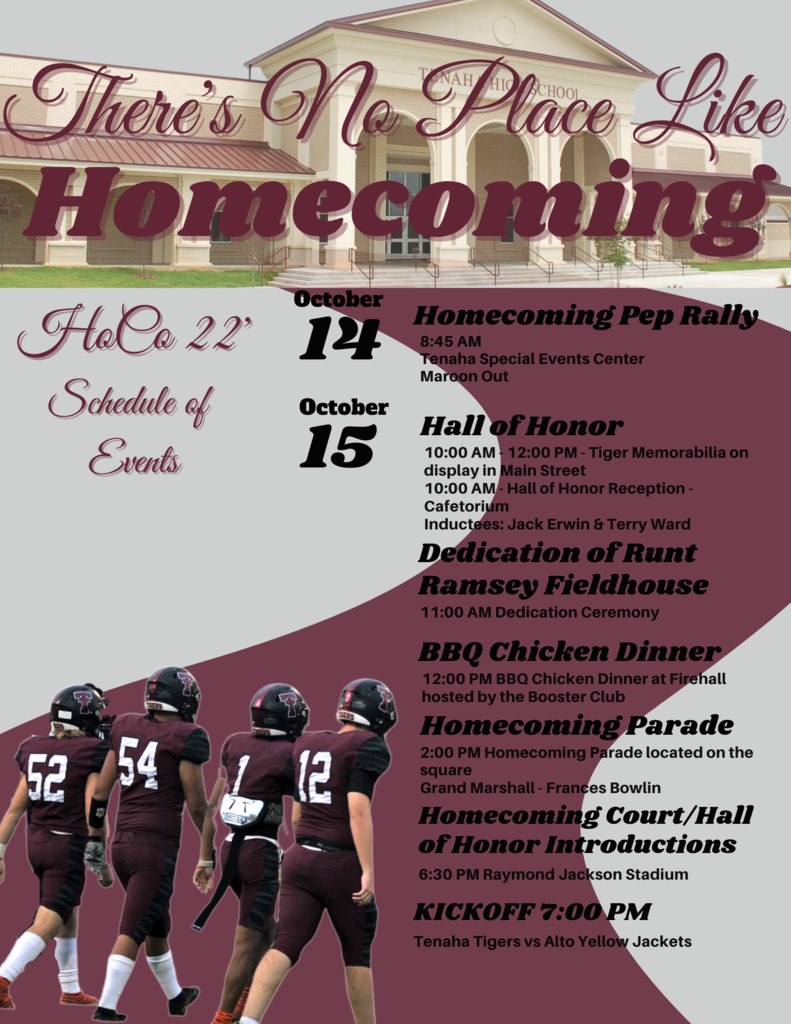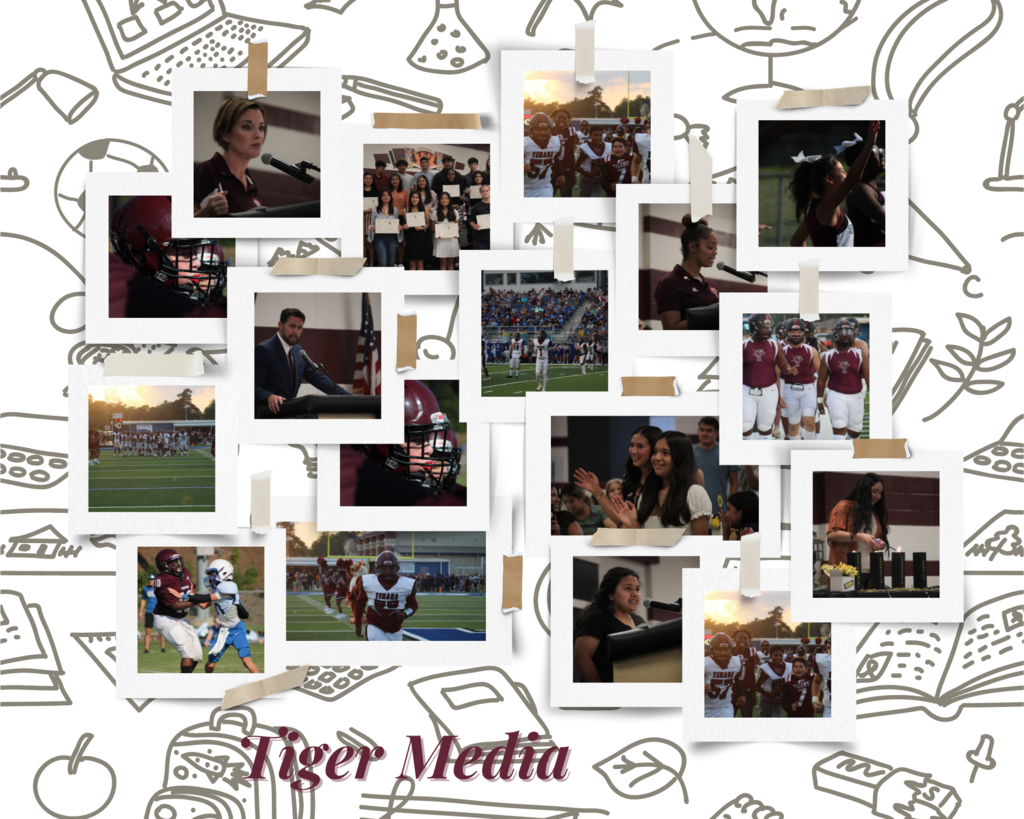 CALLING ALL TIGER FANS and SUPPORTERS!! A meeting to reorganize of the Tenaha Athletic Booster Club will be held Monday, September 19, 2022 at 6:30 pm at the Fellowship Hall of the First Baptist Church in Tenaha. We need all interested parents, fans, and community members to attend and become members to support our TENAHA TIGERS. Annual membership dues will be $10.00.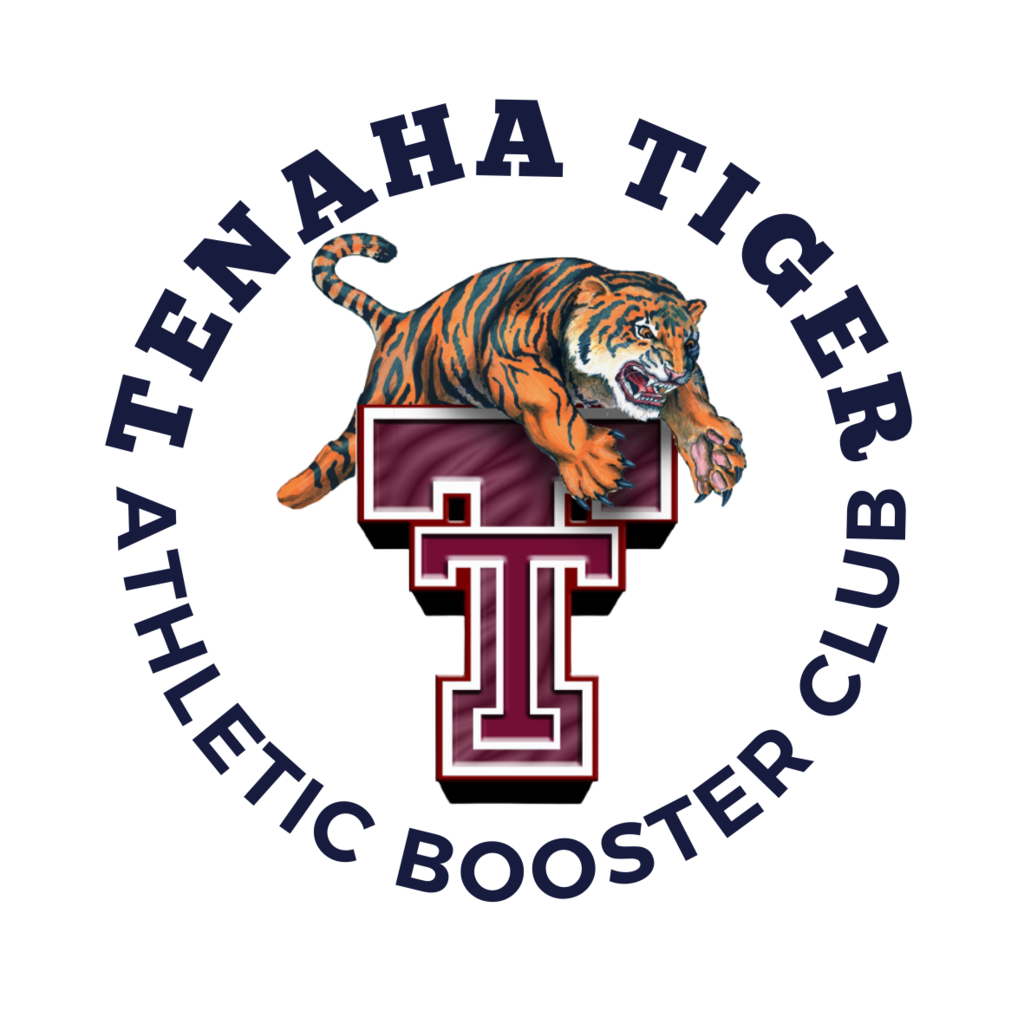 It's MEET DAY for our Junior High XC Runners!! They will be traveling to West Sabine this afternoon to compete. Join us in wishing these Tigers the best of luck and a safe trip!! Graphics: Kayanna Cox

TIGERNATION!! We are nearing our favorite day...GAMEDAY!! Reserved tickets are on sale now for $6. Buy TWO reserved tickets and receive a complimentary reserved parking pass for Lot #2!!! For more information and to purchase your tickets, please call the High School Office!!

Homecoming Tee-Shirts are ON SALE NOW!! The THS Beta Club is sponsoring a HOCO Tee-Shirt fundraiser. All proceeds will benefit the BETA Club. Shirts are $15 each. Order forms and monies are due by Wednesday, September 21st. For more information or to place an order, contact Jennifer Leigeber at
leigeberjennifer@tenahaisd.com
.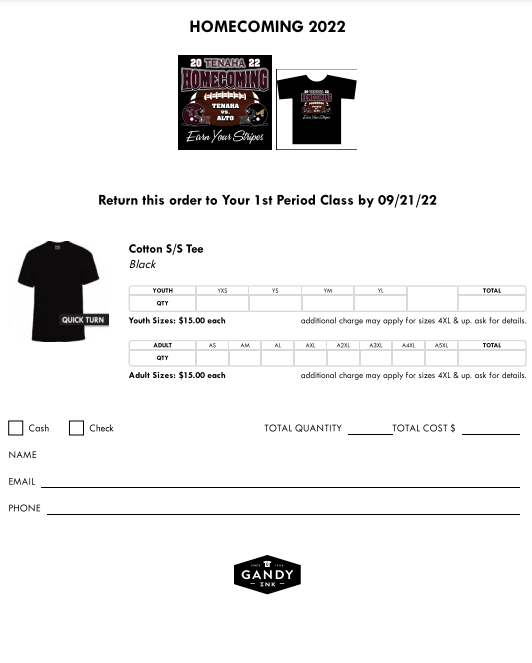 Don't forget our BETA Induction Ceremony will be tonight at 7pm in the TISD Cafetorium. We hope to see you there to celebrate this outstanding accomplishment!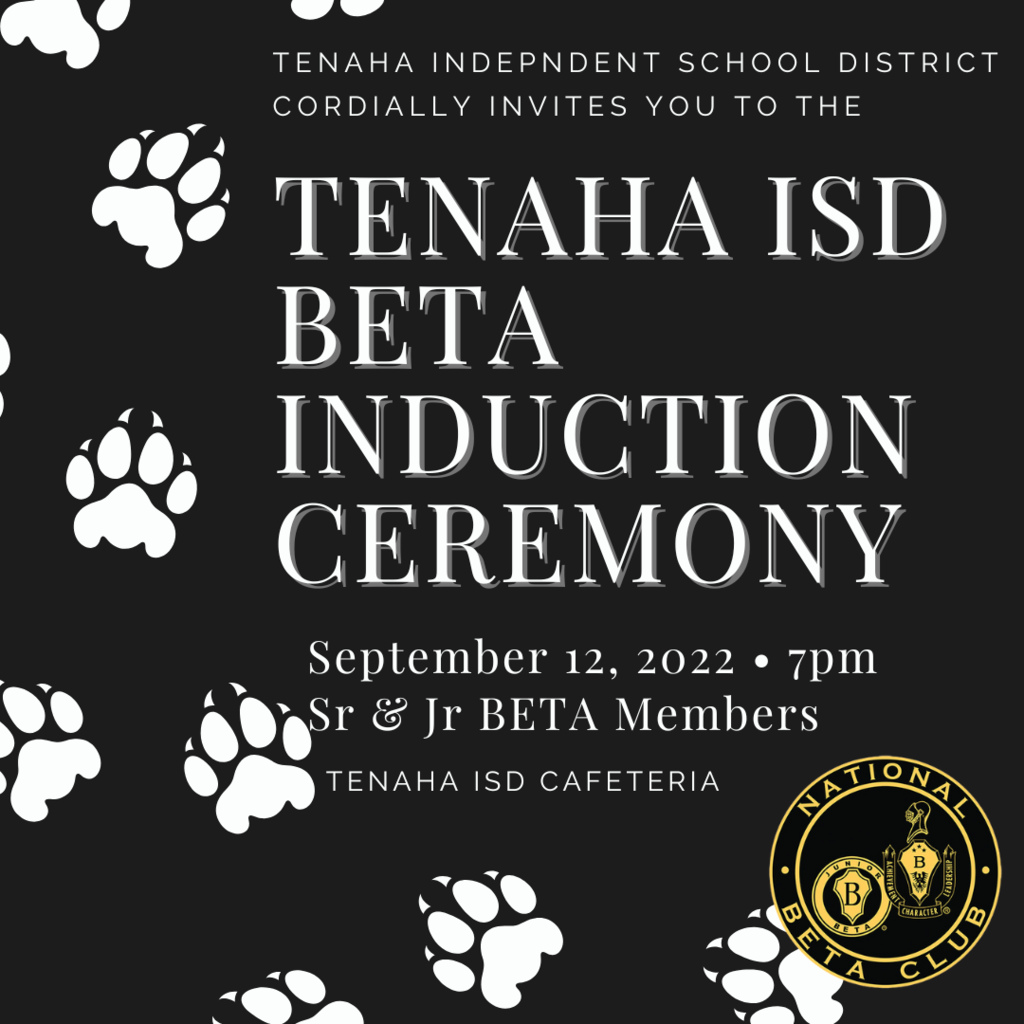 Here's a look at this week in Tiger Land!!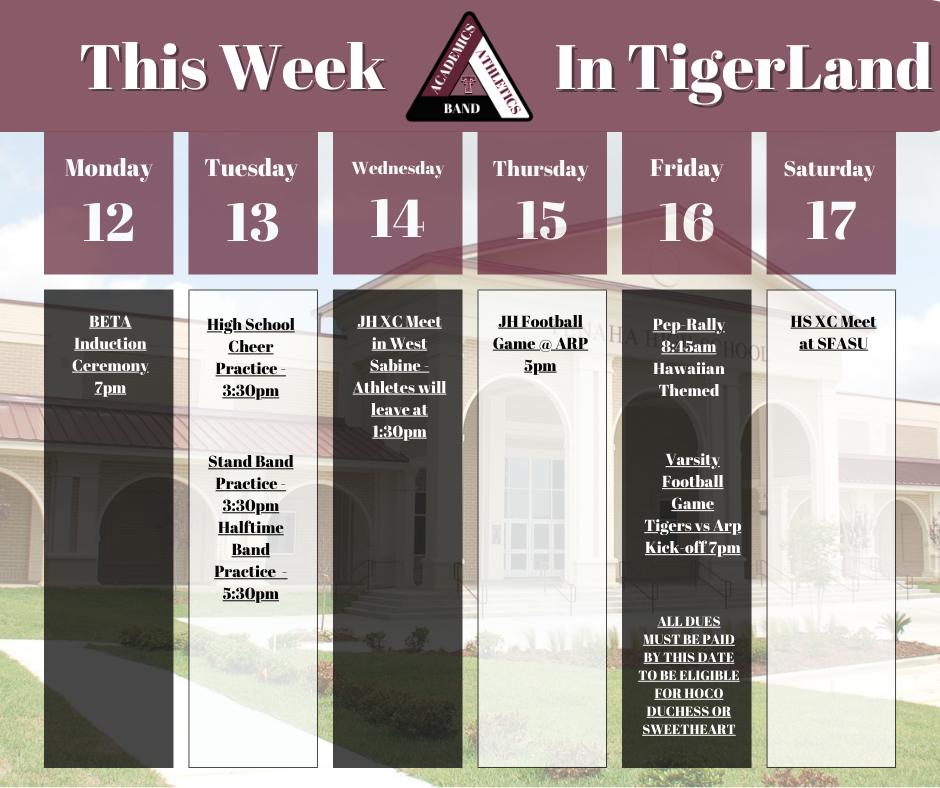 Tenaha ISD …will never forget. Remembering those lives lost and forever impacted, honoring those who served our nation during this time, and praying for those who continue to defend our freedom everyday. Patriot Day 2022 September 11, 2001

New photos are LIVE Tiger Nation!! Check out the Tiger Media photos from this past weeks sporting events and more!! tigermedia.smugmug.com If you see a yearbook staff member, GIVE THEM A SHOUT OUT!! These pictures are AMAZING!!!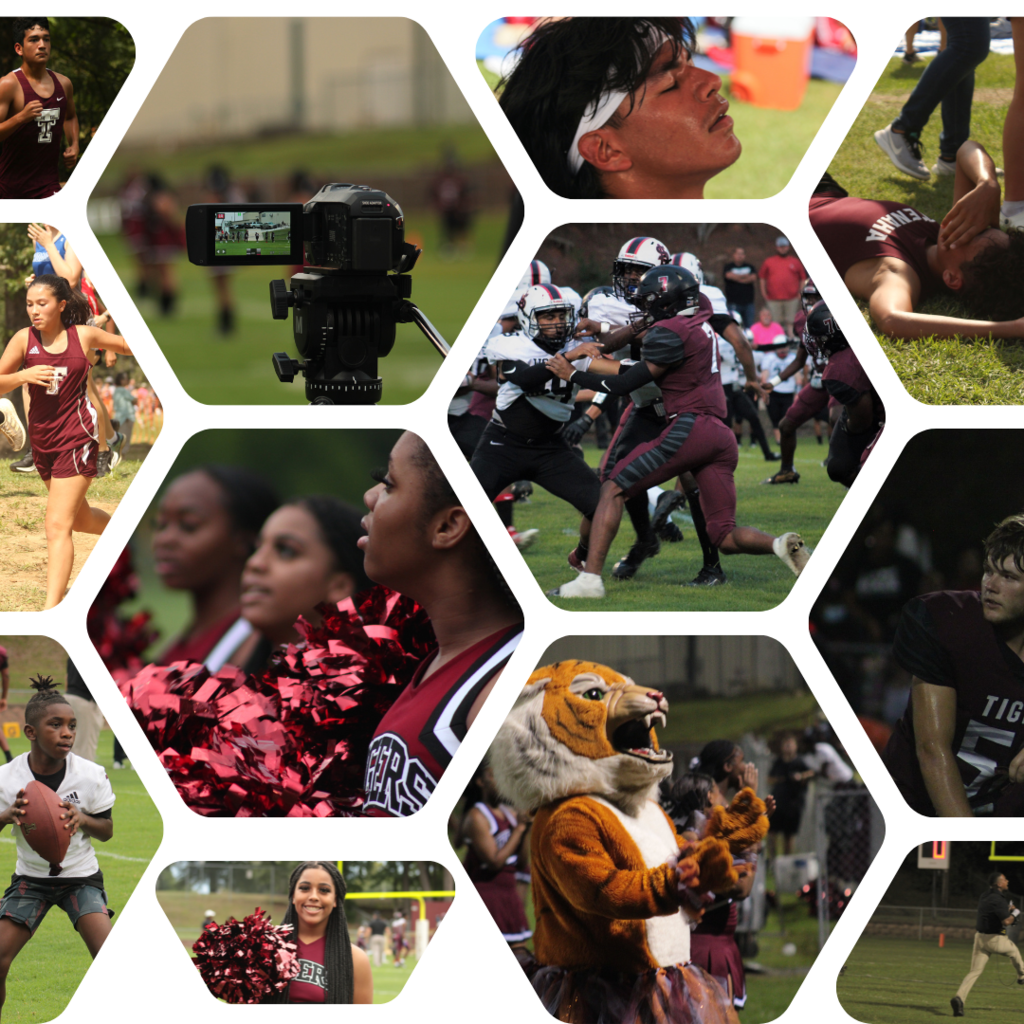 It's GAMEDAY for our JH Football team!!!🏈❤️🐅 🏈Catch them this afternoon in The Pit as they take on the Rams of Joaquin🏈 Game Time: 4:30pm Tickets can be purchased at the gate for $3/$2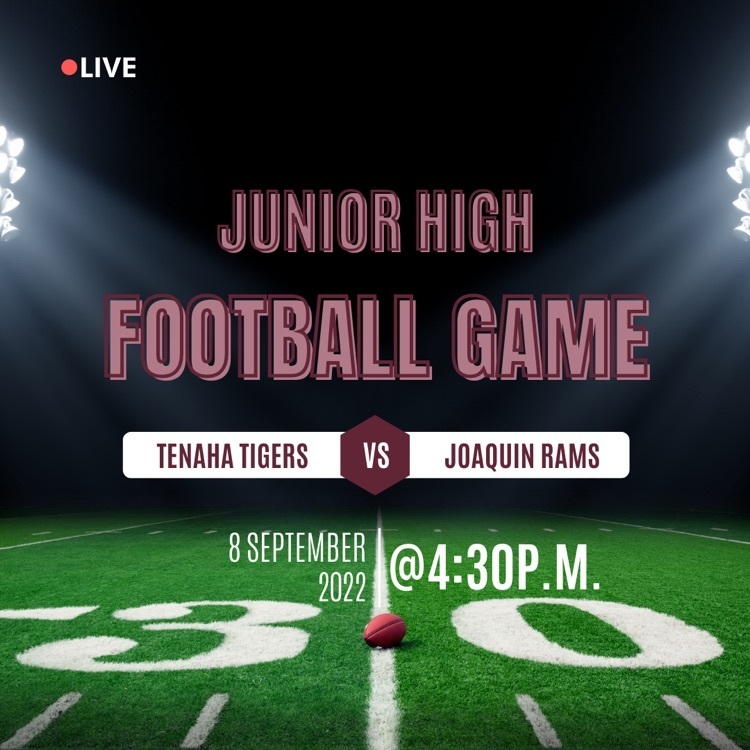 Tenaha ISD invites you to attend the Junior/Senior BETA Club Induction ceremony, Monday, September 12th at 7:00pm in the TISD Cafeteria. Join us as we celebrate these students and this outstanding accomplishment!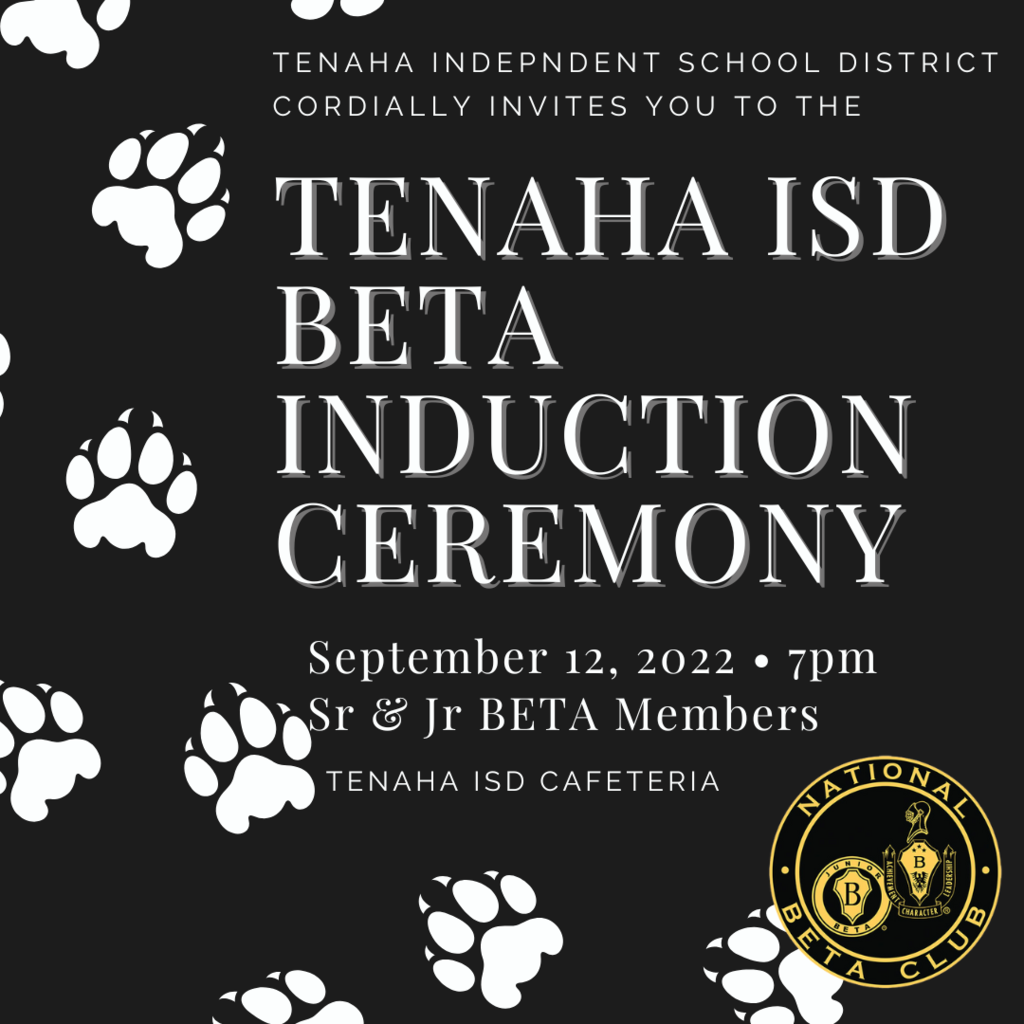 Another one bites the dust!!! Official results are in and our Boys XC team takes the WIN!!! This was a HUGE meet with over 30 teams competing!!! Way to go Tigers!!!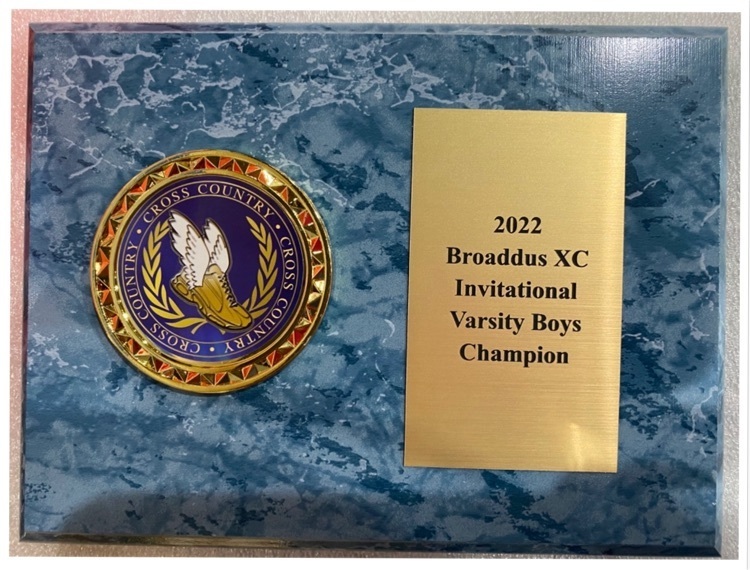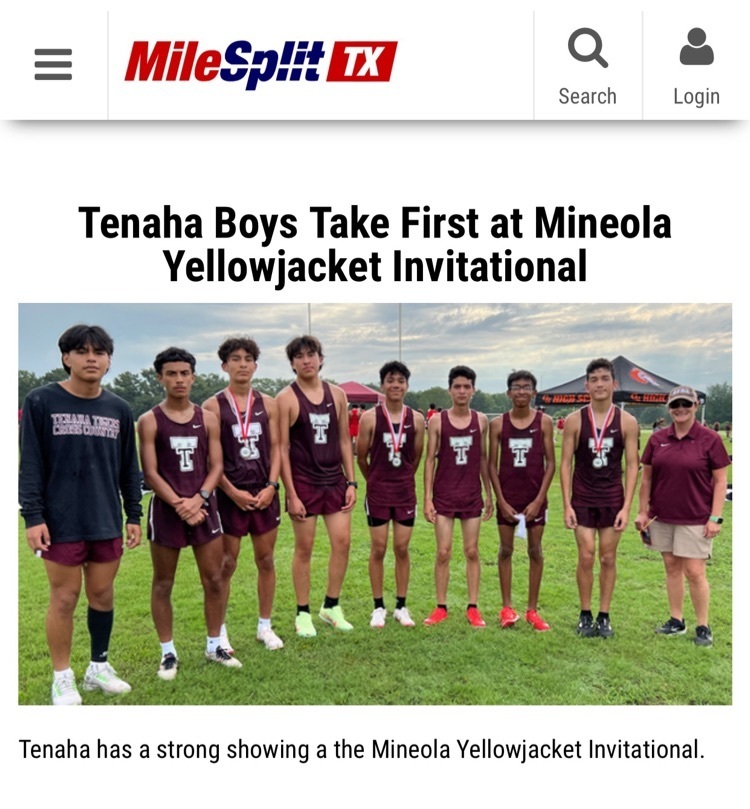 Tenaha XC SHOWED OUT….again!!!🐅🐅🙌🙌🎉🎉🐅🐅 Official times and results will be available tomorrow!! Until then…way to go TIGERRRRRSSSS!!!!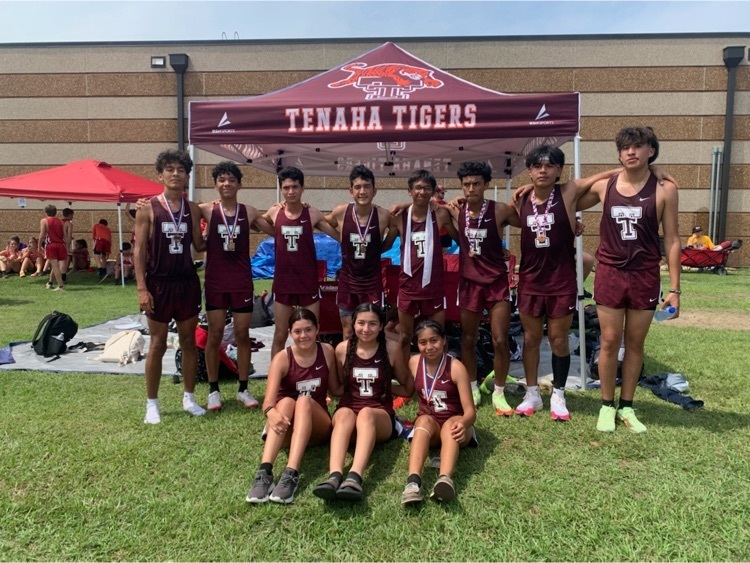 Check out the NEW TENAHA ISD APP!! Make sure to delete the old app and download the new one from the App Store or Google Play Store!! Search Tenaha Schools and download for FREE!! Stay up to date with news, information, important alerts, daily lunch menus and MORE!!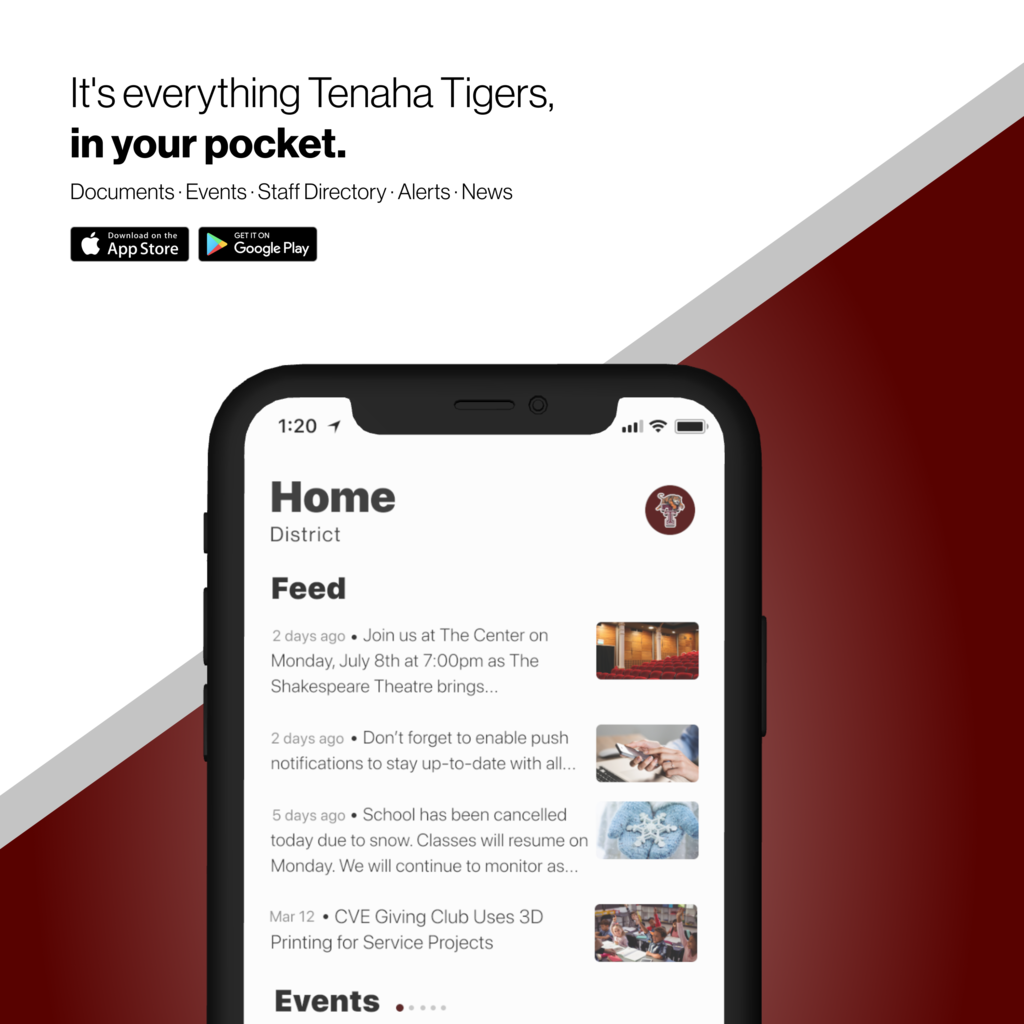 Varsity Football INFO!! Tenaha Tigers @ Joaquin Rams SATURDAY, September 10th - 7:00pm Kick-Off Tickets will sold at the gate; $5/$3 Open Parking: First come, first served See you there, Tiger Nation!!!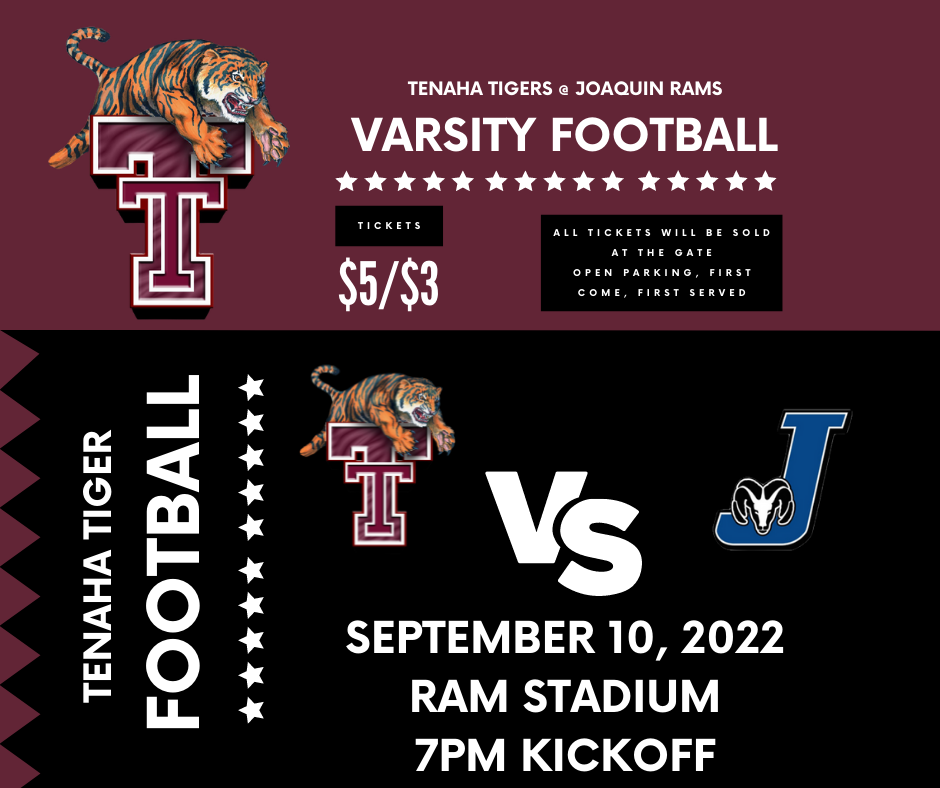 Schedule Update: The Junior High football game vs Joaquin will begin at 4:30pm tomorrow afternoon.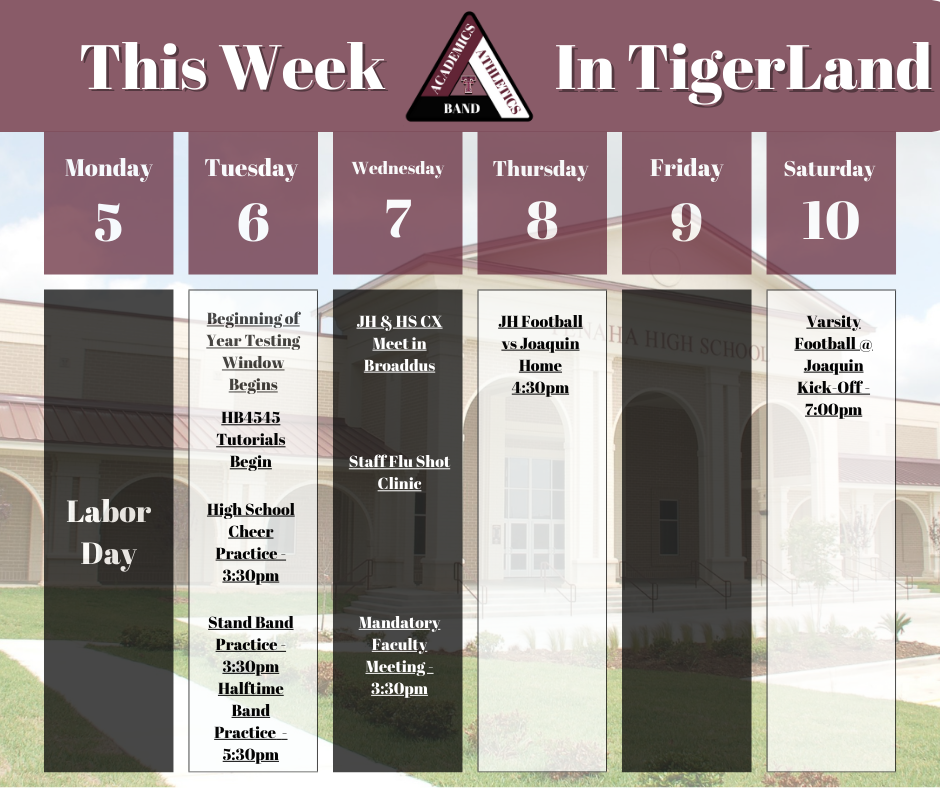 It's TIGER MEET DAY for our CX Tigers!! Best of luck to our Junior High and High School Cross Country teams as they travel to the Broaddus Invitational today. This is the first meet for our Junior High runners this season. We are proud of you all and Coach Sisk and Coach Rocha! Photos Courtesy of Tiger Media Photographer: Britney Barona

Here's a look at the week ahead, TigerNation!