Tenaha Tiger Football Season Tickets are NOW AVAILABLE FOR PURCHASE! Levels of Membership for Season Tickets include: Tiger Level - $75 2 RESERVED Chairback Season Football Tickets & 1 RESERVED Parking Space in Lot #2 in front of the High School Maroon Level - $45 1 RESERVED Chairback Season Football Ticket & 1 RESERVED Parking Space in Lot#2 in front of the High School ADVANCED PURCHASE FOR PARKING: You will also now be able to pre-purchase your parking space! Spaces may be purchased through the High School office throughout the day, on Friday's, of home football games. Parking Spaces may be purchased in advance for the following areas: Lot #1 (in front of the Tiger Gym) - Spaces are $3 Lot #2 (in front of the High School) - Spaces are $5 Season Tickets will be available until SOLD OUT or the first home football game on August 26th vs West Sabine. For more information or to purchase season tickets, please contact Stella Baker at 936-248-5000 ext. 401. GO TIGERS!!!!

The Texas Education Agency released the 2021-2022 State Accountability Ratings on Monday. This release is the first official rating since the COVID pandemic. According to TEA, " The ratings are based on performance on state standardized tests; graduation rates; and college, career, and military readiness outcomes. The ratings examine student achievement, school progress, and whether districts and campuses are closing achievement gaps among various student groups." The ratings are based on an A-F system, indicating the district and individual campus performance in these areas. Hard work, dedication, creativity, and collective effort on behalf of our students, staff and administrators earned Tenaha ISD an overall "A" rating for the 2021-2022 school year. The breakdown for TISD K-12 was as follows: Overall 90 A Student Achievement 87 B STAAR Performance 72 College, Career and Military Readiness 96 Graduation Rate 100 School Progress 91 A Academic Growth 72 C Relative Performance (Eco Dis: 91.1%) 91 A Closing the Gaps 86 B Congratulations to our other Shelby County students and educators who all represented the area equally as well, receiving the following ratings: Joaquin ISD - Overall 92 A Shelbyville ISD - Overall 91 A Center ISD - Overall 90 A Timpson ISD - Overall 85 B Great job Tigers!! We are so proud of your effort to make Tenaha ISD an "A" Rated District!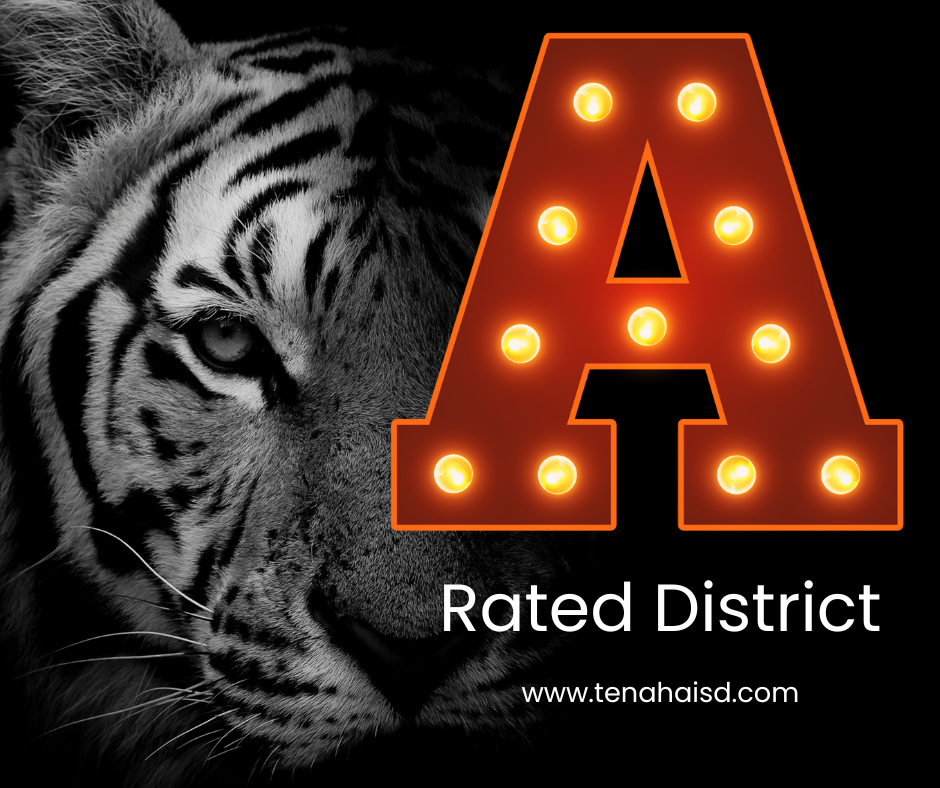 Tenaha ISD Immunizations - September 7, 2022 Tenaha ISD Student Immunizations September 7, 2022 *Please sign up using the following link:
https://form.jotform.com/auroraconcepts/student-vaccine-consent?School=Tenaha%20ISD
Information for Seniors: MCV4 – Meningitis vaccine required for colleges Men B – a 2 shot series for a 5th strain of meningitis that is the optional Info for incoming Fall 7th graders and 6th graders in prep for 7th grade next year – MCV4 (meningitis), Tdap required for 7th grade; HPV optional Pre-K & Kindergarten (if vaccines not up to date) – Dtap/IPV/MMR/varicella, possibly Hep A Deadline to sign up is September 2, 2022. *All insurance policies will be verified, please sign up with the link if you plan to participate! *If you plan to pay out of pocket, please submit your info! You will put "NA" in all insurance blanks. No insurance: $10/shot – up to 18 years old 19+ - self pay adult prices Aurora Concepts, LLC 233 Hurst St. Suite B Center, TX 75935 936-598-3296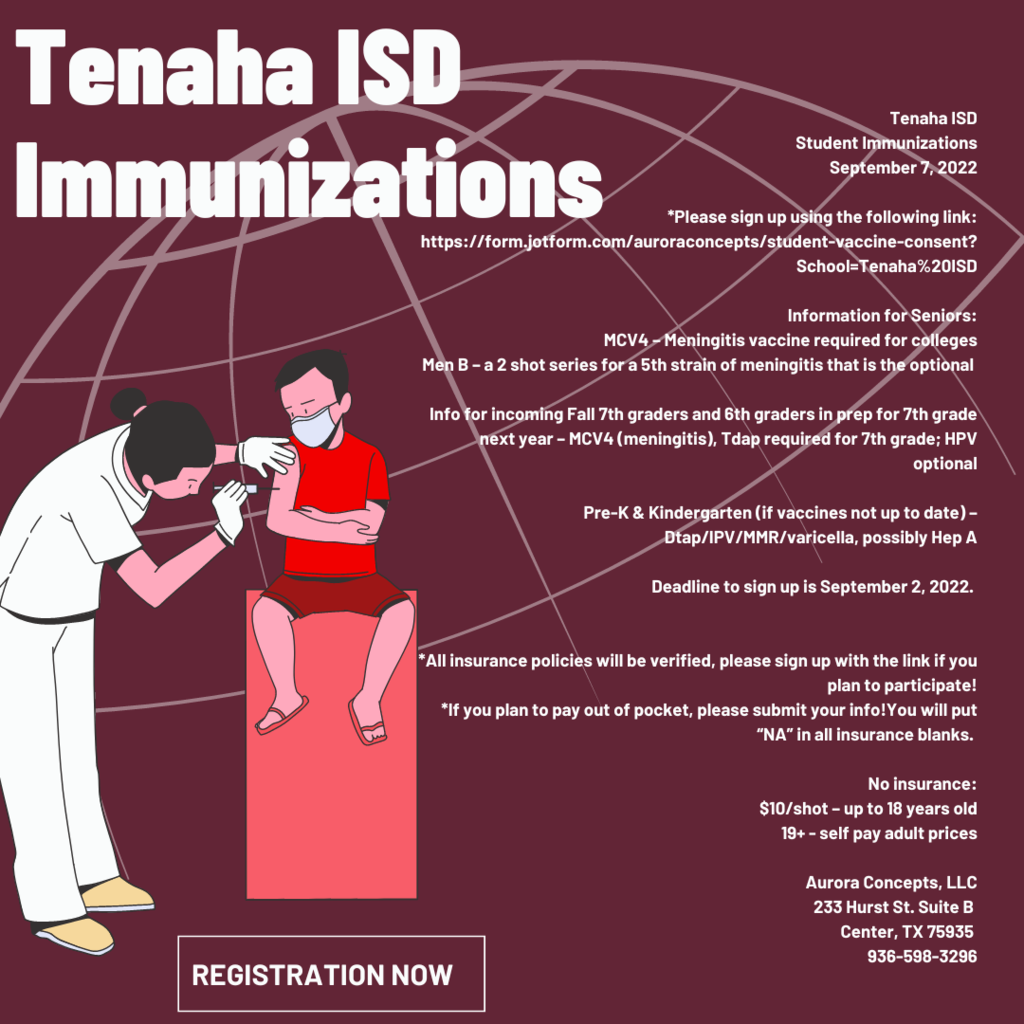 XC practice for Varsity has been moved to 6 am in the morning (Monday) Jr High XC practice is cancelled for tomorrow.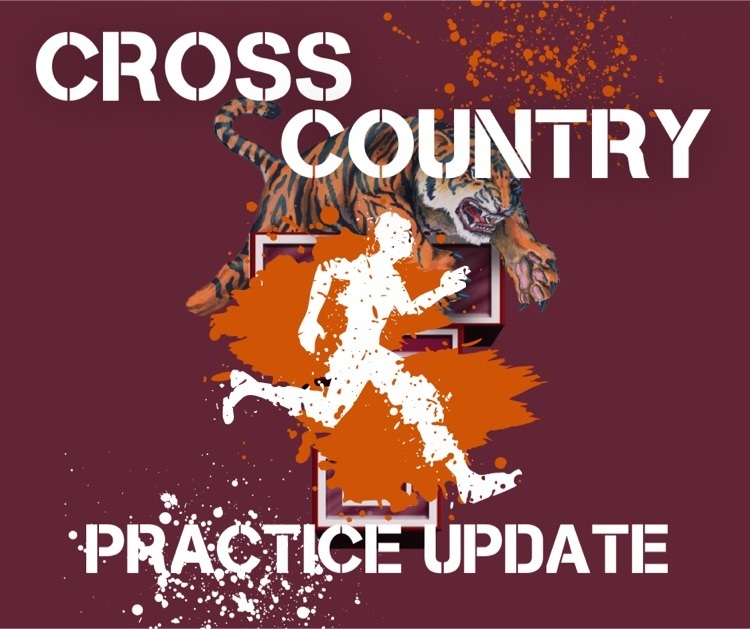 CONGRATULATIONS to our FIRST TOP NOTCH TIGER!! Kindergartner, Eliel Meza was "written up" by Mrs. Sisk for his POSITIVE actions and behavior today. This year, TISD teachers and administrators are on the look out for TOP NOTCH TIGERS who work hard to do the right thing each day. These Tigers will be give a POSITIVE OFFICE REFERRAL and rewarded for being great students and members of the Tiger Family. Congratulations, Eliel! And thank you, Mrs. Sisk, for recognizing Eliel for being an outstanding student and citizen!

It's GAME DAY!! Friday Night Lights and our Tigers!! Catch them in action tonight at Hemphill Hornet Stadium. JV Scrimmage will begin at 5pm and then Varsity is set to start at 6:30. Go TIGERS!!!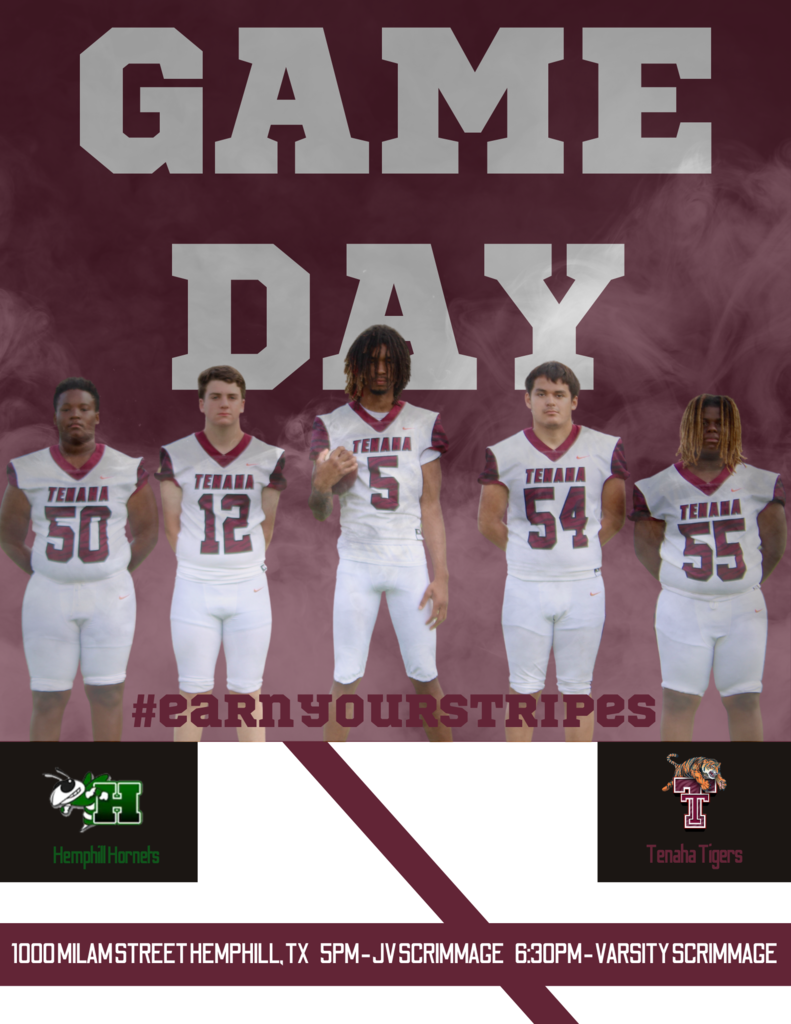 ATTENTION TigerNation: The safety and security of our students and staff are our number one priority at Tenaha ISD. Unfortunately, the acts of mass violence you see and hear about around the country force us to evaluate and update our policies frequently. However, we want you to know that we do not take this responsibility lightly and we sincerely thank you for entrusting your children with us each day. The following updates regarding Parent/Guardian Conferences will be effective immediately: All parent/guardian conferences must be scheduled between the hours of 8:00am - 10:00am or 2:00pm-3:00pm . These conferences should be scheduled through each campus office in advance. All visitors will be notified at the time of scheduling that they will be asked to submit to a voluntary security screening conducted by Officer Jeter prior to being allowed entry beyond the campus lobby. In the event the visitor does not comply with this screening, entry will be denied. To schedule a conference, please call: High School or Middle School: 936-248-5000 ext:501 Elementary School: 936-248-5000 ext:301 Again, thank you for your cooperation and attention to this matter. Our goal is to provide quality, educational opportunities to our students in a safe environment.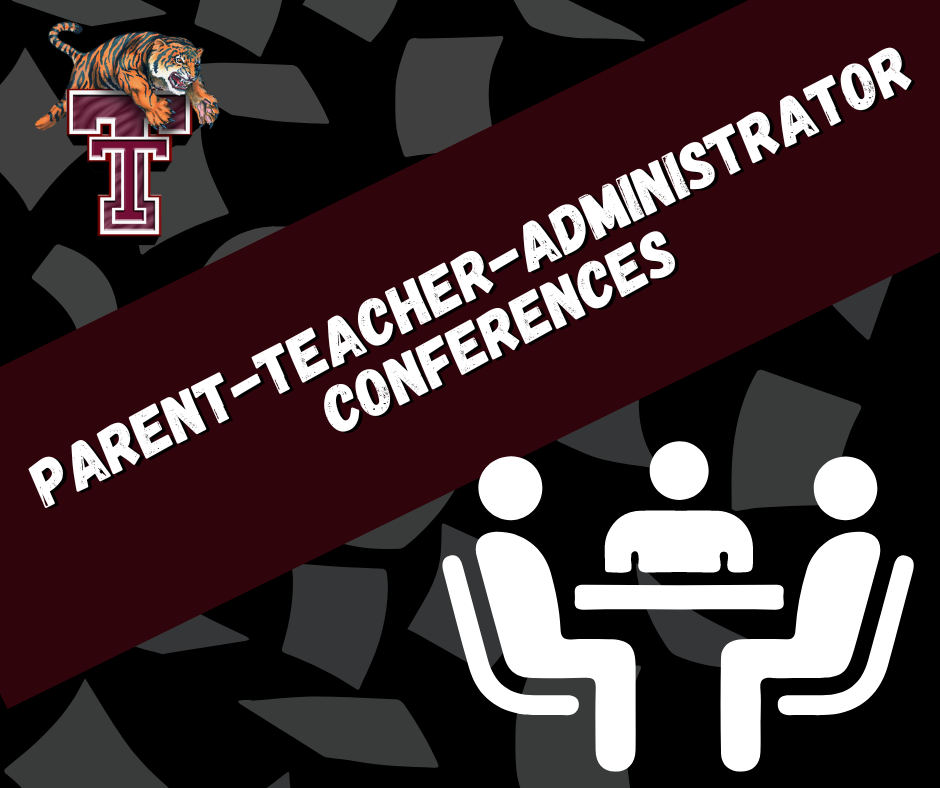 Tiger Transportation Update: As we continue to update our fleet of buses, you may notice the others being moved to storage. These older buses will be stored and used for parts when the need for repairs and maintenance arises. Let's GO Tigers!!!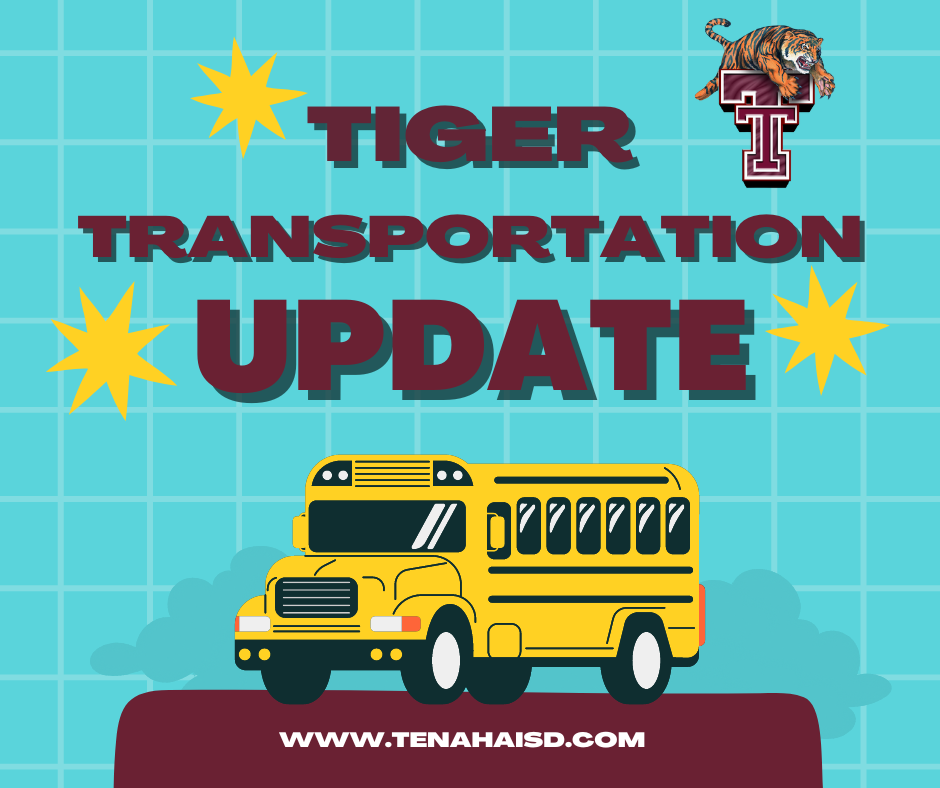 A Note from Mrs. Ward: "We were so excited to welcome all of our returning and new students back to TES. I was impressed watching your children get "right back into the swing of things"! BEGINNING TOMORROW: Elementary parents will be asked to drop their students off with Mrs. Stacie at the gate. She will make sure they get safely inside. If you need something from the office, you are welcome to come in the first set of doors. Parents will not be allowed in the building beyond the lobby area without a scheduled conference, as we closely follow our safety protocols daily. Thank you for entrusting your children with us. It's a GREAT day to be a TIGER!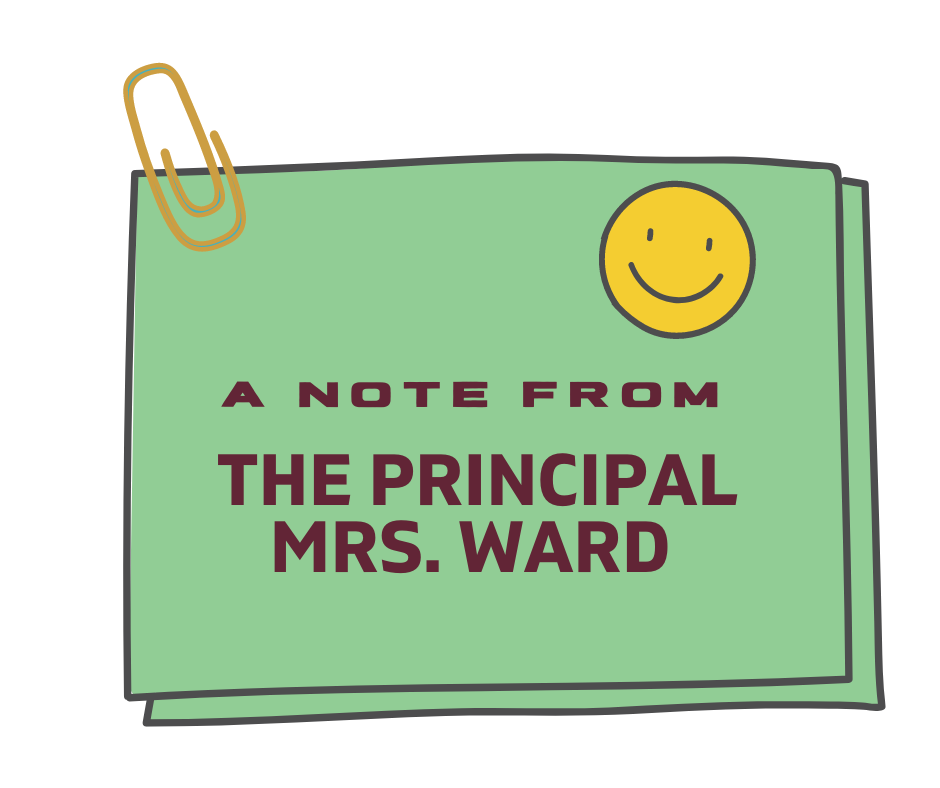 WOW!!! Thank you for a GREAT FIRST DAY TIGERS!! Just a quick note from Mrs. Ward, Mr. Thompson and Mr. Cloudy: "We had a very smooth and successful first day back! It was great to see all of the bright and smiling faces back in the halls again. Remember our theme for the school year: H.A.P.P.Y Have A Positive Productive Year!" Once again, thank you for your cooperation and patience as schedules are adjusted where needed and complying with our new policy updates. Our goal is to make Tenaha ISD a place you are proud to call home! See you tomorrow!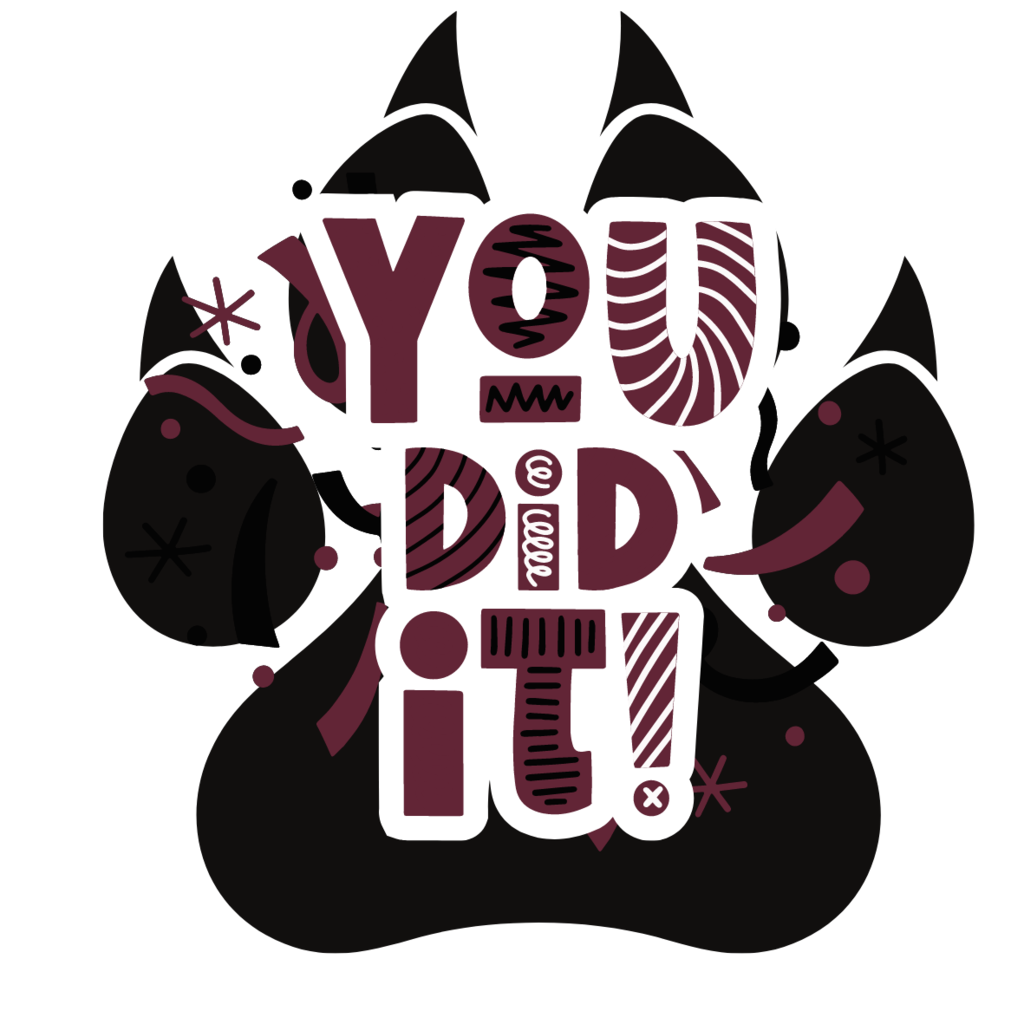 UPDATE from Tiger Athletics: The mandatory football parent meeting for Thursday, August 11th has been cancelled at this time. We will notify you when this meeting has been rescheduled. Thank you for your attention to this matter.

It's almost that time, TIGERS!! Here are a few reminders for tomorrow: *All Elementary students will report to the cafeteria once arriving and remain in the cafeteria. *All Middle School students will report to the cafeteria once arriving and remain the cafeteria until the bell rings at 7:55am. *High School students will report to 1st period upon arrival. *Elementary Parent Pick-up will begin around 3:10 tomorrow afternoon in an effort to get children loaded and released promptly so that buses may run on time. As procedures begin to smooth out, pick-up time will be near the end of the school day at 3:23pm. *Students who completed a schedule change form last night at Meet the Tigers should follow their ORIGINAL schedule tomorrow morning. If changes have been made, you will have a new schedule waiting for you in your first period class. Mrs. Barr is working on schedule changes and will notify you when yours is ready; she is hoping to have these completed by Friday. We are excited for a great first day! See you tomorrow morning!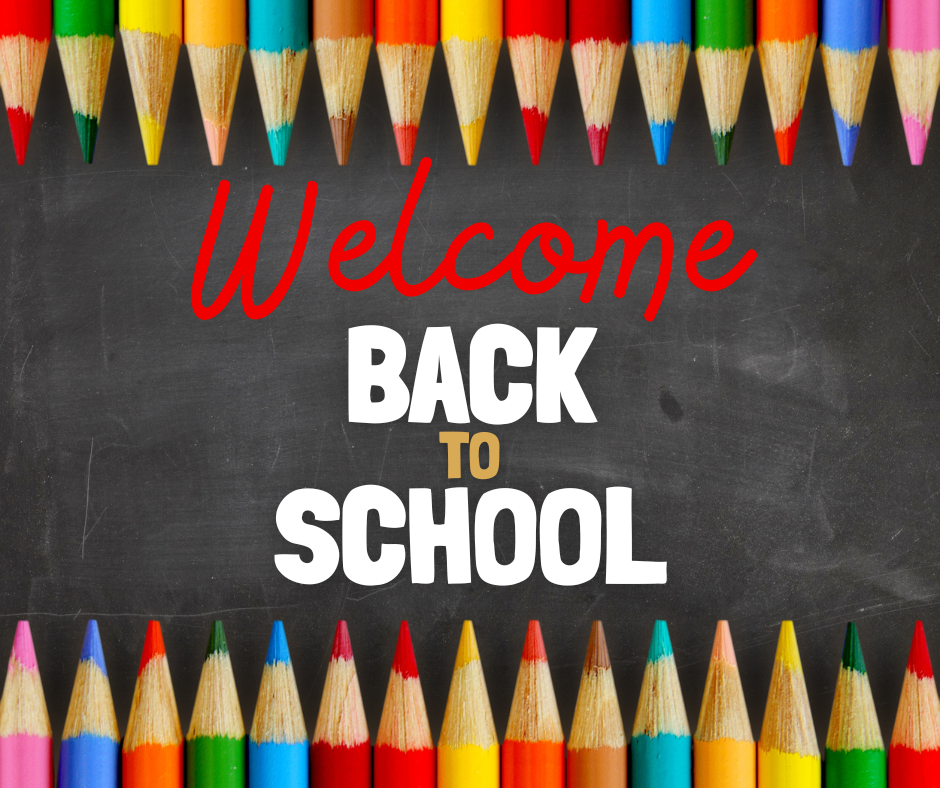 Caution TigerNation! As construction projects begin soon, we ask that you "excuse our mess" and exercise additional caution as heavy machinery and possible barricades will be present around the district. As projects progress, we will keep you informed of any changes in traffic patterns or temporary closures if necessary. Thank you for your patience and caution as we work to make improvements!!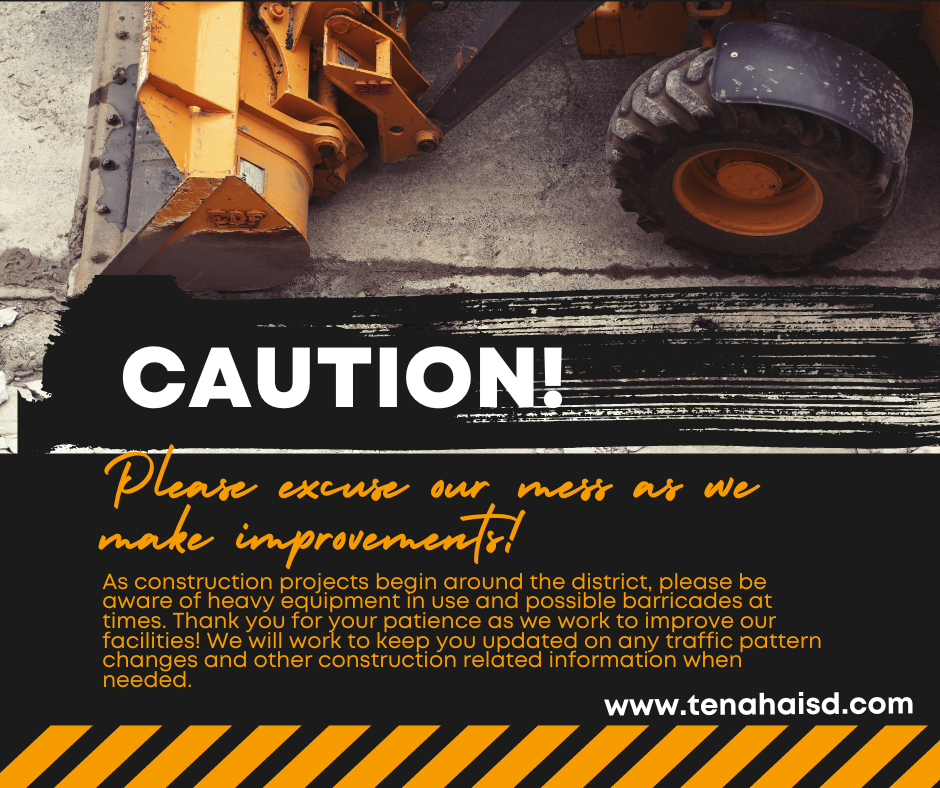 Tenaha ISD announced today that it will continue its policy to operate the Community Eligibility Program (CEP) under the National School Lunch Program and School Breakfast Program for the 2022-2023 school year. Schools qualifying to operate CEP, serve breakfast and lunch to all children at no charge and eliminate the collection of meal applications for free, reduced-price, and paid student meals. This new approach reduces burdens for both families and school administrators and helps ensure that students receive nutritious meals. For more information, please contact: Tenaha ISD Melanie Duncan Director of Nutrition 138 College Street Tenaha, TX 75974 936-248-5000 ext. 505
duncanmelanie@tenahaisd.com
Please see the official media release at the link below:
https://core-docs.s3.amazonaws.com/documents/asset/uploaded_file/3146/TENAHAISD/2336190/CEP_Media_Release.pdf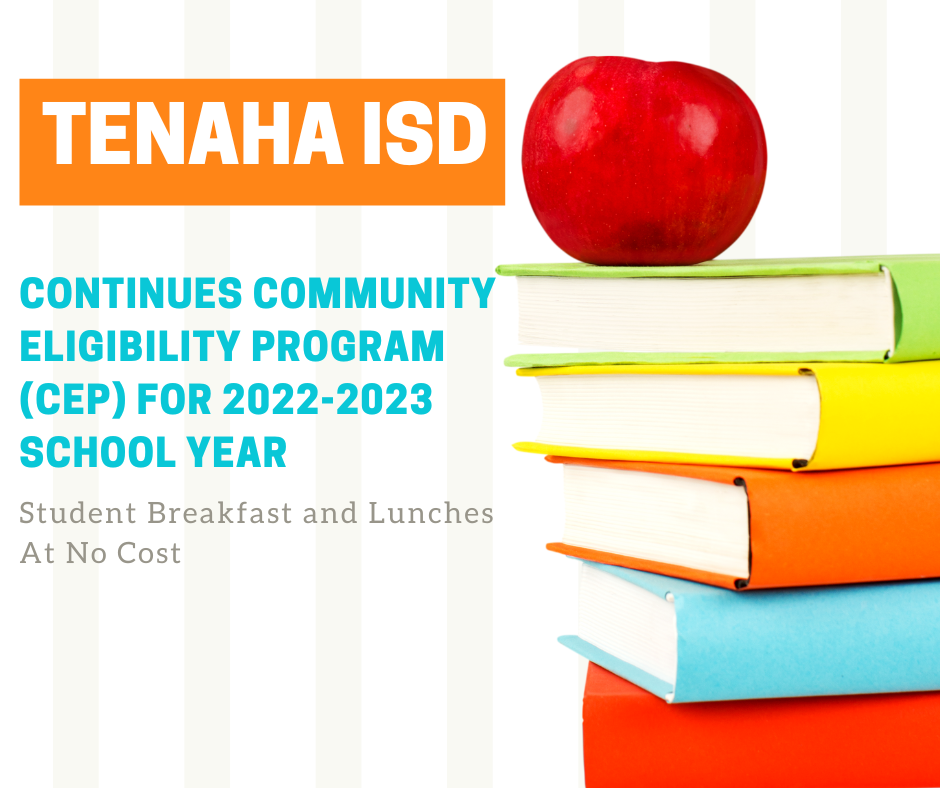 Throughout the summer, facility updates have been in progress. These updates will continue throughout the school year, along with some exciting new additions to the community and district as well. The approval and plans for three housing projects are in progress currently. These homes will offer employees who have relocated their families an opportunity to rent housing from the district beginning as early July 2023. Two of the three homes are already under contract, leaving one available at this time. In addition to the housing project, the district has approved the construction of a new Administration Building and Boardroom. This new facility will be located across the street from the current building facing the high school parking lot. Elevations are currently being determined and the plans are being drawn up for it to reflect the same design as the facade of Tenaha High School. This improvement will allow the oldest facility in the district, the current location of our daycare and PK3 classroom, to be removed permanently. Once renovated and configured to suit their needs, Daycare and PK3, will move to the current Administration building. This project is scheduled to be completed in July of 2023. We are excited for the updates and changes taking place in the district!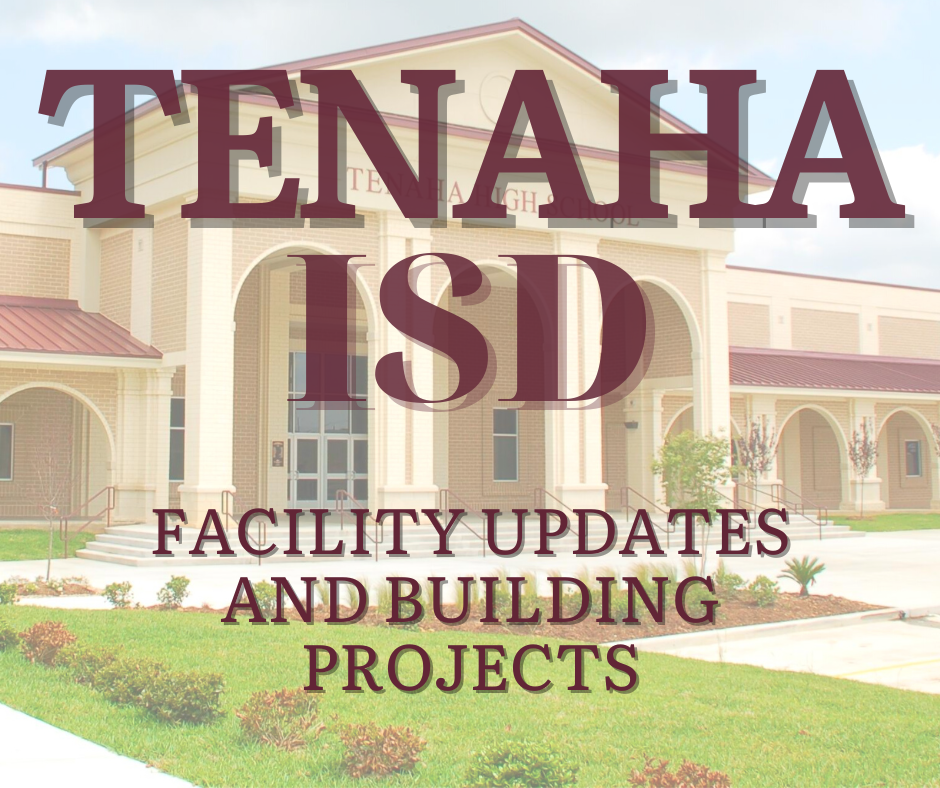 Here's your Tiger To-Do List for Monday, August 8th!! See you this afternoon Tiger Nation! The community is invited to join us for dinner at the Tiger Cafe' from 4:30-6:30 (remember we are now accepting debit/credit card as payment as well as cash) followed by Meet the Tigers in the SEC to kick off the new school year!!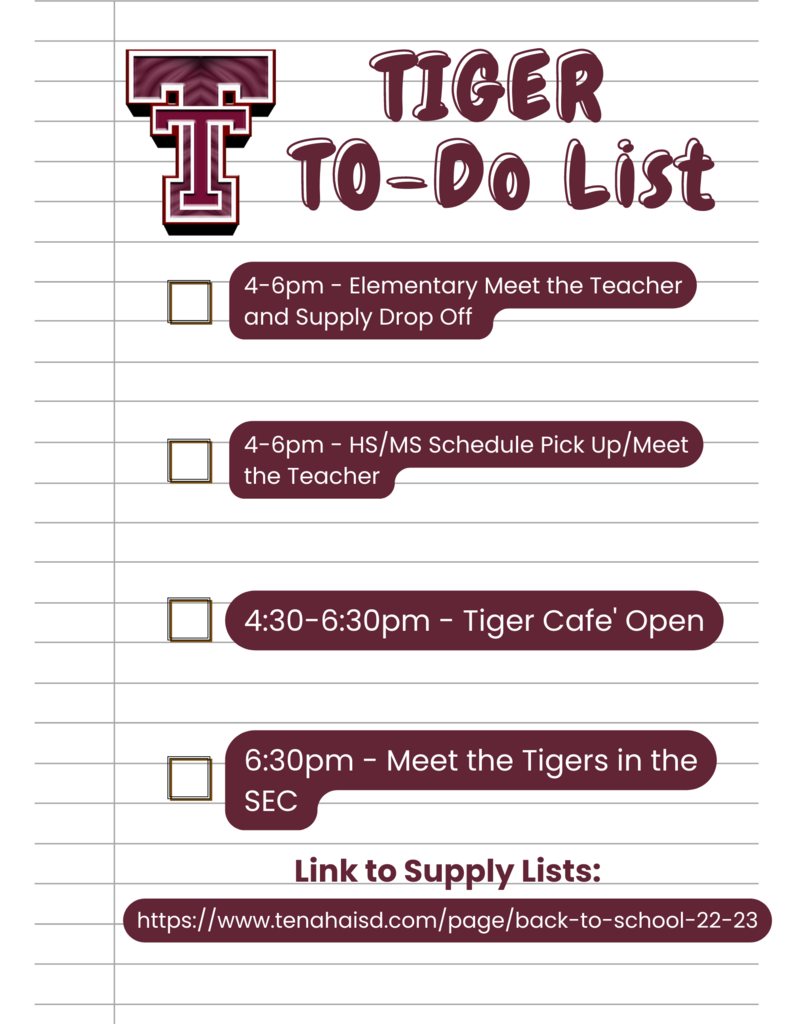 Don't forget to join us TOMORROW Tiger Nation! It's MEET THE TIGERS! Beginning at 4pm: Elementary - Meet the Teacher and Supply Drop-Off from 4pm-6pm High School/Middle School - Schedule Pick up from 4pm-6pm Tiger Cafe' will be open from 4:30pm-6:30pm (credit/debit cards will be accepted) Meet the Tigers (will introduce all Fall Sport Athletes, Band will play, Kick off new school year) in the SEC @ 6:30pm We can't wait to see you!!!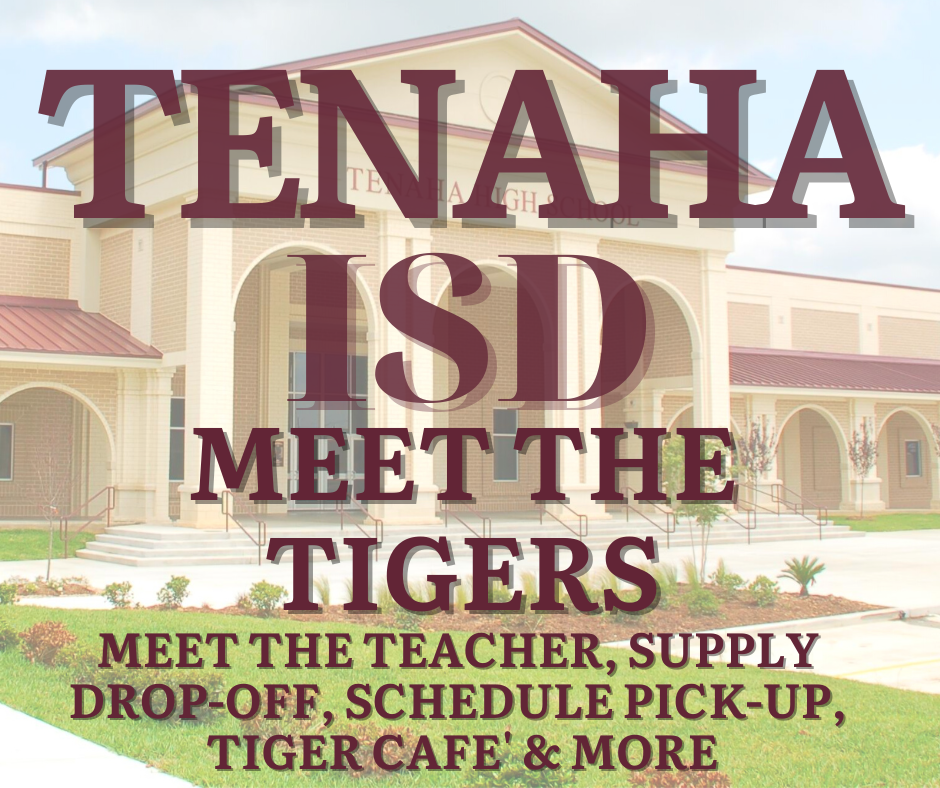 Tenaha ISD will now accept all major credit and debit cards at all events! There will be a cash line and credit line; this will begin Monday night for Meet the Tigers! Accepting: Visa Mastercard American Express Discover Let's Go Tigers!!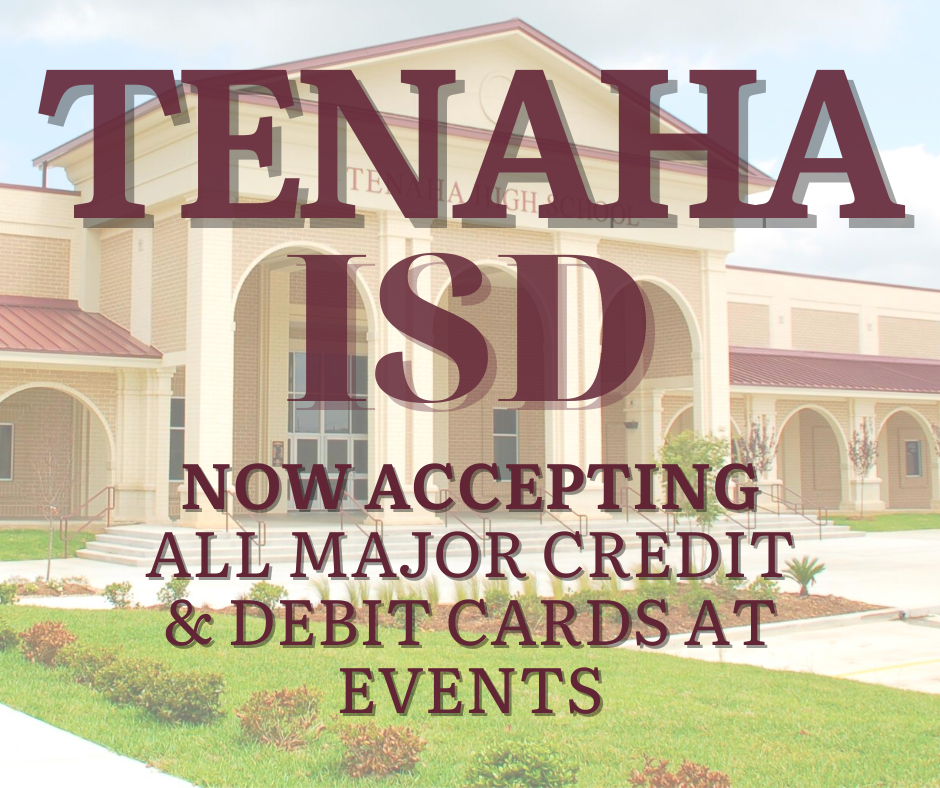 Over the summer, Tenaha ISD has been implementing steps to improve communication with stakeholders on all occasions. We feel it is imperative to keep our students, families, staff and employees, board members, and community informed with accurate, timely information in the most efficient manner possible. After completing an analysis of our current systems of communication, Tenaha ISD was please to make the following updates: *Streamline Communication with new web partner, Apptegy Apptegy was appealing to our district for several reasons. We felt the appearance and structure of their web platform was user friendly and would allow our district to share positive, engaging and useful information with our stakeholders. They also pair their intuitive web platform with a modern, yet simplified mobile app that will allow you to easily access the information that is most important: like lunch menus, sports scores and event schedules, and the district's latest news and announcements right at your fingertips. Finally, the most attractive and beneficial piece of the Apptegy suite is the Alert System. This is a system that integrates with the website and app that will allow Tenaha ISD to contact students, parents/guardians, and our staff with important alerts via text message and/or push notification, email, and/or voice call. TISD will utilize this system to notify you of information like time changes, school weather related information, early releases, bus route changes, daily attendance alerts, emergency information and much more. In an effort to maximize this system and keep the channels of communication as open as possible between the district and our stakeholders, we ask that you complete the registration packets sent home in the first week of school carefully and completely. Please make sure all contact information is complete and return to the campus office as soon as possible. As a part of our safety protocol, we will conduct frequent audits of this contact information to make sure it stays as up to date as possible in the event we need to use the alert system. As a part of our Digital Art & Media and Graphic Design endorsement, students will be assisting in the update, re-design, and maintenance of the website. We encourage you to continue to check back as progress is made to our new look!! Make sure you download the new app; just search Tenaha Schools and download. You will not need a login to access any information on the app, except for parent portal. Instructions for parent portal can be found on the website under Parent/Student Resources. Let's make it a great year Tiger Nation!!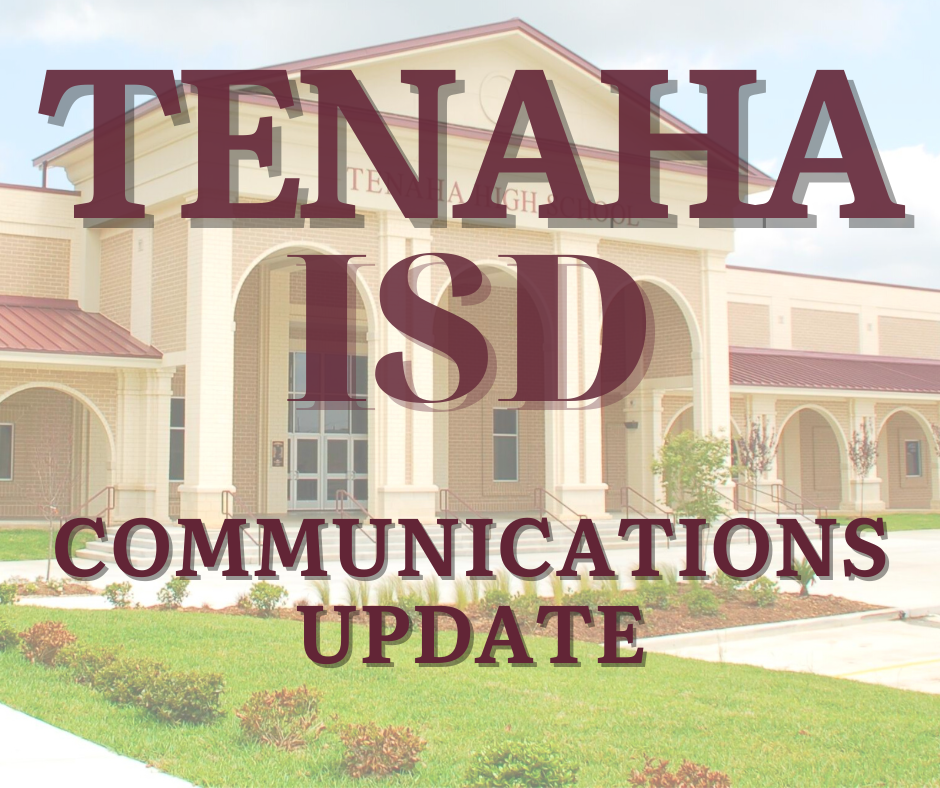 WOW!! Tenaha and Shelby County...you never cease to amaze us with your generosity! Because of you, the Klayton Lewis Family Fundraiser held at Tenaha ISD today was a tremendous success. Thank you to everyone who contributed in any way: from donation of items, time, purchasing a plate, making a monetary donation to the family...because of this amazing community we will be able to bless this precious family with an offering that will hopefully be helpful during such a difficult time. Please continue to lift this family and our Tiger family up in prayer as we begin this school year missing a very special young man. Thank you, again!