Reserved tickets for tomorrow's PINK OUT game are still available! Buy TWO reserved tickets for $6 each and get a FREE parking pass for Lot #2!! Call the High School office to purchase your tickets!! Also, make sure to join us for the PINK OUT pep-rally tomorrow morning at 8:45 am in the SEC! GO TIGERS!!!!

This week our Tigers will unite in the fight against breast cancer by wearing PINK! Our theme for this Friday's Pep-Rally and Football Game is PINK-OUT! We encourage everyone to join us by wearing PINK to show your support for those who have been affected by breast cancer and to spread awareness.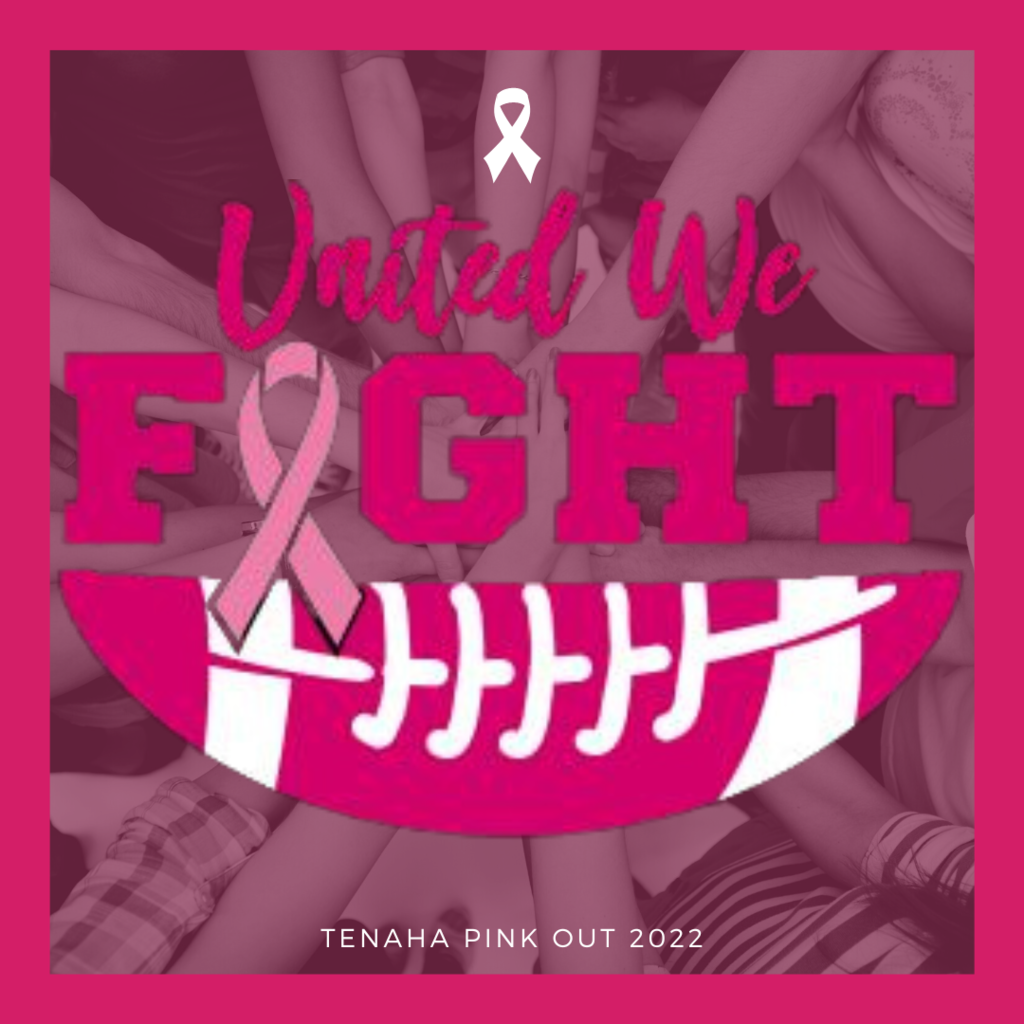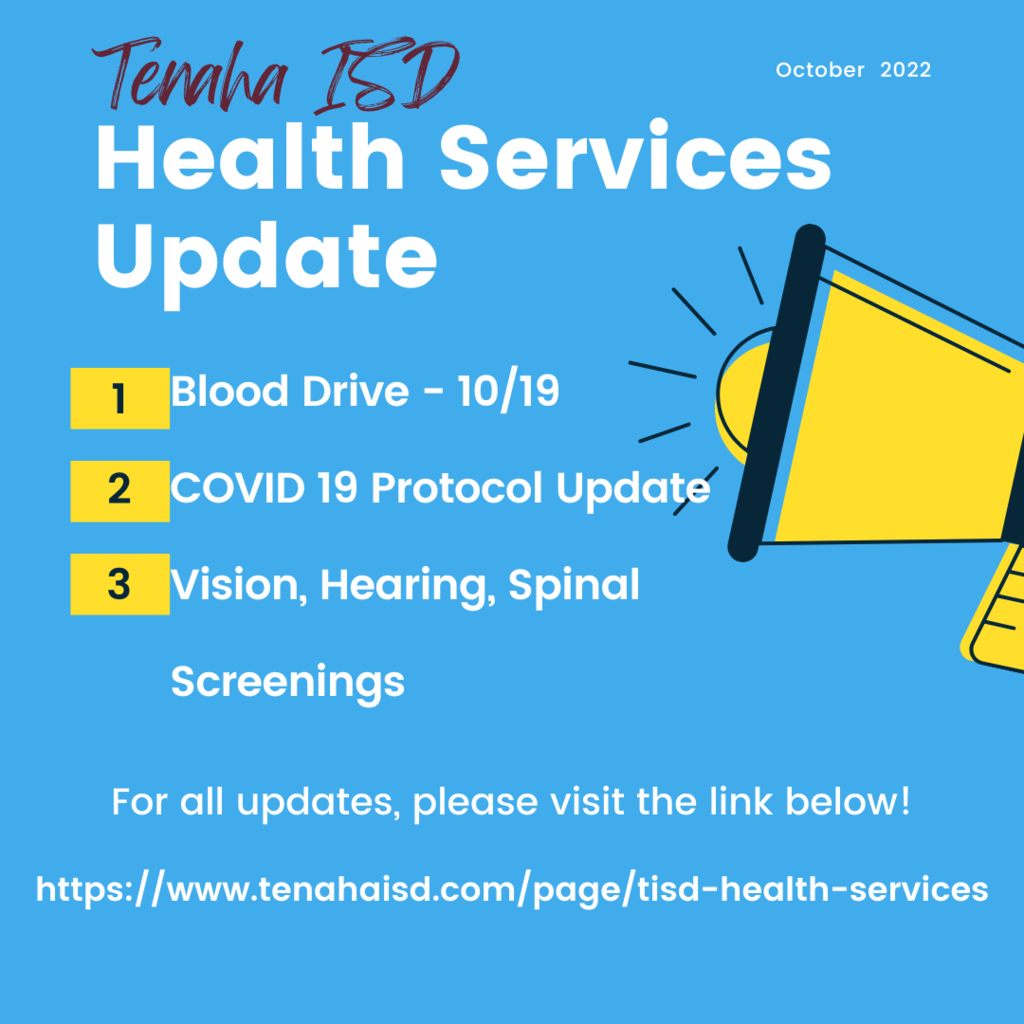 It's MEET DAY for our XC TIGERS!!! Best of Luck as they travel to Lufkin this afternoon! Fast Feet Tigers!!

TIGERNATION! October 5th is WORLD TEACHER DAY!! This is a day to celebrate educators and all that they do. If you have a moment today, thank an educator...THANK A TIGER!! Use the link below to send a special note to any of our Tiger Teachers!! We'll print them and make sure they are delivered to them today!!
https://forms.gle/QvoWX4YbwGvnkNz29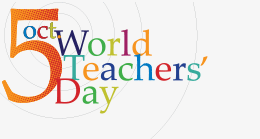 We are just a few short days away from one of the most exciting weeks of the school year...HOMECOMING!! We have an exciting week planned throughout the district with theme days for our students and staff to participate in, as well as, a weekend full of festivities celebrating Tenaha ISD and Tigers...past, present and future!! Make sure you mark your calendars to join us October 14-15 because "There's No Place Like HOMECOMING!"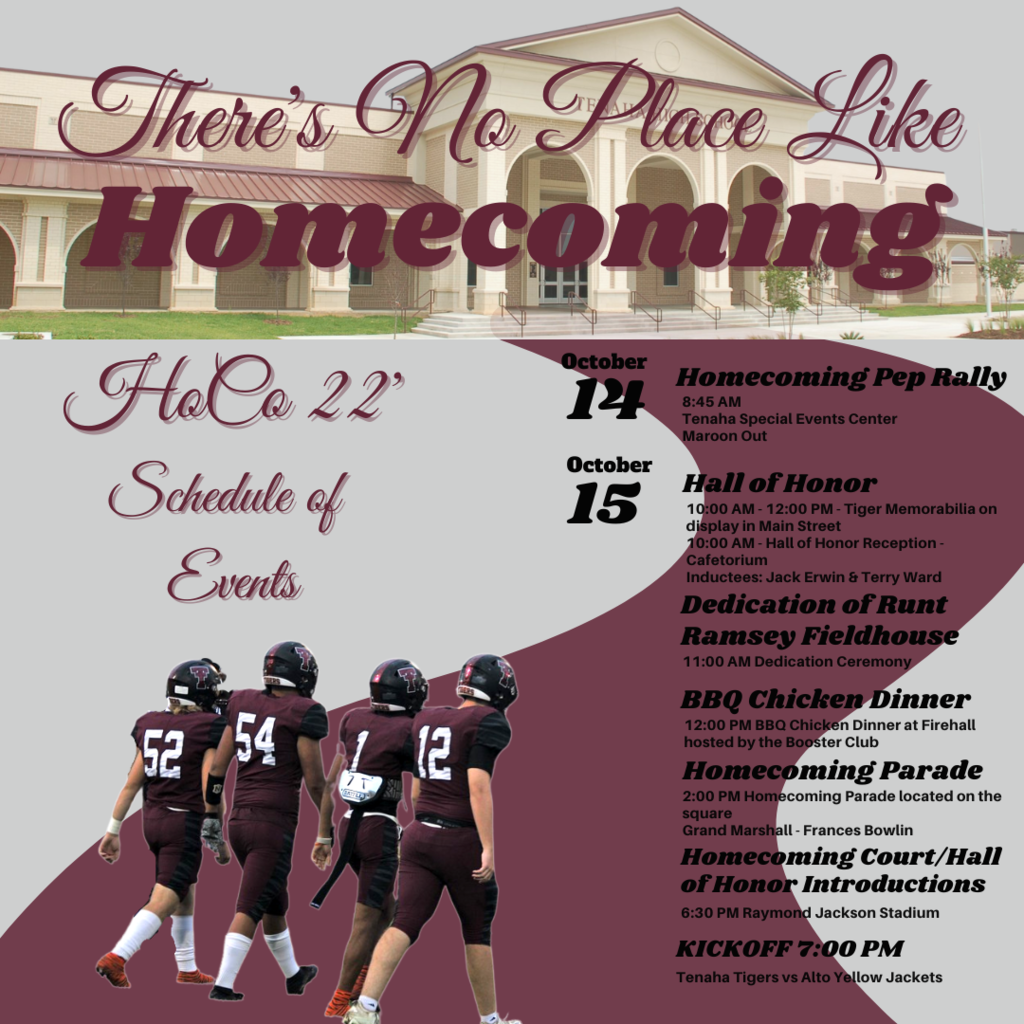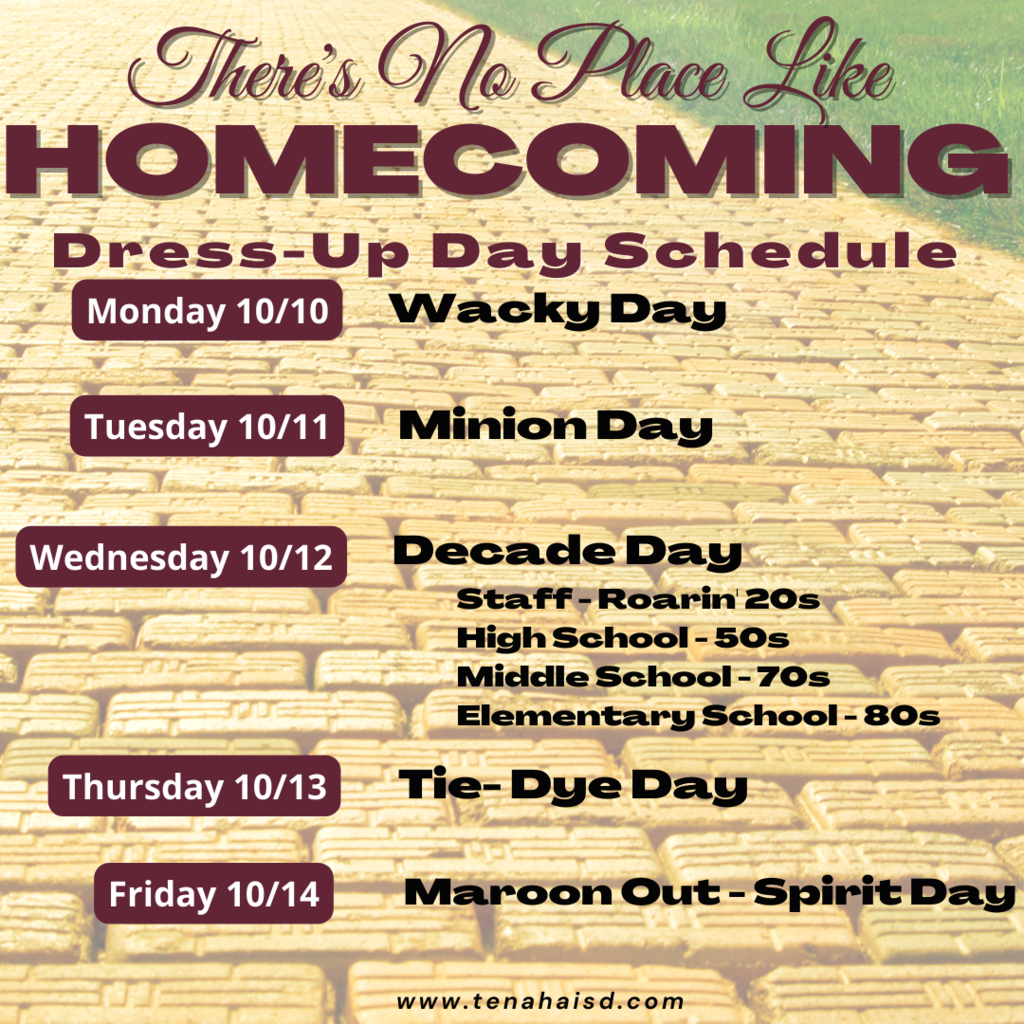 TIGERS!! Get your tickets for the PINK OUT game this week!! Tickets are on sale in the High School Office. DEAL OF THE WEEK: Buy TWO reserved seats for $6 each and get a FREE parking pass in Lot #2!!

TIGERNATION!! We hope you are having a GREAT week so far! Don't forget Friday is our PINK OUT Pep-Rally and Football Game!! Students and staff are encouraged to PINK OUT from head to toe in support of breast cancer awareness. The pep-rally will start at 8:45am in the SEC and kick-off against Price Carlisle is at 7pm in The Pit!!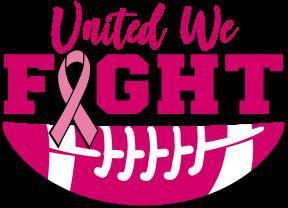 Don't forget to "Thank A Tiger"!! Below is the link to a private google form that allows anyone to "Thank A Tiger" for a job well done. The form will be received, printed and delivered to the individual or group you are thanking just as a way to say JOB WELL DONE and brighten their day!!
https://forms.gle/w8iBiEYoTHTtEj6w7
#spreadjoy #kindnessmatters #thankatiger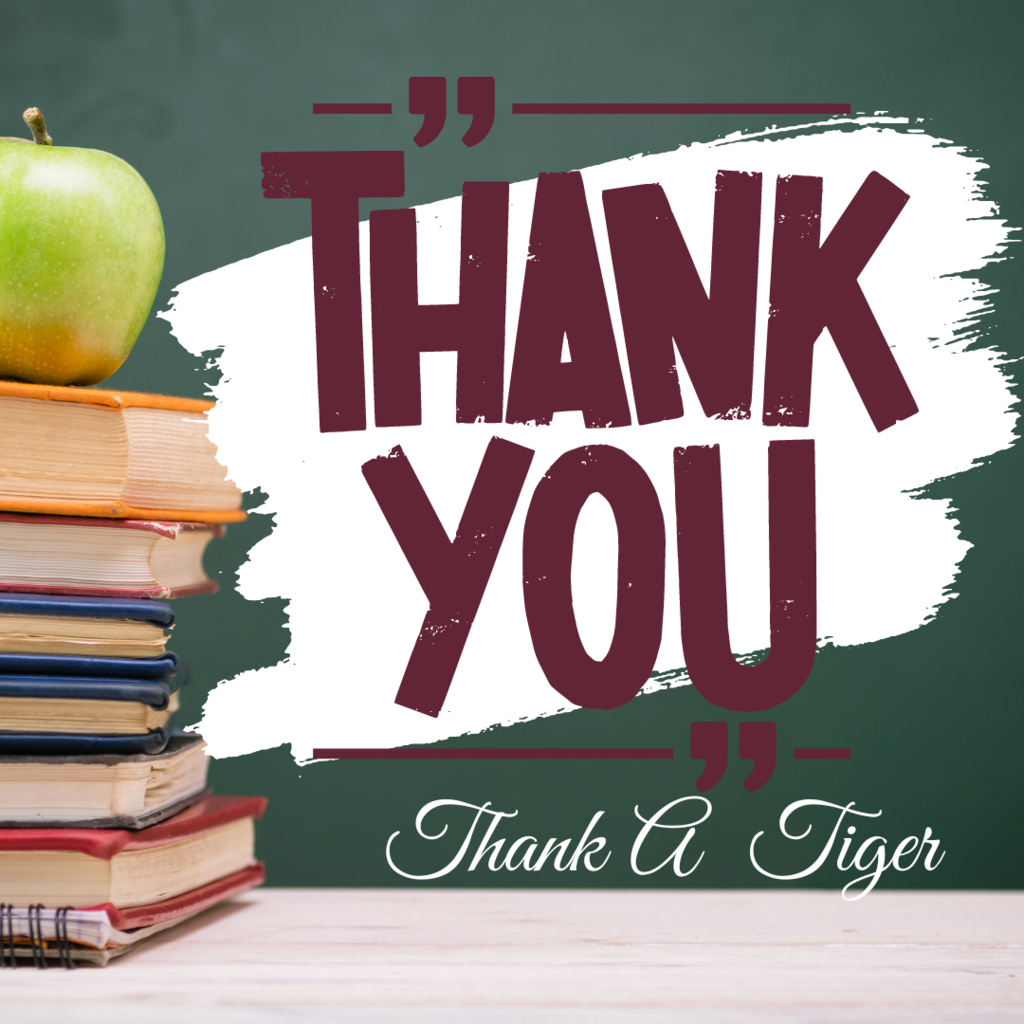 As we start this beautiful Monday, we want to recognize a special group of individuals who doesn't receive near the appreciation they deserve! Today, we celebrate our outstanding Custodial Staff on National Custodians Day!! We are truly blessed with the BEST!! Not only do they take their jobs very seriously and strive each day to make our campus as clean and sanitary as possible, but they also are a vital part of creating a nurturing environment at Tenaha ISD. Each and every one of these individuals creates lasting, meaningful relationships with our students and staff and bring so much joy to our district!! From the bottom of our heart, THANK YOU, we truly could not do it without you all!! If you see one of these staff members, remember to thank them, not just today, but every day for the job they do!!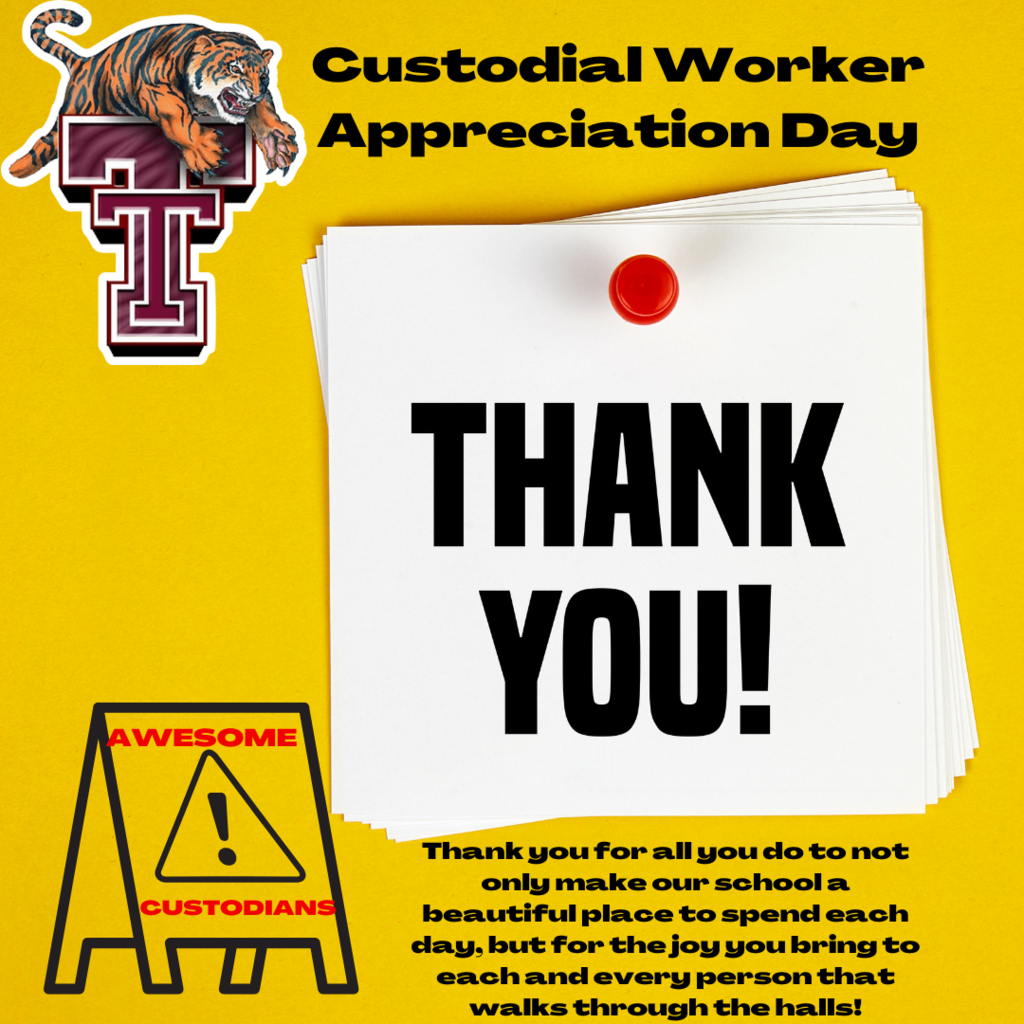 Best of Luck to our High School XC Teams as they travel to Tyler this morning to compete!! Fast feet TIGERS!! We're so proud of you!!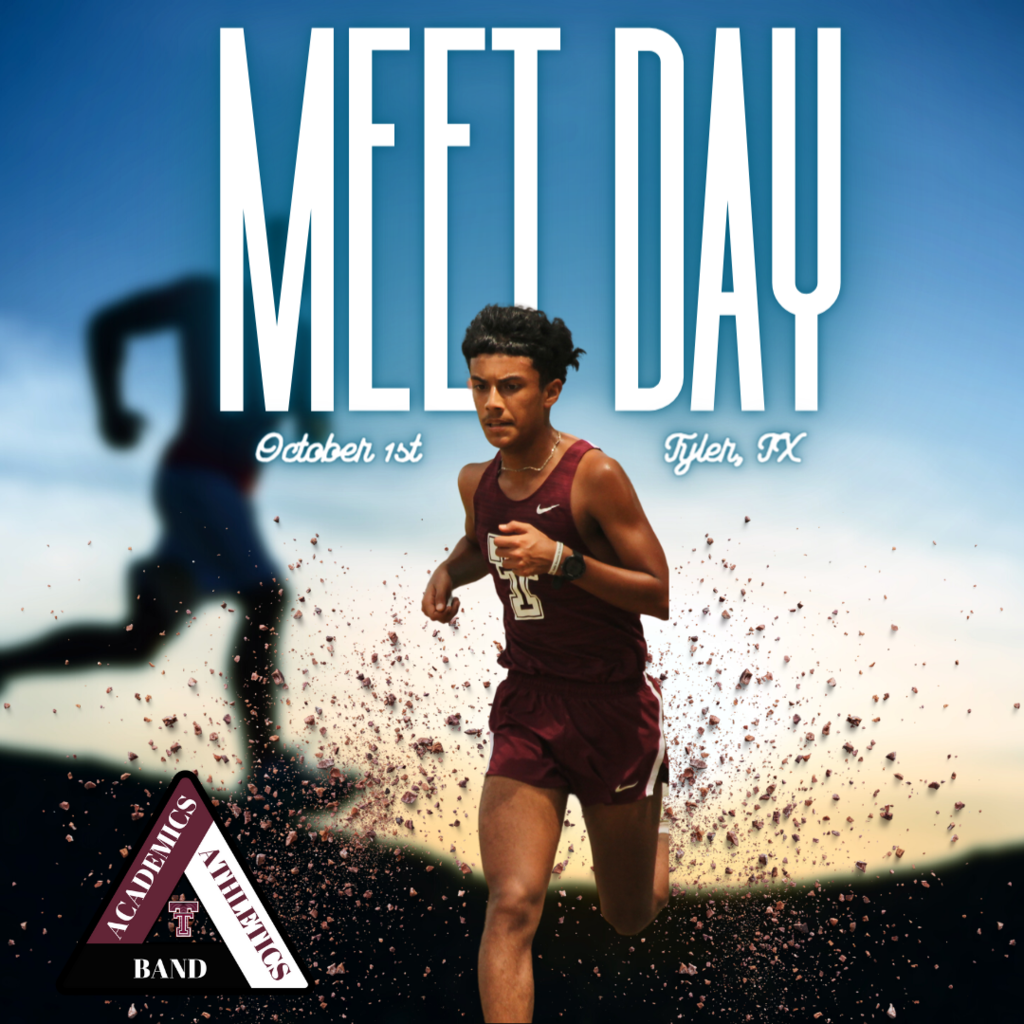 Tenaha ISD is proud to welcome Officer Robert Goerlitz to our School Resource team. Retired Officer Goerlitz joins Tenaha ISD with over 30 years of service in law enforcement. Most recently, Officer Goerlitz completed 31 years with the Harris County Sheriff's Department in Houston, where he worked as a Deputy Sheriff and within the courts division as well. We are thankful for your dedicated service thus far and sincerely welcome you to our Tiger Family!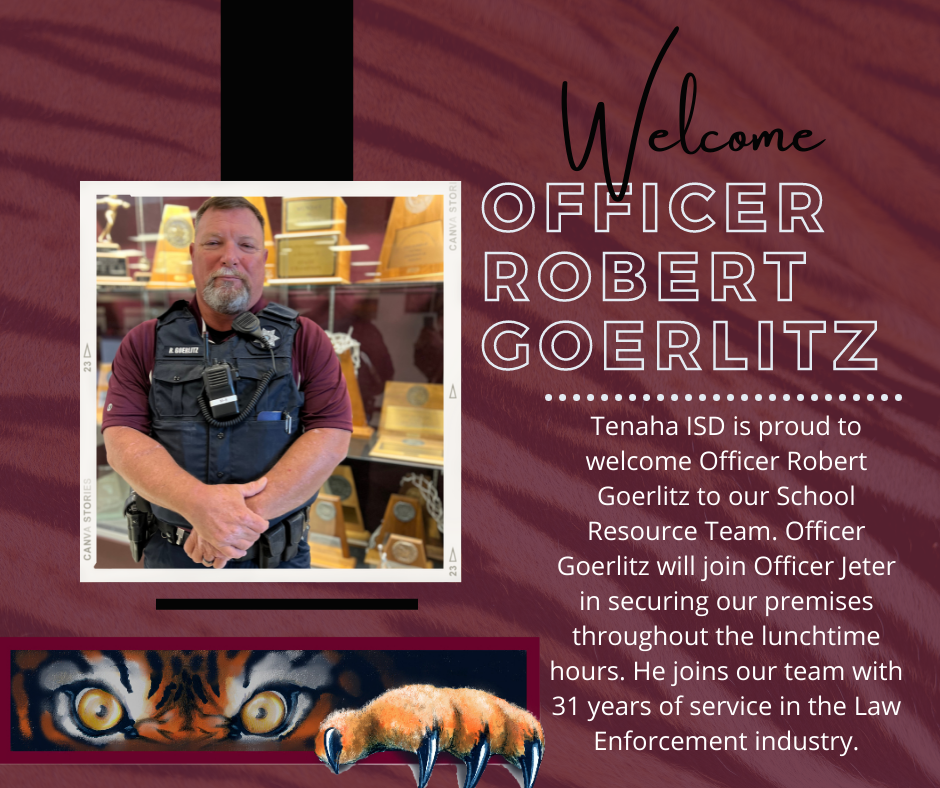 As you prepare for HOMECOMING in just a couple of weeks, we wanted to share the "Dress-Up Day" Schedule. We encourage all students and staff to participate throughout the week!! Please remember, although we love the opportunity to share in the excitement of the week by dressing up, DRESS CODE POLICY WILL STILL BE ENFORCED!! Thank you for your cooperation and participation!! There's No Place Like HOMECOMING!! Tenaha ISD Homecoming October 10-15, 2022

Today we CELEBRATED our Tigers of the Month by treating them to a BBQ lunch provided by Moodyville BBQ & Steaks of Center. These students and teachers were selected by their teachers and co-workers for displaying outstanding work ethic and positive attitudes! Congratulations to our Tigers of the Month and a HUGE THANK YOU to Moodyville BBQ for their support of our school district, students and staff!!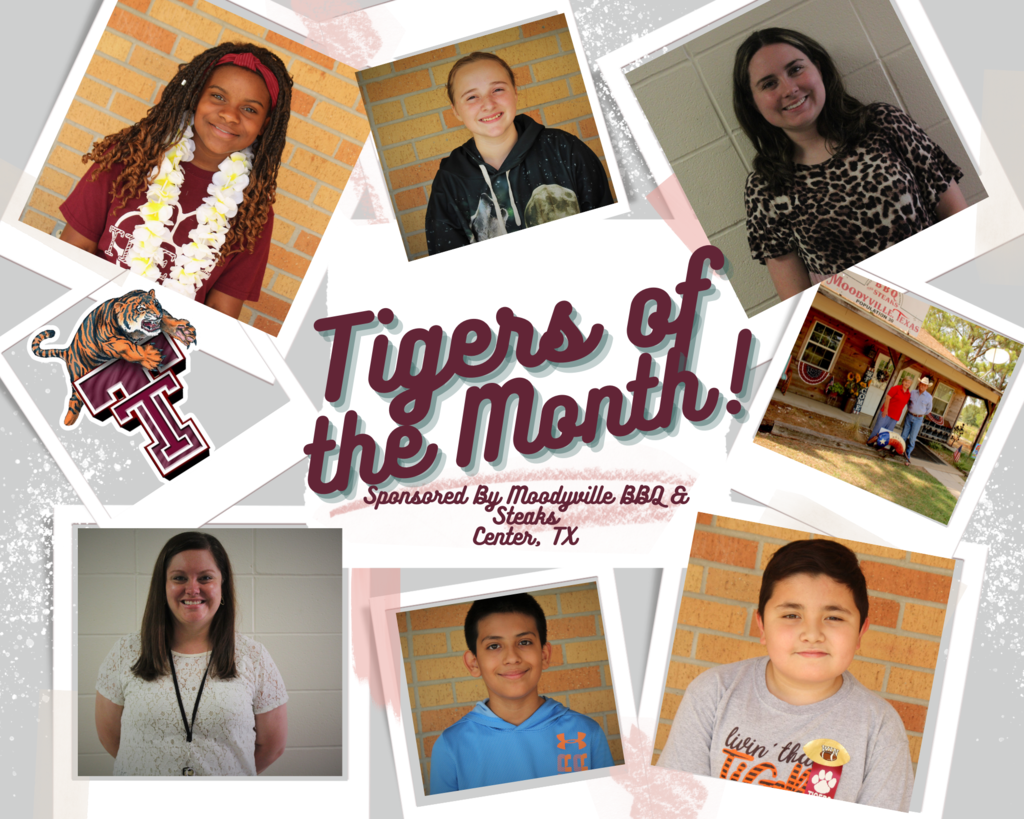 Tenaha Independent School District is pleased to introduce our 2022 Homecoming Court. Reigning Homecoming Queen 2021, Miss Chrystal Sparks Class Duchesses: Senior Class Duchess, Miss Leticia Balladares-Lopez Junior Class Duchess, Miss Angelica Sandoval Sophomore Class Duchess, Miss Lilliunna Horton Freshman Class Duchess, Aranza "Jasmine" Santos Band Sweetheart, Miss Emily Chambliss BETA Sweetheart, Miss Kim Cave Football Sweetheart, Miss Makalie Black Junior Chamber of Commerce Sweetheart, Miss Jessica Aguilar Yearbook Sweetheart, Miss Emily Perales Congratulations to these young ladies on this honor. Coronation for our Homecoming Queen will take place during the pre-game festivities on October 15th. Please make plans now to join us for a weekend full of activities and fun; THERE'S NO PLACE LIKE HOMECOMING!

October is Breast Cancer Awareness month and Tenaha ISD and the Tenaha Tigers are UNITED in this Battle! We will honor those who are fighting with a Pink Out Pep-Rally and Football Game on October 7th, 2022. Please show your support in this effort by wearing PINK!!! The pep-rally will begin at 8:45am in the SEC and kick-off is set for 7pm next Friday evening in The Pit!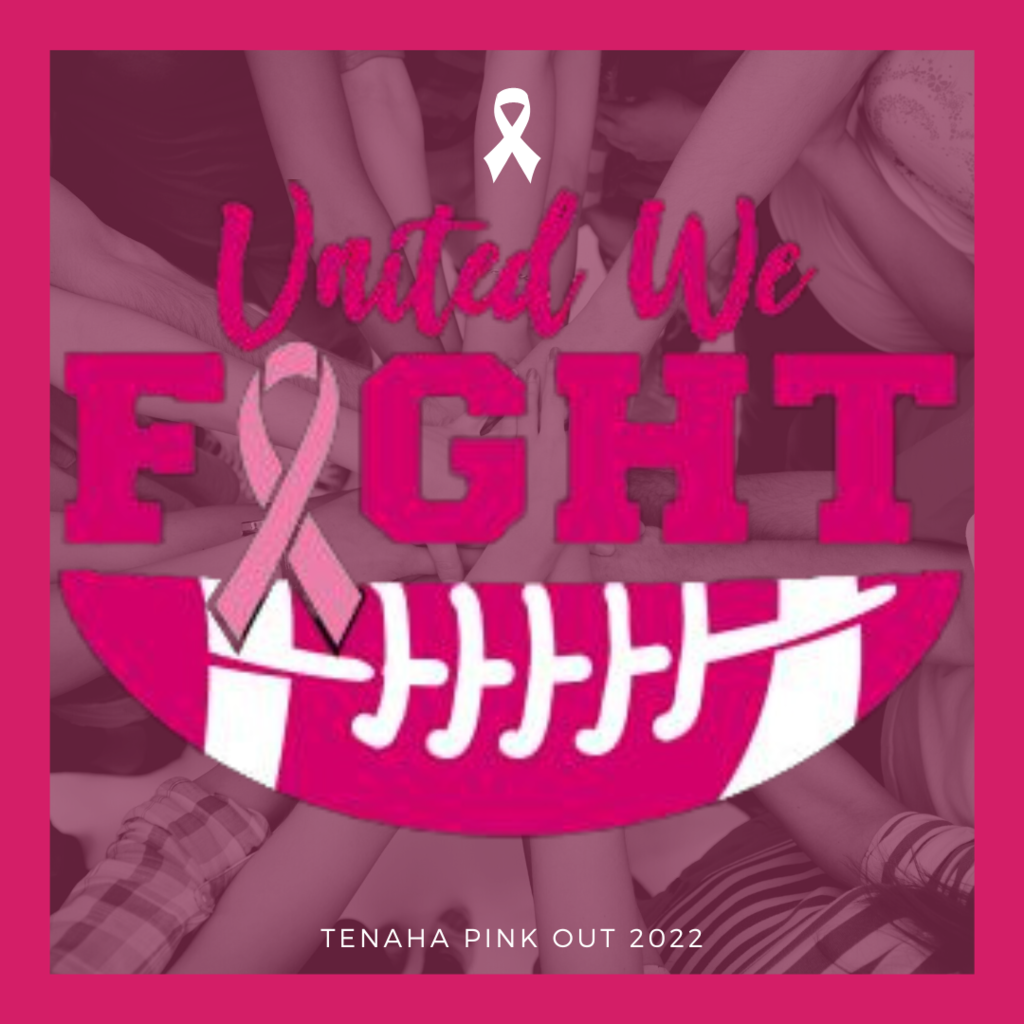 It's GAMEDAY for our Junior High Tiger Football Team!! Join us in wishing them well as they travel to West Sabine this afternoon. Play HARD TIGERS!!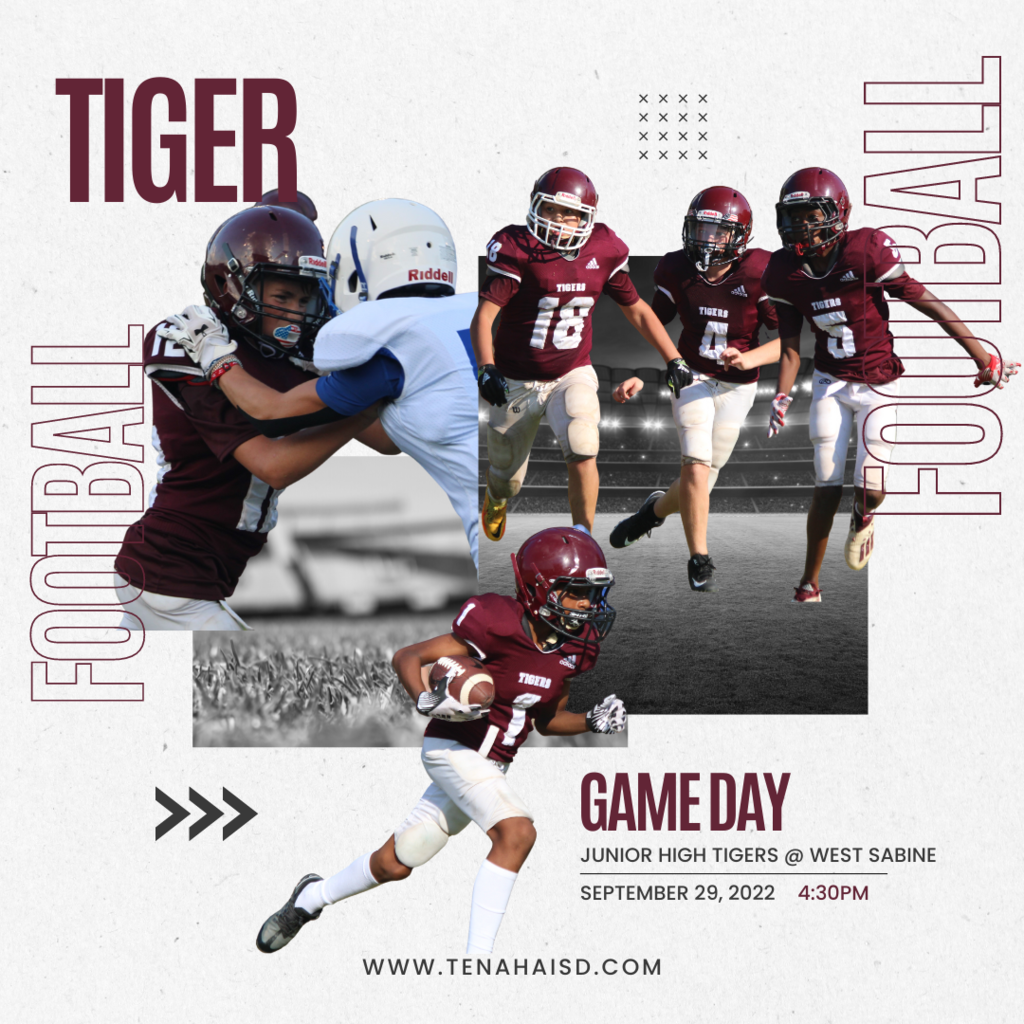 The Tenaha High School Cheerleaders will be hosting a Mini Cheer Camp for children PK4 through 5th grades. The camp will include THREE days of instruction: October 18th, October 25th and October 26th from 3:30-4:30pm each afternoon. Participants will enjoy breakfast with the THS Cheerleaders on the morning of October 28th and will perform at Halftime of the Tenaha vs Mount Enterprise game! Each camper will receive a tee-shirt to be worn with black shorts to the game. The camp fee is $30 and registration forms and fees are due by October 7th!! For more information, please contact cheer sponsors: Taneisha Moore or Ashley Thomas!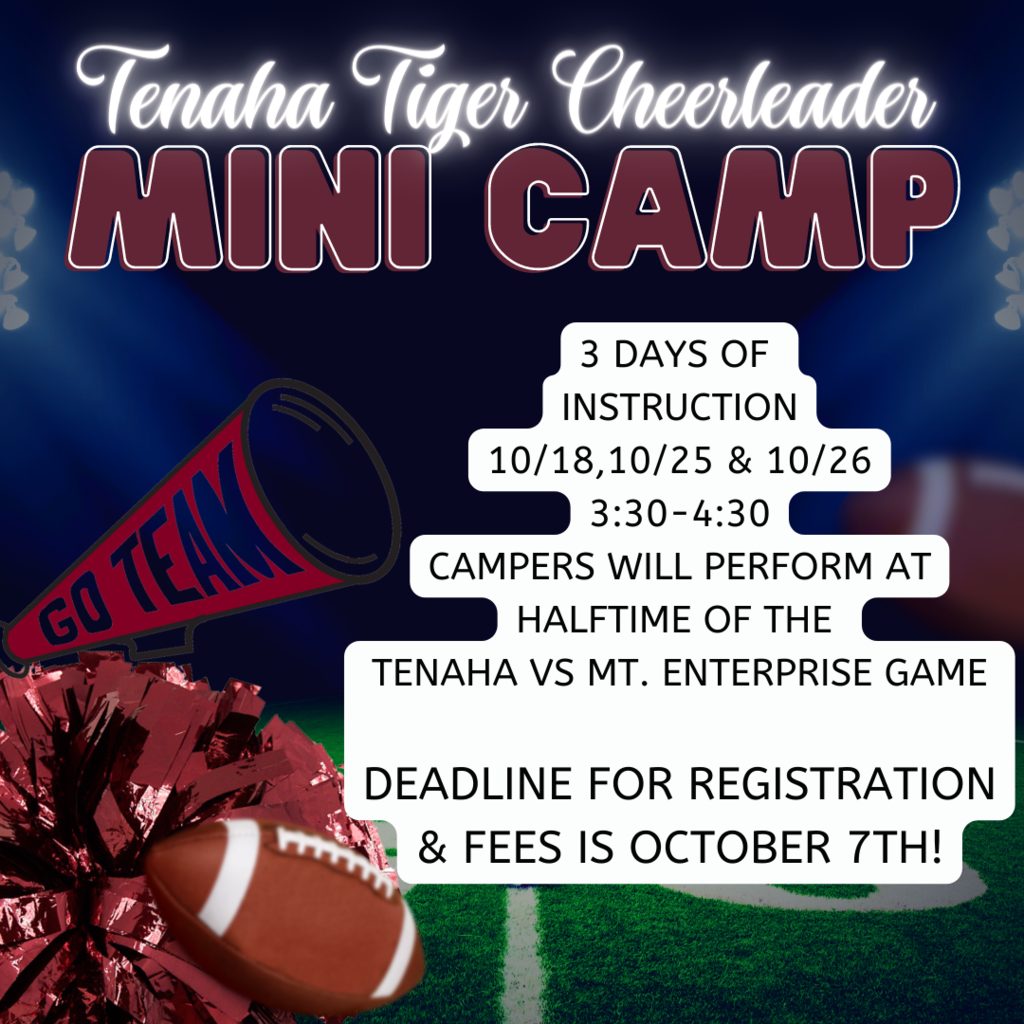 Good Morning Tiger Nation!! Have you ever noticed how EASY it is to spread NEGATIVITY?! We want to change that!! Instead, we would like to encourage our community, students and staff to SPREAD POSITIVITY!! "Thank A Tiger" is a district initiative with the purpose of spreading positivity and giving shout outs to those you notice doing a fantastic job!! Our staff spreads positivity by sharing Positive Office Referrals each week as they notice our students doing amazing things. We would like to encourage you to "Thank A Tiger" and complete the google form at the link attached to share something positive you have noticed an employee, teacher, staff member, or ANYTHING positive happening around the district. This message will be shared directly with that group or individual to brighten their day and remind them that they are appreciated and noticed!! Thank you for spreading KINDNESS!! You may send multiple "thank-you's"!
https://forms.gle/YiihiotmnFLtvZ8P9

REMINDER!! All photos that were schedule for tomorrow, Thursday, September 29, 2022 HAVE BEEN CANCELLED. We will take Fall Retakes, Elementary Class photos and Sports photos on November 16th. Thank you for your patience and cooperation!